Toranomon Hills Station Tower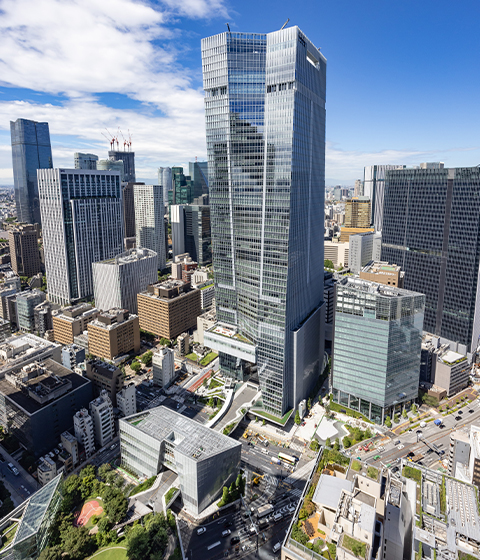 Urban development integrating station and Toranomon area, and strengthening transportation node functions, opening in October 2023
Toranomon Hills Station Tower is a multi-purpose 266-meter high tower with 49 floors above ground and 4 floors underground, integrated the overall development with Toranomon Hills Station on the Tokyo Metro Hibiya Line.
The tower includes world-class office, retail facilities integrated with the station plaza and a high-class hotel making its debut in Tokyo, and its top-most level is home to TOKYO NODE, an interactive communication facility fully capable of creating new values, ideas and business, aimed at sharing creativity with the world. Toranomon Hills will evolve into a "communication hub" that attracts highly experienced and influential people from throughout the world for business creation and innovation to share globally.
By expanding the local multilevel transportation network on the ground, underground and the deck-level, the Station Tower will greatly enhance the Toranomon Hills as a transportation node and will enliven the entire area by significantly improving pedestrian flows.
TORANOMON HILLS MOVIE 2023|WELCOME TO TORANOMON HILLS
Concept
Toranomon Hills Station Tower, which is being thoroughly integrated with Toranomon Hills Station, enhances the transportation node function of Toranomon Hills, expanding and evolving towards the realization of new international hub and global business center. Also, by locating the interactive communication facility, the tower disseminates new experiences, values, content and information, and therefore, sharing creativity with the world.
History
Toranomon 1&2-chome District Urban Redevelopment established Preparations Committee in 2016, noticed Urban Redevelopment Project Plan in 2018, established Urban Redevelopment Association in November, started construction at 2019, and completed in July 2023. Mori Building is a leading participant of the Association.
Timeline
Feb. 2016: Establishment of Toranomon 1&2-chome District Urban Redevelopment Preparations Committee
Mar. 2018: Notice of Toranomon 1&2-chome District Category 1 Urban Redevelopment Project plan
Nov. 2018: Establishment of Toranomon 1&2-chome District Urban Redevelopment Association
Mar. 2019: Approval of rights conversion plan
Nov. 2019: Start of construction
Jul. 2023: Construction completed
Oct. 2023: Opened
Project Overview
Toranomon Hills Station Tower, located in the center of Toranomon Hills expanding and evolving as a new international hub and global business center, is an integrated urban redevelopment project with Toranomon Hills Station on the Tokyo Metro Hibiya Line. The project is consisted of the main Toranomon Hills Station Tower (A-1 district), Glass Rock (A-2 district) and Toranomon Hills Edomizaka Terrace (A-3 district) .
Toranomon Hills Station Tower (main tower) is a multi-purpose 266-meter high tower with 49 floors above ground and 4 floors underground. The tower includes global-level office with standard floors of about 3,400m², retail facilities integrated with the station plaza and a world-class hotel. The tower's top-most level is home to TOKYO NODE, an interactive communication facility consisting of halls, galleries, pool, restaurants, and other facilities fully capable of creating new values, ideas and business transcending domains, aimed at sharing creativity with the world.
Toranomon Hills evolves into a "communication hub" that attracts highly experienced and influential people from throughout the world for business creation and innovation that will be shared globally.
Starting with Mori Tower, completed in 2014 through integral development with Loop Road No.2, Toranomon Hills has expanded and evolved in a rapid speed with the completion of Business Tower (2020), Residential Tower (2022). The Toranomon Hills has been expanded to 7.5ha and total floor space of 800,000m² and Station Tower (2023). The area is steadily evolving as a mixed‐use complex integrated with urban infrastructures such as road and subway, becoming a new international hub and global business center with a scale and an impact comparable to that of Mori Building's epoch-making Roppongi Hills.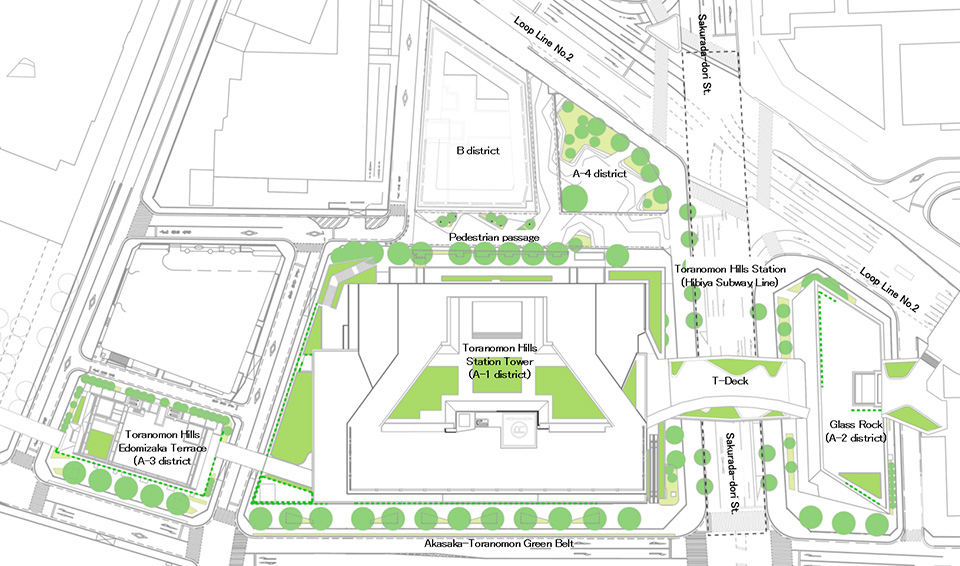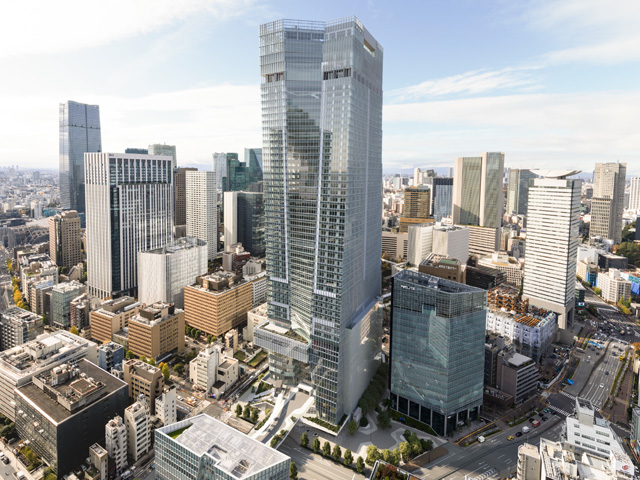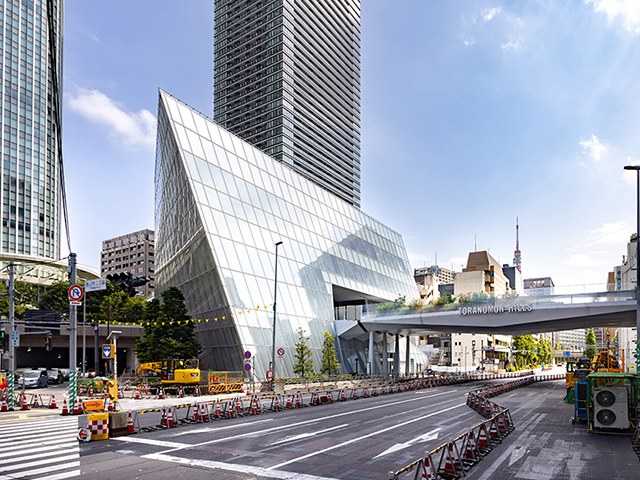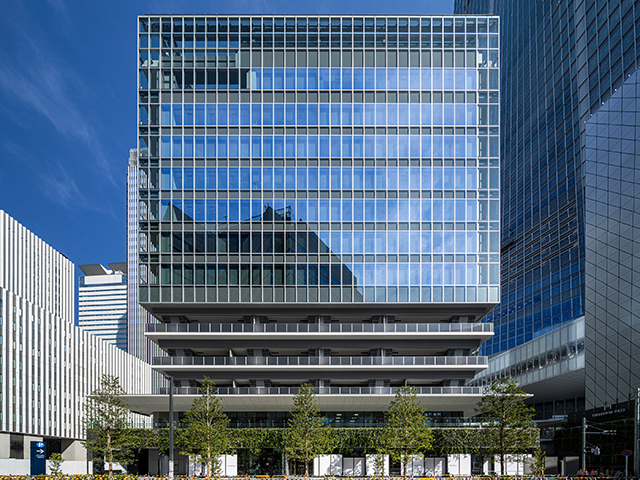 Combined Two-district Development and Multilayered Transport Network Dramatically Improve Traffic Flow in and through Entire Surrounding Area
Toranomon Hills Station Tower developed in close conjunction with Toranomon Hills Station on the Tokyo Metro Hibiya Line to create a refreshingly open station plaza as well as a large (20m-wide) and highly functional pedestrian T-Deck running above Sakurada-dori Avenue (National Route 1) and connecting to Toranomon Hills Oval Square.
Constructing such a large-scale pedestrian deck across the arterial road was made possible by establishing the redevelopment area's east and west blocks as one across Sakurada-dori Avenue. The strategy realized an integrated urban development, rather than being divided into two blocks, while maintaining its function as a key arterial road.
By expanding the local multilevel transportation network on the ground, underground and the deck-level, the Station Tower will greatly enhance the Toranomon Hills as a transportation node and will enliven the entire area by significantly improving pedestrian flows.
20m-wide Pedestrian T-Deck Functions as Another Square
The elevated walkway deck nicknamed T-Deck, which passes through the Station Tower, is the main route for east-west pedestrian traffic, crossing districts and arterial road. It realizes safe urban spaces by separating pedestrians and vehicles in the area as well.
T‐Deck ensures barrier-free pedestrian flows between the facilities of Toranomon Hills. It also provides quick, direct access to Toranomon Station on the Tokyo Metro Ginza Line, and Toranomon Hills Station on the Tokyo Metro Hibiya Line as well as a bus terminal served by airport limousine buses and BRT buses connecting Tokyo's downtown and waterfront areas.
By coordinating with Mori Tower's Oval Square, T‐Deck also contributes to the area's lively scene by functioning like another square linking people in Toranomon Hills.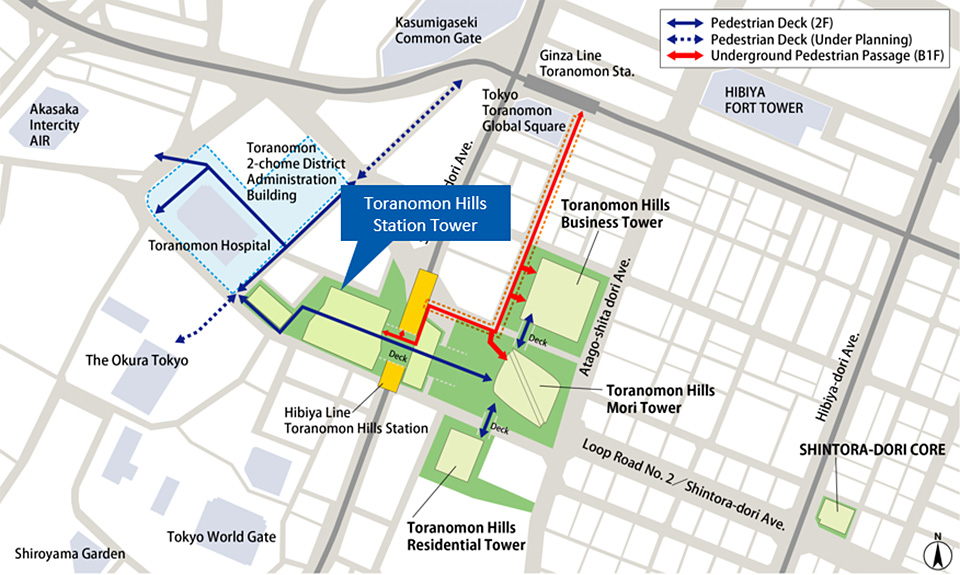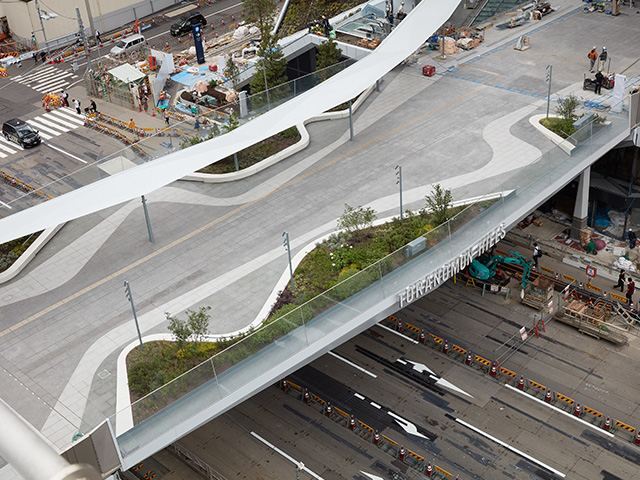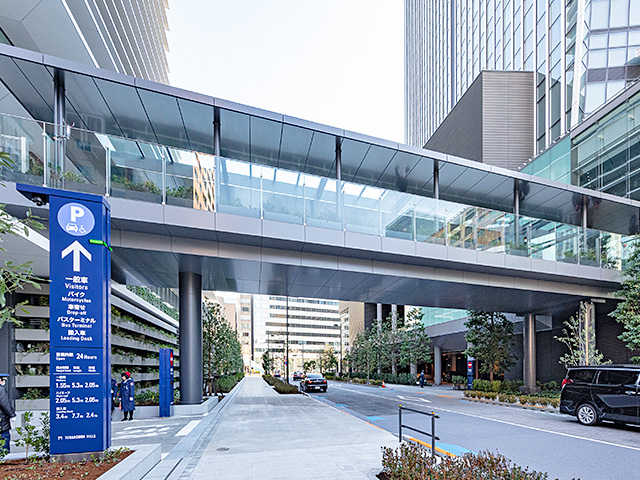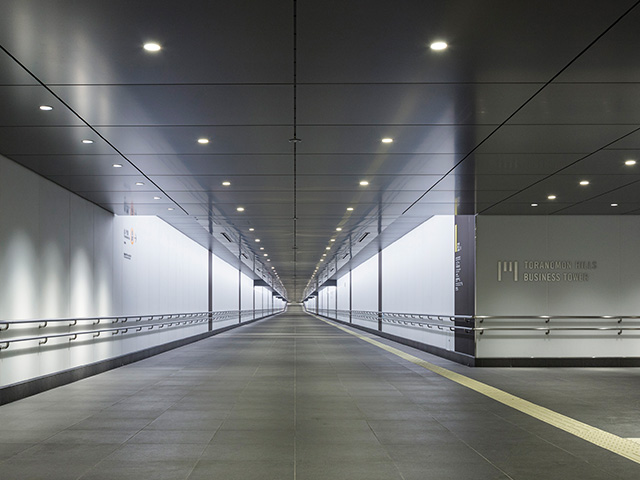 Open and Lively "Station Atrium" Created through Integrated Development of Station and Surrounding Area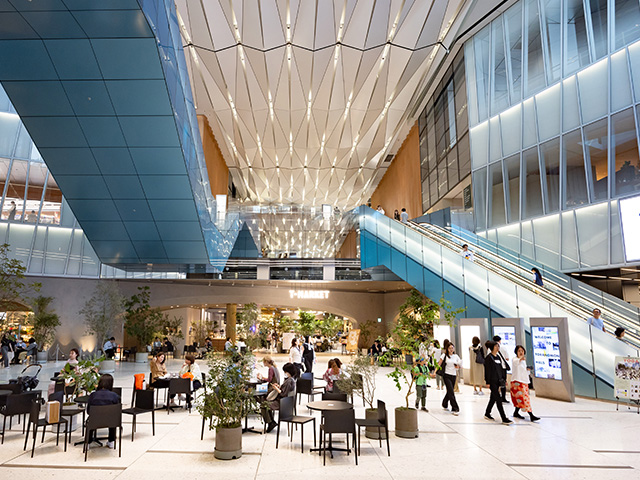 One of the signature features of the Toranomon Hills Station Tower is its "Station Atrium" plaza (2,000m²), created through the integrated development of Toranomon Hills Station on the Tokyo Metro Hibiya Line and the Toranomon Hills. We are promoting the development in collaboration with the Urban Renaissance Agency and Tokyo Metro Co., Ltd. The Station Atrium is a three-story atrium-style vaulted space combining coordinated and complementary urban and transportation functions. It is richly illuminated with natural light as a bright and open all-weather area that makes people forget they are actually below ground level. Such a rich open space has never existed in a Japanese subway station.
The Station Atrium's direct connections between the station plaza and nearby facilities for events and shopping keep the space bustling with a steady flow of people from morning till night. Dynamic image production communicated via large digital signage further enhances the plaza's atmosphere as a stimulating place where people can find new information everyday.
Located in the heart of Toranomon Hills, the Station Atrium—besides serving as a transportation node—is a lively and stimulating space that functions like the face of the entire complex as its welcomes people from all over the world.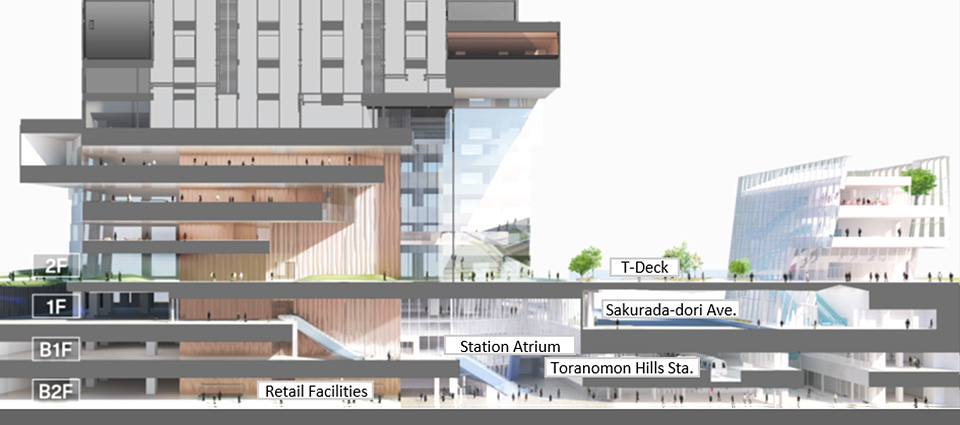 Facility Overview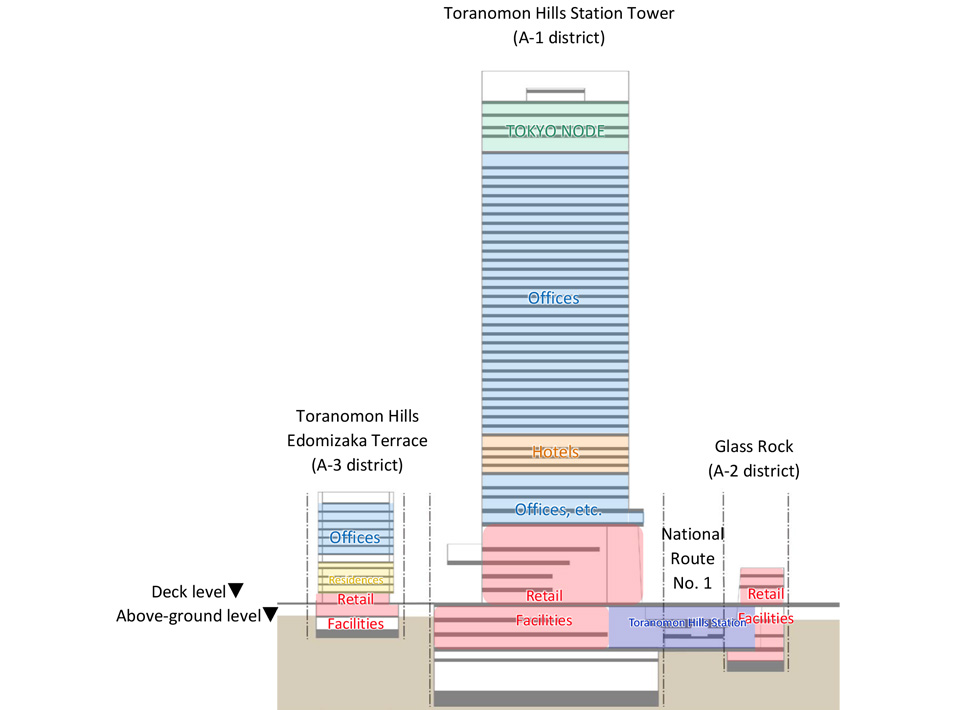 Interactive Communication Facility TOKYO NODE
One of the key features of Toranomon Hills Station Tower is TOKYO NODE, a 10,000m² interactive communication facility on the top floors (45th to 49th floors, and partially on the 8th). The facility is designed to disseminate new experiences, values, content and information created by enhancing collaborations that transcend domains such as business, art, entertainment, technology, and fashion.
The main hall and three galleries can be used individually or integrated as one contiguous venue. In addition, sky garden, pool, and restaurants on the rooftop further enhance the facility's capacity as a highly functional and distinctive space for communication and knowledge-sharing, wholly unlike traditional conference and banquet facilities.
Furthermore, TOKYO NODE can be used in conjunction with other event spaces and assets in the entire Toranomon Hills area, including Toranomon Hills Forum, Andaz Tokyo and/or Shintora-dori Avenue, serving as an information dissemination platform for the entire Toranomon Hills area, allowing Toranomon Hills to evolve into a "communication hub" that attracts highly experienced and influential people from throughout the world for business creation and innovation that will be shared globally.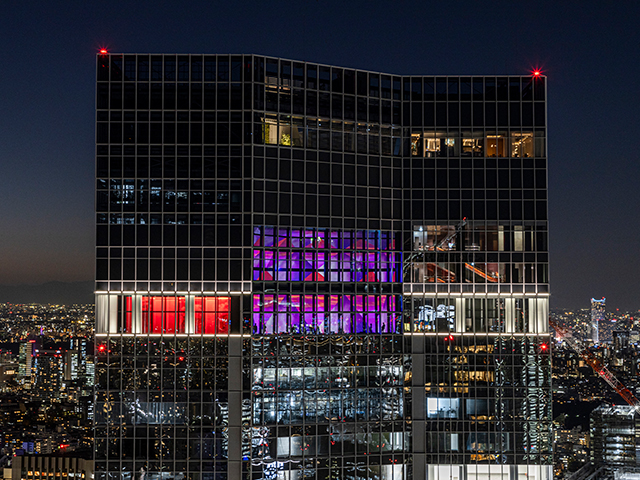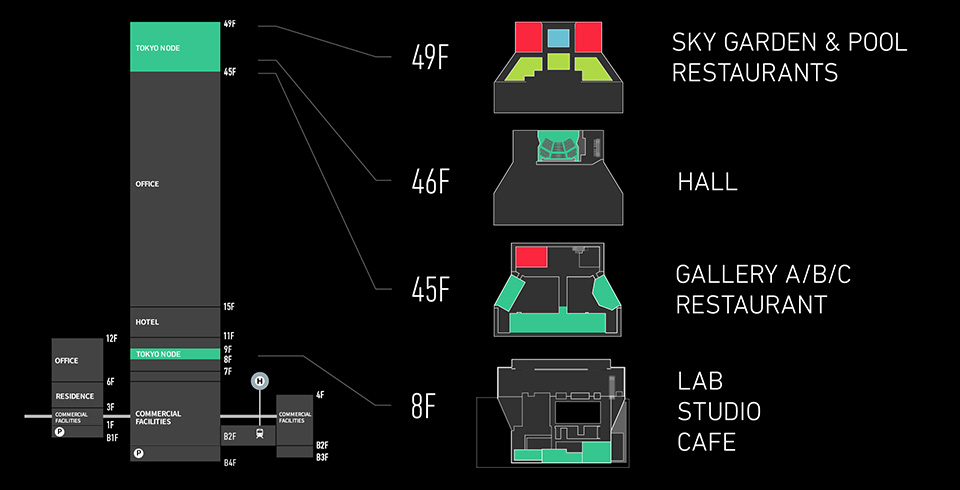 Main Hall; TOKYO NODE HALL (46th floor)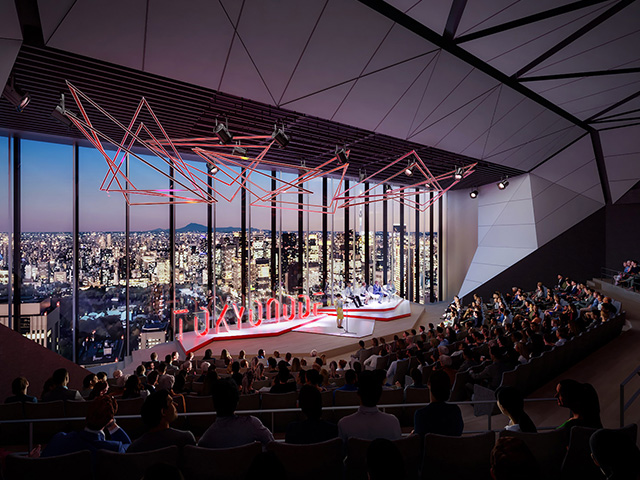 The centerpiece of TOKYO NODE is TOKYO NODE HALL, which has a maximum ceiling height of 11.6 meters, seating capacity of 338 and a hall area of 460m². It is an ideal venue for stage performances and presentations in front of a magnificent view overlooking the Imperial Palace and much of Tokyo.
Designed with the cross reality (XR) era in mind, the hall adapts easily to hybrid formats that combine real staging and virtual delivery for valued-added experiences. It also offers a highly flexible venue layout and related functions, including a lift capable of handling vehicles and other large and heavy exhibits, and movable steps to suit a wide range of genre and layout needs such as business/innovation presentations, musical performances, gala dinner parties and much more.
Gallery; TOKYO NODE GALLERY (45th floor)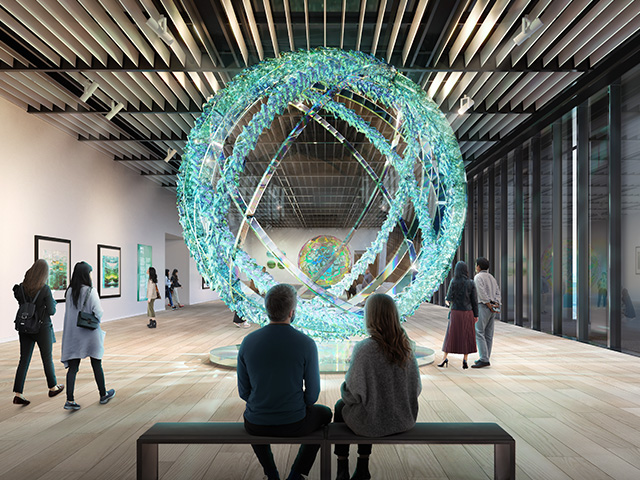 Three distinctive galleries is located on the 45th floor: TOKYO NODE GALLERY A features a dome-shaped ceiling to create an immersive 360-degree space measuring 240m², a maximum ceiling height of 15 meters; TOKYO NODE GALLERY B is an impressively expansive space measuring 1,020m² and with a ceiling of 5.5 meters; and TOKYO NODE GALLERY C, measuring 220m², also has a high ceiling of 12 meters.
These multifunctional galleries, each designed to accommodate wide-ranging events from business to entertainment, also can be connected together to create a much larger space for special exhibitions with unique storylines, such as interactive exhibits that fully immerse visitors in the organizer's art or brand. Furthermore, the entire floor can be configured as its own world by additionally incorporating the Arrival Hall, which serves as open-air lobby integrating the three halls, and a restaurant where all-day dining can be enjoyed.
Sky garden, infinity pool, restaurants; TOKYO NODE SKY GARDEN & POOL (49th floor)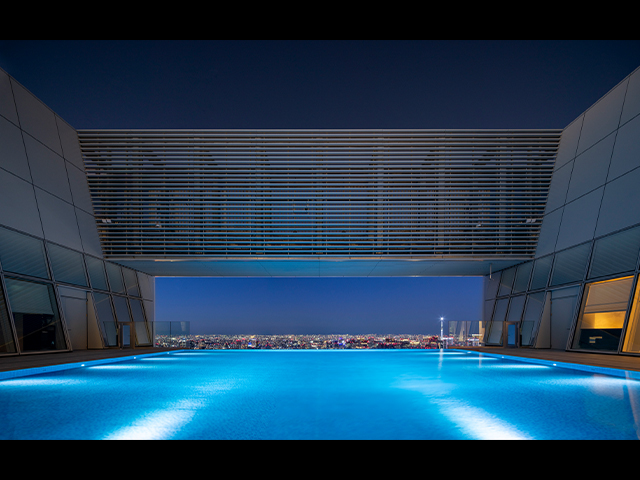 The rooftop, 250 meters above ground, is a symbolic location with a large, open-air sky garden and infinity pool that can be integrated with TOKYO NODE's halls, galleries and restaurants for fashion shows, garden parties and other memorable events. This unique environment, featuring one of the highest gardens and pools in Tokyo, provides visitors with unforgettable experiences.
Two restaurants are located on the top 49th floor: a concept restaurant newly launched by Kei Kobayashi, the first Asian chef to win three Michelin French stars in France, and a French gastronomy created by Keita Kitamura, formerly a chef at a Michelin-starred restaurant in Paris. Cuisine prepared by some of the world's best chefs will further enhance information-dissemination performances at TOKYO NODE.
Lab; TOKYO NODE LAB (8th floor)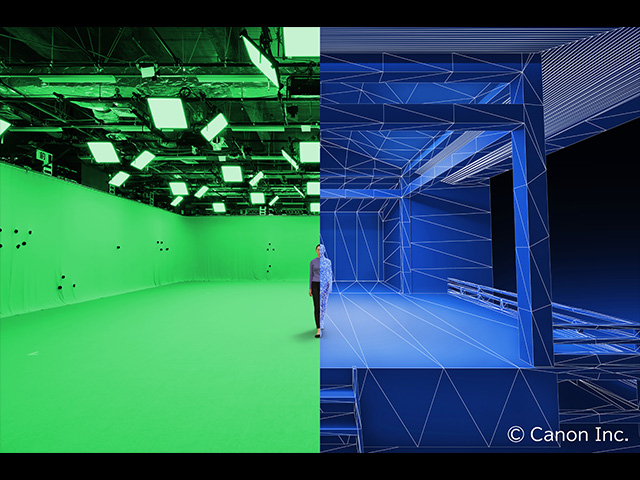 TOKYO NODE LAB, which includes a state-of-the-art volumetric studio for XR live distribution, is a space where creators collaborate. A joint project to build a new creative ecosystem is underway, which will launch new urban experiences and content and widely disseminate to the world.
TOKYO NODE Logo design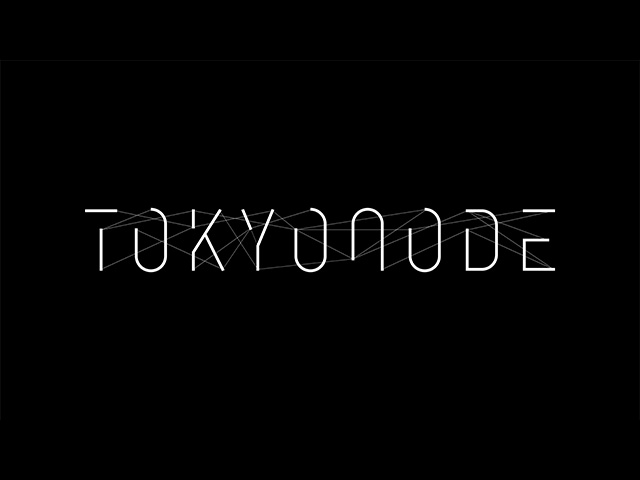 As implied by its name, TOKYO NODE will be a focal point for connecting the world and Japan, diverse people, and transcending the boundaries of business, art, science and entertainment. It will realize innovative creations that combine technology, ideas, and passion, and share them to the world, ultimately to enhance Tokyo's global magnetism.
The logo design by Yugo Nakamura is a motion logo that expresses the node continuing to move toward the future. The flowing logo expresses that TOKYO NODE will become a nodal point that enhances the communication hub Toranomon Hills, in response to society and the times continues to evolve, and move forward as an engine driving innovation and creation.
Yugo Nakamura
"TOKYO NODE will create new connections between cultures and businesses worldwide. It will gradually change and expand through the steady inclusion of various new stimuli. I created the identity logo to express not only the facility's latest interactive communication, but also its dynamic nature based on connections."

Profile
Web designer, interface designer and visual image director Yugo was born in Nara Prefecture, Japan in 1970 and graduated from the University of Tokyo's Graduate School of Engineering. He became a professor at Tama Art University and has been involved in web and interface design since 1998, and he established the design studio "tha ltd." in 2004.
Yugo has provided art direction, both cross-sectional and vertical, as well as design and programming for numerous websites and videos. His major works include a series of web directions for UNIQLO, UI design for the KDDI INFOBAR smartphone, and direction for the NHK educational program "Design Ah!"
His major awards include the Cannes Lions International Advertising Award Grand Prix, the Tokyo Interactive Ad Award Grand Prix, the TDC Award Grand Prix, the Mainichi Design Award, and the Minister of Education, Culture, Sports, Science and Technology's Art Encouragement Prize for Upcoming Designers.
New Office Space for Connecting People Responding to Diverse Needs and New Workstyles of Global Companies
Cutting edge offices form the core of a global business center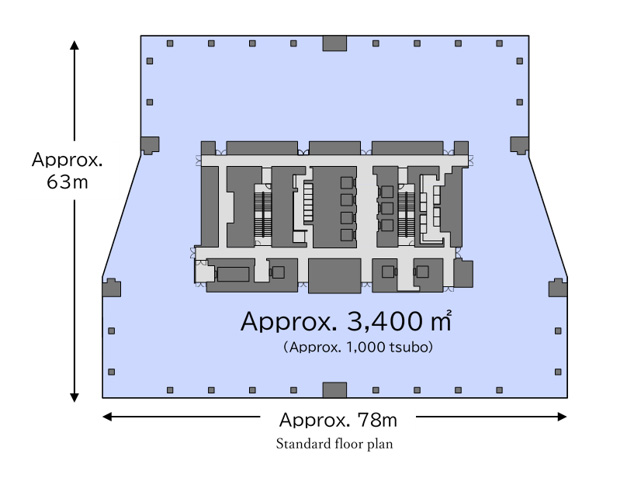 Toranomon Hills Station Tower (A-1 district)'s office area, located on 9th, 10th, 15-44th floors (total 32 floors), offers a total rental area measuring some 107,000m² and is equipped with the very latest features for cutting edge offices. Standard floors of about 3,400m², including column-free plans with depths from core to window surface of about 18.5m, accommodate diverse workstyles and other needs of global companies.
In addition, two "magnet zones" on the east and west sides of the upper two floors of each bank, eight zones in total, are equipped with atrium spaces and staircases, connecting the upper and lower floors to promote communication and collaboration among workers, and create more dynamic and creative workplaces. The zones, designed to be highly visible from the outside of the building, convey the messages that "activities inside the building will spread to the entire city" and "the entire city can be used as a workplace."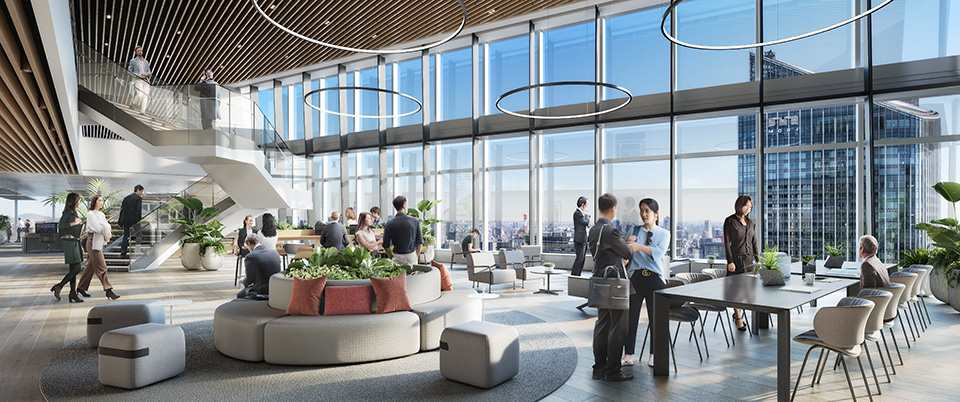 Wide-open Sky Lobby 46m above ground with a 10-meter ceiling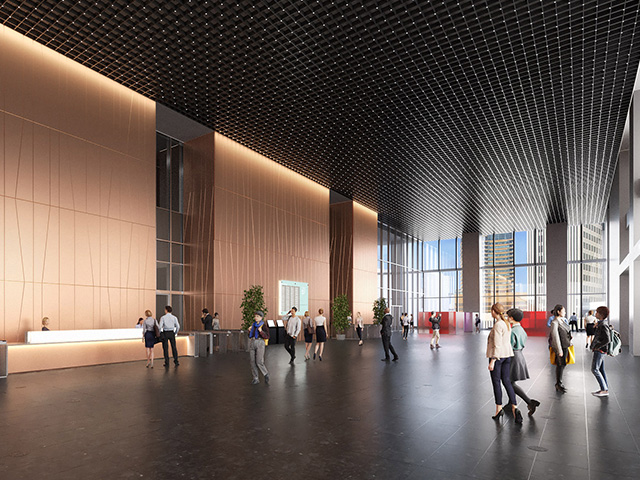 Sky Lobby will be on the Station Tower's 7th floor, some 46 meters above ground overlooking Sakurada-dori Avenue. The spacious lobby encompasses some 1,200m² of area, a ceiling extending some 10 meters high and an atrium-like space for welcoming guests from all over the world. Sky Lobby is easily accessible by elevator from the station plaza on the building's second basement floor, which is integrated with Toranomon Hills Station, and from the vehicle entrance on the first floor. Direct access via shuttle elevators will be available from each floor.
Elevators to office floors are arranged in a four-bank configuration, each bank assigned to a dedicated group of floors for fast, smooth access.
Hotel Toranomon Hills: Tokyo's First Unbound Collection by Hyatt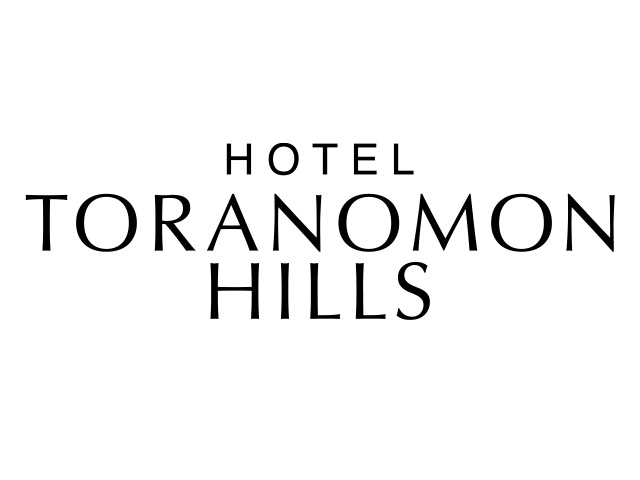 The 1st floor and 11th to 14th floors of Toranomon Hills Station Tower is home to the Hotel Toranomon Hills with 205 guest rooms including standard rooms measuring about 27m² to 34m². The hotel brand is "The Unbound Collection by Hyatt," which made its debut in Tokyo as a part of "Independent Collection." The brand is a curated compilation of one-of-a-kind hotels offering premium facilities, amenities and unique experiences based on top-level originality and quality.
The concept of Hotel Toranomon Hills is the hotel connected to diverse facilities and functions. It will serve as an "urban living room of Toranomon" welcoming a variety of guests with its restaurant, cafe and lounges open to the city. The hotel can be used in a variety of situations, supported by the open lounge with a view of the central city which can be used as a working space, as well as a shower booth, relaxation rooms, and meeting rooms. In addition, the maisonette-style suite room is a unique space where small-scale events can be held in a private space.
The interior design is by Space Copenhagen of Denmark, which makes its first appearance in Japan. The design is based on Scandinavian architectural style, including simple, natural materials, blended with Japanese traditional architecture, expressing a new type of luxury hotel inspired by the aesthetics and practicality of Japanese architecture.
All food and beverage experiences in the hotel's café and restaurant is supervised by Sergio Herman, one of Europe's star chefs. Herman is a native of the Netherlands and longtime Michelin-starred chef beloved by food lovers the world over and this will be his first foray into Japan. The 1st floor restaurant as well as the café & bar, deli and room service all offers modern-casual European gastronomic experiences under Herman's supervision.
Hotel Toranomon Hills in the Station Tower, together with Andaz Tokyo in the Mori Tower, will enable Toranomon Hills to further evolve as a focal point for diverse guests from around the world.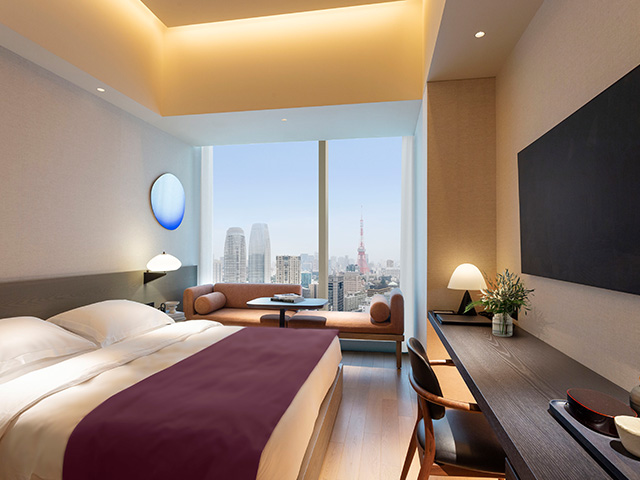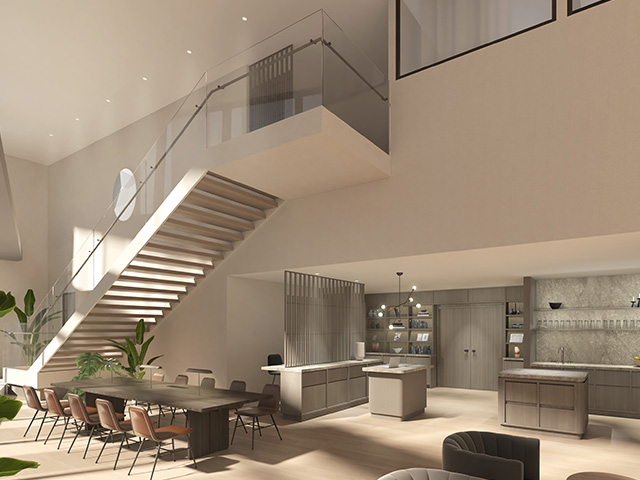 Retail Facilities that Support Global Players' Work and Lives
A retail space measuring about 14,400m² will occupy with some 70 stores that support the work and lives of global players including office workers and residents.
Highlights include "T-Market," a market directly connected to the "Station Atrium" plaza, the area's first large-scale boutique store selling select brands by BAYCREW'S, one of Japan's leading stores in this sector, and a wellness center of approx. 2,000m², one of the largest fitness centers and spas in central Tokyo, managed by Tokyu Sports Oasis. Furthermore, many other unique stores catering to lifestyle and beauty needs will open.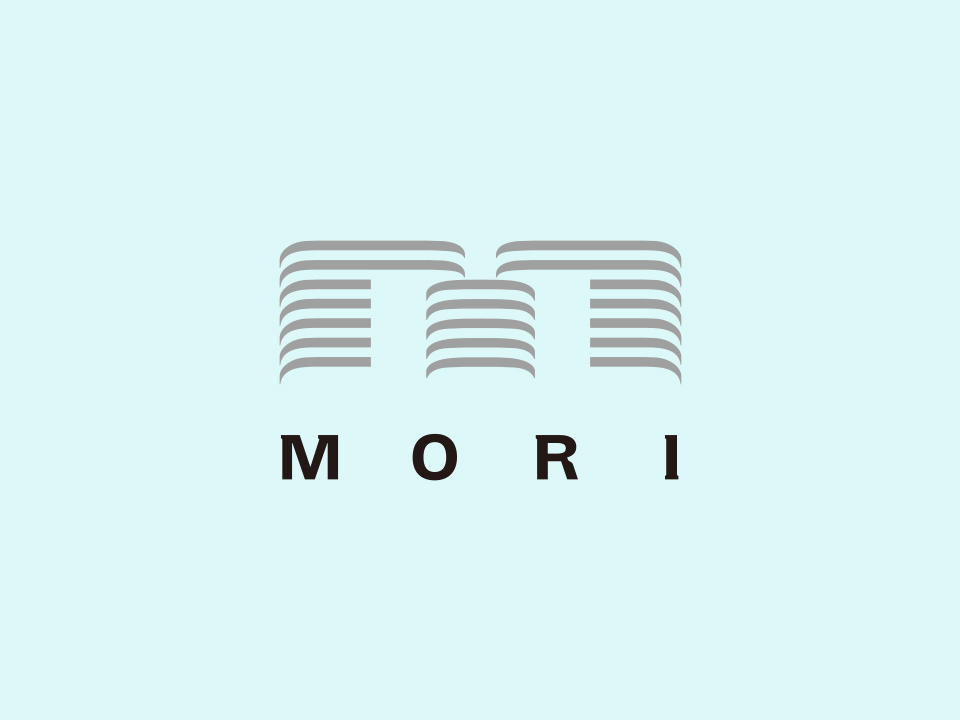 T-Market Lively Market Connected to Station Plaza
The T-Market (some 27 stores; approx. 3,000m²) directly connected to the Station Atrium will be full of life from morning till night (8am to 11pm), facilitating communication between people and enlivening the atmosphere of the surrounding area. The plaza-like market will be filled with restaurants, delis and stores. The restaurants will offer high-quality but reasonably priced menus, many curated by highly acclaimed chefs and pâtissiers, including some with Michelin or Bib Gourmand credentials.
In addition, common seating in the central area will accommodate some 140 people to enable visitors to enjoy meals nearby the stores. The market will also have craft breweries, bars, sundries, flower stores and other shops, and it will offer unprecedented ways to enjoy such a facility by staging collaborative events between shops as well as cultural events combining music and arts.
Area's First Large-scale Boutique Store
SELECT by BAYCREW'S(approx. 2,800m²), the first large-scale boutique store in the area, will become the new-format flagship store of BAYCREW'S, one of Japan's leading stores in this sector with over 70 brands. The store's cross-brand shopping will offer a new lifestyle experience for visitors to Toranomon Hills.
One of the Largest Comprehensive Wellness Centers in Central Tokyo
Tokyu Sports Oasis will open a new facility comprising a gym, hot baths, saunas, meditation and other services as the one of the largest wellness centers (approx. 2,000m²) ever to appear in central Tokyo. Based on its "Reset for creative life" concept, the center will enable busy urbanites to enjoy essential wellness experiences not possible at conventional gyms.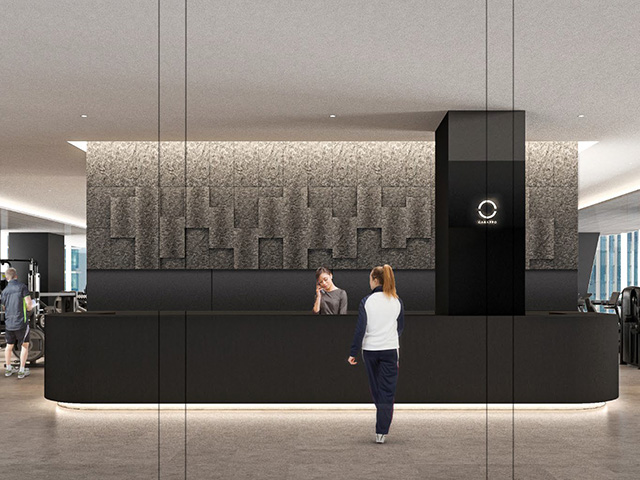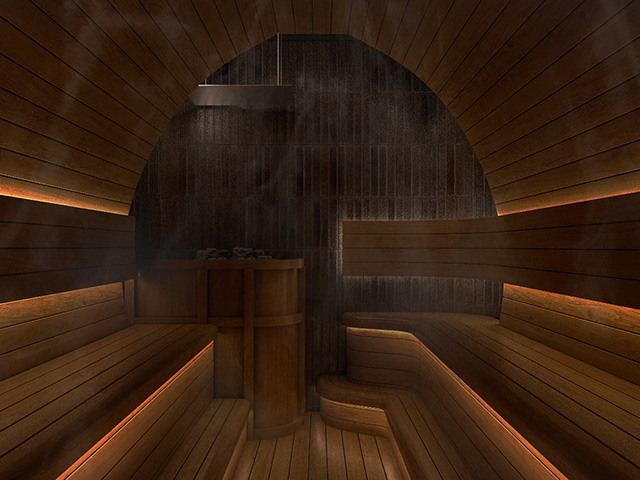 One of Toranomon's largest dining floors
Toranomon Hills Station Tower will give birth to one of the area's largest restaurant floors (both by size and number of locations) on the 4th floor, featuring 20 dining outlets, many run by up-and-coming chefs. A wide variety of dining venues will be available, from friendly open counters to intimate private dining rooms, spicing up Toranomon Hills' reputation as Tokyo's newest center of food culture.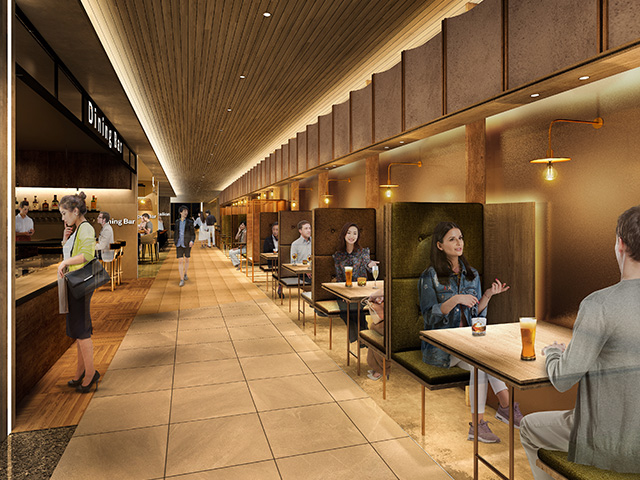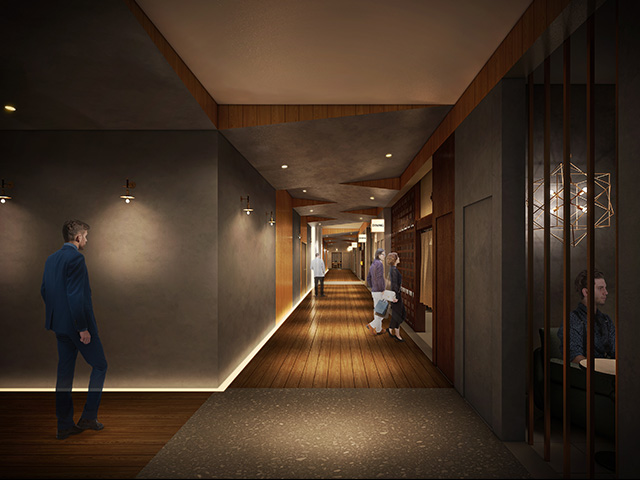 Initiatives for Safety, Environment and Culture
Minimizing the Entire Area's Environmental Impact
In Toranomon Hills, a high-efficiency energy center run by Toranomon Energy Network has been established to implement regional energy supply to the entire community. The first plant opened in the basement of Toranomon Hills Business Tower in 2020, followed by a second plant in the basement of Toranomon Hills Station Tower in 2023. The eco-efficient city will be realized by deploying highly efficient systems in compact cities that concentrate urban functions in high-rise structures, and using regional energy network throughout the entire community.
Furthermore, Toranomon Hills strengthens the area's safety functions, through independent and distributed energy systems, and supporting stranded people during a disaster. When the grid power supply is cut off, the co-generation system (CGS) and emergency generator supplies the power necessary in the event of the disaster. In addition, the Toranomon 1&2-chome district will provide temporary accommodation for some 950 people and a stockpile warehouse of emergency provisions for three days, making Toranomon Hills an important center for disaster preparedness through hard and soft measures.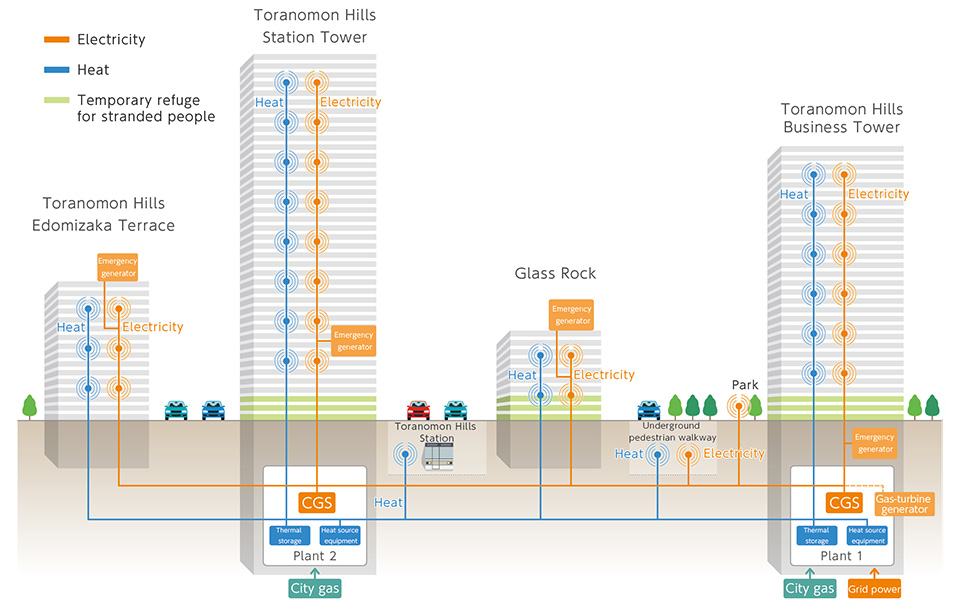 Station Tower as a Green Network Focal Point, Offering Various Experiences in Green Spaces
Toranomon Hills Station Tower faces Akasaka-Toranomon Green Road as part of an environmental axis formed around Loop Road No. 2. With the tower's completion, a new green network running east-west along Shintora-dori Avenue straddles over Sakurada-dori Avenue, in addition to the existing network running north-south. Furthermore, by connecting to existing greenways extending from the Shiroyama and Sengokuyama plateaus, Toranomon Hills Station Tower will become the focal point of a newly expanded green network spread over the wide area.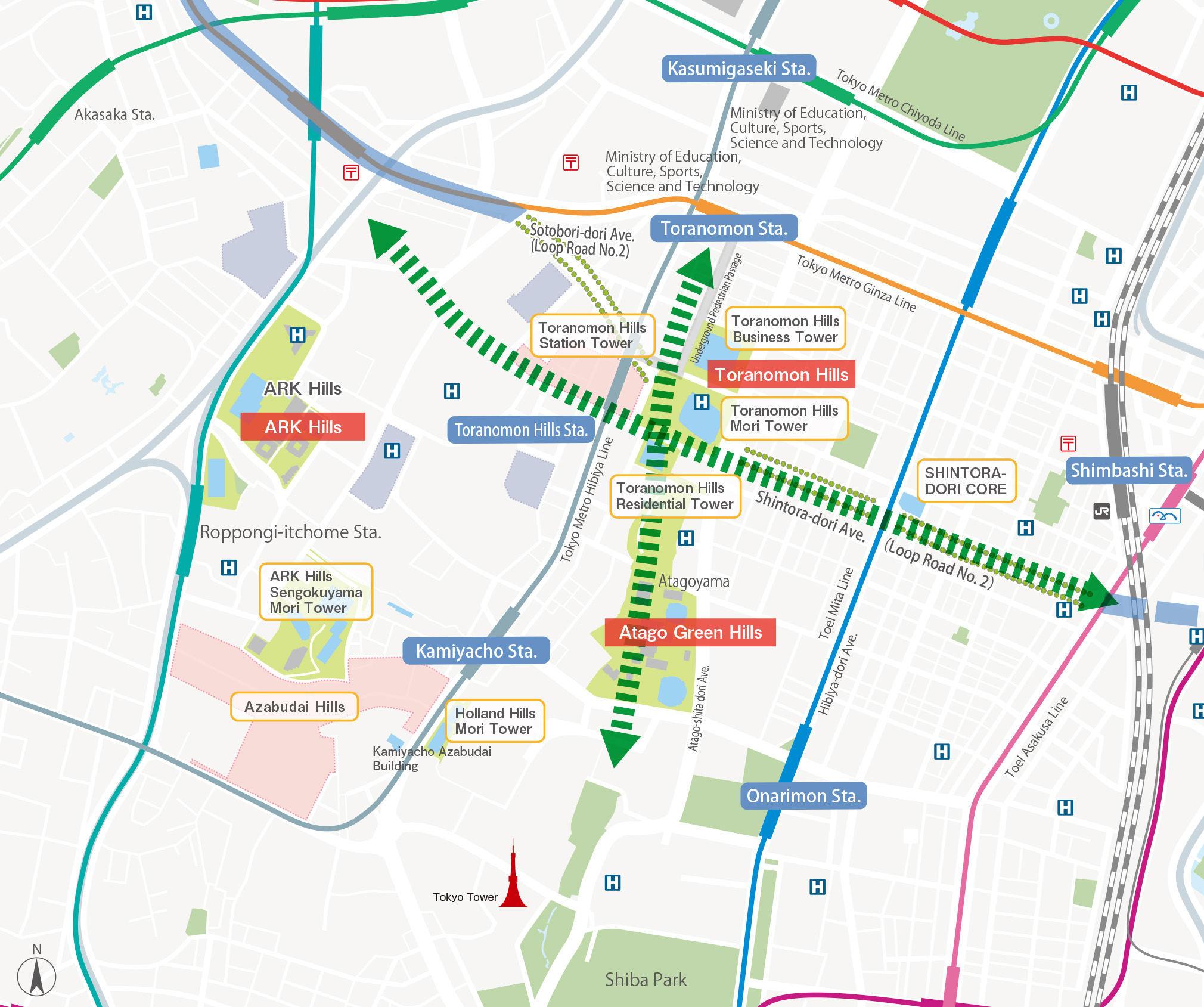 Green Spaces Offering Many Enjoyable Experiences
When planning Toranomon Hills Station Tower's landscaping, Mori Building created spaces where people could interact with greenery varying by location and environment. In keeping with the company's biodiversity practices, native species will help realize site greenery. The tower's open spaces allow visitors to interact with nature, including to enjoy the change of seasons, feel the rich attractions of nature and experience the calm and peacefulness of being surrounded by plants, thereby adding value to this urban complex as well as the broader city.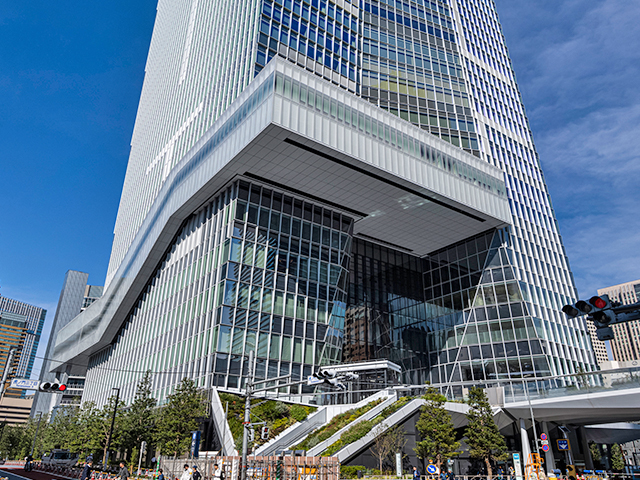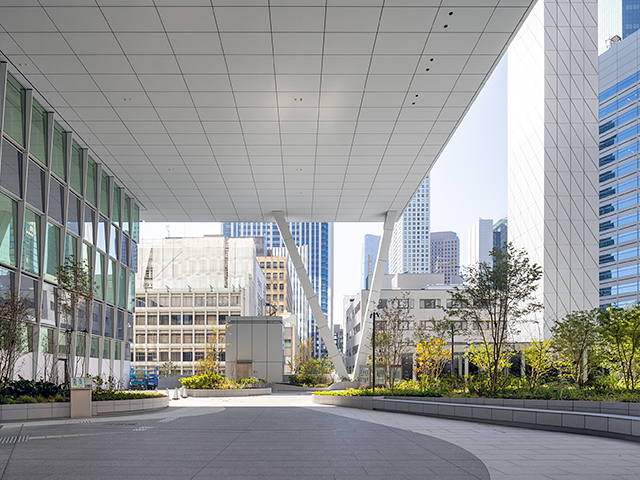 Multiple Global Environmental Certifications Received
At the Station Tower, we are also working to reduce the environmental impact through efficient energy.use. In 2022, Toranomon Hills Station Tower's offices and retail facilities have received preliminary Platinum certification in the BD+C:CS (Building Design and Construction/Core and Shell Development) category, a building-by-building certification program for newly constructed tenant buildings. The tower was highly evaluated for its effective environmental considerations during and after construction, specifically for the effective use of water resources, regional energy use from the on-site co-generation system, high-level energy savings through use of the latest equipment and technologies, visualization of environmental load reduction and measures to prevent contamination of core and interior walls during construction, and mechanisms and systems to collaborate with tenants on energy savings following constructions. Acquisition of this Platinum certification in both categories will be an extremely rare case worldwide.
Furthermore, Toranomon Hills Station Tower's offices and retail facilities have received WELL (WELL Building Standard) preliminary certification and are expected to earn top Platinum certification once completed. The tower was highly evaluated as an advanced urban redevelopment, indoor environments with excellent air quality through use of air conditioners equipped with high-performance filters, cafes serving healthful meals, and offering accessibility using elevated decks to green spaces such as Mori Tower's Oval Square. It is Japan's second largest precertified property, following the Azabudai Hills.
The Toranomon Hills Station Tower is also scheduled to obtain an S rank from CASBEE-Building for new construction.
Public Art Decorating the Complex
Public art appearing in various locations within the Station Tower has been carefully selected to boldly emphasize the complex as a global business center and platform for communicating from Tokyo to the world. Public art displays throughout Toranomon Hills enhance this iconic new location with visions of the future and symbolize both the energy of Tokyo and the natural world. The artworks also express the legacy of Toranomon, once the gateway to the outer moat of Edo Castle.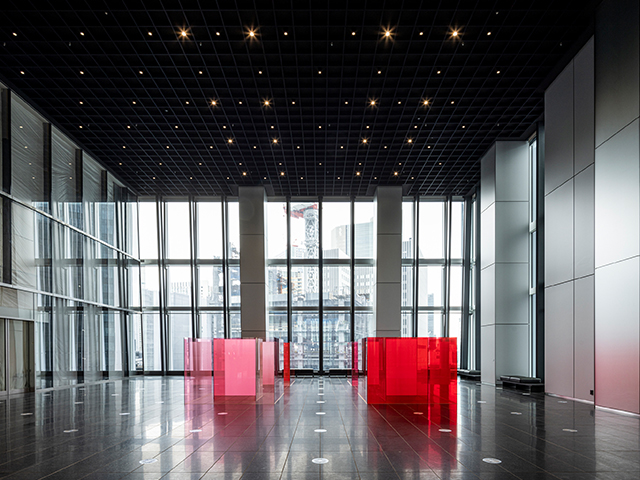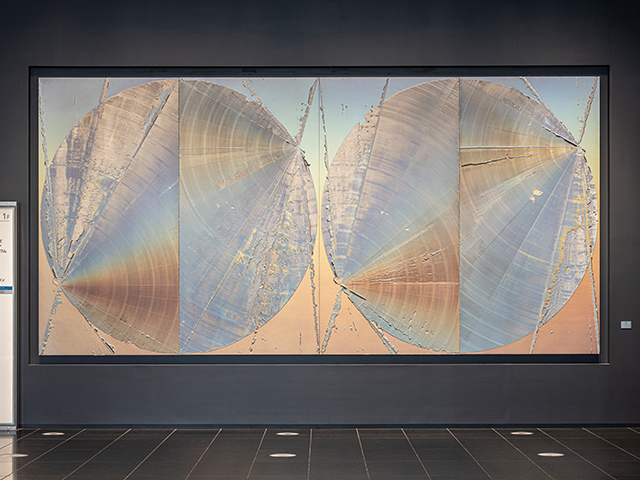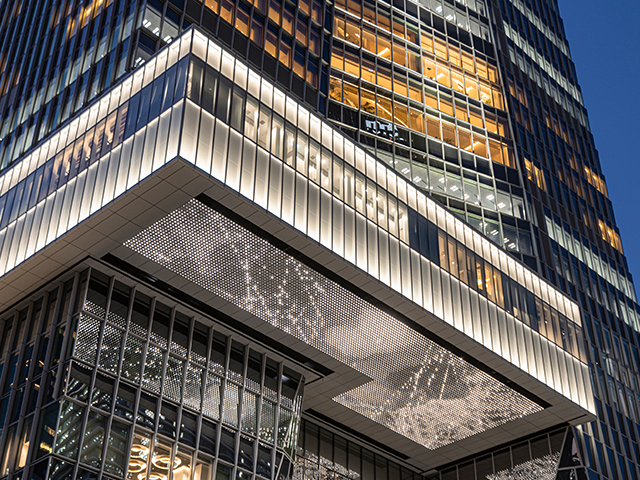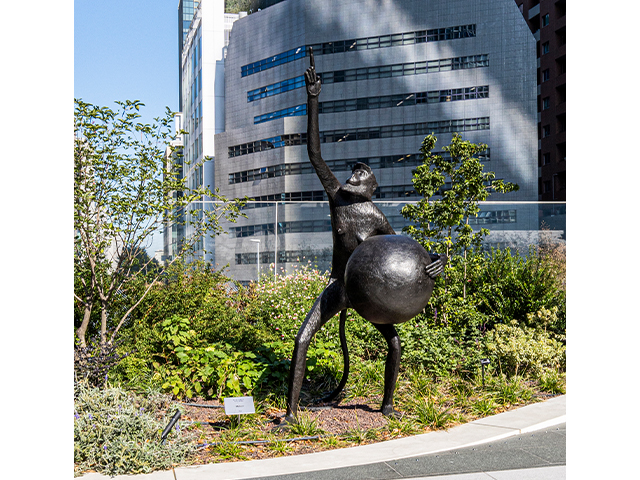 Architects and Designers
The cooperation of world-leading architects and designers brought together the individualit of each to create a city with a sense of unity. Various talented members from Japan and overseas participated in the city design, including Shohei Shigematsu, a representative of the international architectural design group OMA, who handled the architectural design of the Station Tower. The design embodies the Toranomon Hills' concept, new international hub and global business center, proposing how to spend time in the new city based on human activities.
The Design of Toranomon Hills Station Tower is OMA's first large-scale architectural project in Tokyo.
Its design is based on "THE ACTIVITY BAND" concept, or urban axis running from Shintora-dori Avenue to the Akasaka/Toranomon area, creating a symbolic place for people to gather and interact along the axis. To prevent the high-rise tower from being isolated from its surroundings, ideas were considered for integrating it with the wide area's network of subways and roads as well as nearby public spaces.

Profile
Architect Shohei Shigematsu is a partner of OMA, an international architectural design group, and the head of its New York office. He was born in Fukuoka Prefecture, Japan in 1973. After graduating from Kyushu University with a degree in architecture, he moved to the Netherlands and joined OMA in 1998. In 2006, he became the head of OMA's New York office, and in 2008 he became a partner.
His major works include a new building for the College of Architecture and Arts at Cornell University, a new museum for the Musée national des beaux-arts du Québec, Faena Forum (a multipurpose art facility in Miami Beach, Florida), the exhibition design for the Costume Institute at the Metropolitan Museum of Art, the headquarters of the auction house Sotheby's, the Wilshire Synagogue multipurpose event facility in Los Angeles, the Tenjin Business Center in Fukuoka, Japan, and space design for "Christian Dior: Designer of Dreams" at the Museum of Contemporary Art Tokyo.
Current projects include the New Museum's new wing in New York City, Tiffany's Fifth Avenue flagship, the Albright-Knox Art Museum's new wing in Buffalo, Miami's "Reef Line" underwater sculpture park project, the University of Illinois Innovation Center in Chicago, and a wide variety of other projects around the world.
He has been a visiting professor at Cornell University's Graduate School of Architecture, Columbia University's Graduate School of Architecture and Design (GSAPP), and Harvard University's Graduate School of Design (GSD). From 2021, he has been a professor at Kyushu University's Graduate School of Human and Environmental Studies and director of BeCAT (Built Environment Center with Art & Technology).

Ney & Partners take an approach grounded in structural dynamics in their design of symbolic urban interiors, at the same time ensuring these remain rational and are easily maintainable. Four different pedestrian decks with unique characteristics have been realized on an urban axis defined by OMA. These various forms have been realized by combining steelmaking technologies in use throughout Japan in shipbuilding, steel can manufacturing, bridge building, casting, polishing, machining and aviation.

Profile
Ney & Partners is headquartered in Brussels, and Laurent Ney and Ryuichi Watanabe co-founded an office in Tokyo in 2021; it now designs bridges, canopies, and station squares, and is involved in product development and civil engineering projects across Japan. One of the hallmarks of the company's activities in Japan is its formulation of processes that involve contractors and the public – not only throughout the planning and design phase of a project but also during construction and maintenance. Famous projects the company has worked on in Japan include the Misumi Canopy, the Dejima Footbridge, the Shin-Sapporo Active-Link, and the Shin Daiku Pedestrian Bridge.

The Station Tower's unique façade will be a powerful expression made possible by treating the architecture and lighting as one. In addition, the movement of people on the ground level will create continuity between the tower and its surroundings. Toranomon Hills Station Tower will shape Tokyo's visual identity from the perspective of the overall city as well as its districts and streets.

Profile
L'Observatoire International is a lighting design and consulting firm that was founded in 1993 by Hervé Descottes in NYC. The firm has been involved in more than 500 projects in over 25 countries, designing lighting profiles for museums, concert halls, universities, parks, retail facilities, residences, hotels, and many others. His representative works include the Louis Vuitton Foundation Museum (Paris) and the High Line (New York).

In honor of OMA's innovative structure, lighting in common areas has been designed to complement the architectural design with minimal disturbance to building surfaces. Separate design concepts have been created for nine areas, including the Station Atrium's ceiling, curtain walls, parking lots, and elevator halls.

Profile
David Singer, who established Arc Light Design in 1992, has collaborated with Tony Chi (tonychi studio) and other noted designers on over 600 lighting projects. He has also personally designed an estimated 3,000 and more custom decorative lighting fixtures and taught graduate-level courses for over 15 years.

Working closely with interior designer Space Copenhagen, Light iQ has developed a seamless lighting profile that complements the hotel's beautiful interior. The concept was to create an inviting ambiance throughout the hotel by subtly accenting detail with superior-quality lighting.

Profile
Light iQ was founded by Rebecca Weir in 2001 and Gerardo Olvera joined in 2014 as Design Director. Their meticulous attention to detail and strive for excellence in design have elevated Light IQ to one of the best world-class lighting design studios. Light IQ's wide range of projects include hospitality, food & beverage venues, high-end retail and luxury residential.

Designing of the commercial environment on the second basement floor is being overseen by Wonderwall. Under the concept of "creating a courtyard at the entrance to the city," a bustling garden centered around food will be realized. The comfortable atmosphere encourages people to drop in during daily life to enjoy a pleasing mood shift. The idea is to create new ways for people to enjoy a commercial space, not by defining how they spend their time. In addition, natural-like shadows and a time axis with lighting and sound will change organically throughout the day.

Profile
Masamichi Katayama is a representative of Wonderwall® and a professor at Musashino Art University. He has been involved in a wide variety of projects, from branding spaces to overall planning of large-scale commercial facilities. Katayama is internationally acclaimed for his free-thinking embodiment of various concepts and his sense of balance in incorporating modern elements while paying respect to tradition and style.

The firm sinato is overseeing design of the commercial common area on the 2nd to 5th, and 7th floors. A grand staircase connecting the 2nd to 4th floors will create a three-dimensional communication belt for connecting the behavior of diverse visitors. An undulating space extending among the stores, including huge voids and tunnel-like passageways, will enliven the atmosphere of the entire commercial area as a new place in the city where people can feel at home.

Profile
Riki Ohno is a representative of sinato, a firm that has designed numerous projects of varying scales and purposes, including architecture, interiors and installation art, both in Japan and abroad. He has been involved in some 300 projects to date, many of which have earned him awards and praise around the world, adding to his growing international reputation.

The hotel interior design is by Space Copenhagen, a Denmark Interior design firm, which will be their first interior design in Japan. Following our studio idea of 'slow aesthetics,' the design employs natural materials and craft that have quality, longevity, and a certain slowness inherent to their practice. By combining their Scandinavian background with a traditional Japanese design aesthetic, the hotel design represents a compelling contrast with Tokyo's high-speed, future-ready exterior.

Profile
Established in 2005 by Signe Bindslev Henriksen and Peter Bundgaard Rü tzou, Space Copenhagen is a design studio that works across multiple disciplines from interior design for private homes, hotels and restaurants all over the world to art installations and art direction, furniture, lighting and refined objects.
Data Sheet
Project Name
Toranomon 1-chome & 2-chome District Category 1 Urban Redevelopment Project
Location
Toranomon 1-chome and part of 2-chome, Minato-ku, Tokyo
Site Area
Approx. 2.2ha
Building Ground Area
Approx. 13,960m²
Building Site Area
Approx. 10,730m²
Total Floor Area
Approx. 253,540m²

Toranomon Hills Station Tower

Approx. 236,640m²

Glass Rock

Approx. 8,800m²

Toranomon Hills Edomizaka Terrace

Approx. 8,100m²

Facilities

Toranomon Hills Station Tower

Offices, Retail Facilities, Hotel, Interactive communication facility, Parking Lots, etc.

Glass Rock

Retail Facilities, Parking Lots, etc.

Toranomon Hills Edomizaka Terrace

Offices, Residences, Retail Facilities, Parking Lots, etc.

Floor

Toranomon Hills Station Tower

49 floors above ground/ 4 floors underground

Glass Rock

4 floors above ground/ 3 floors underground

Toranomon Hills Edomizaka Terrace

12 floors above ground/ 1 floor underground

Height

Toranomon Hills Station Tower

Approx. 266m

Glass Rock

Approx. 30m

Toranomon Hills Edomizaka Terrace

Approx. 59m

Construction Started
November 2019
Construction Completion
July 2023
Structure
S (Including partly SRC, RC)
Architect
Mori Building Co., Ltd.
Constructor
Kajima Corporation, Kinden Corporation, Sanken Setsubi Kogyo Co., Ltd., and Hitachi Building Systems Co., Ltd.
Project Executor
Toranomon 1 chome & 2 chome Redevelopment Project committee
Designer
OMA and others