Omotesando Hills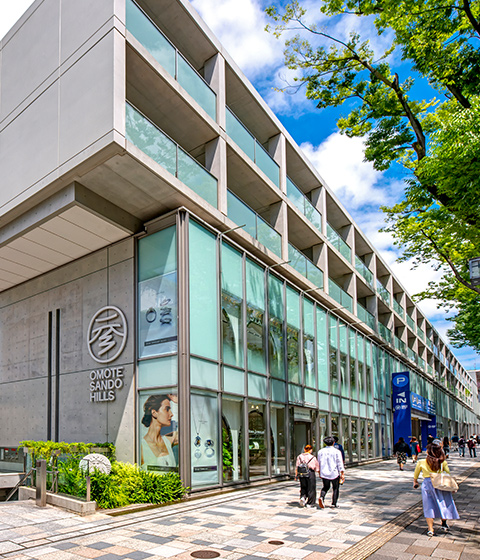 Media Ship: An ark transmitting cultural information to create a new future
The Dojunkai Aoyama Apartments that formerly stood on the site of Omotesando Hills were a symbol of the cultural lifestyle of the early Showa Era. The redevelopment was not easy. Together with the architect Tadao Ando, we considered a vision that respected the landscape of Omotesando, and harmony with the zelkova-lined Omotesando boulevard was not only maintained by the low-rise profile but also reinforced by extensive use of rooftop gardens. Omotesando Hills' six-story atrium, enclosed by a spiral ramp, echoes the slope of the boulevard outside, transforming the interior into a second Omotesando with its own array of shops. Omotesando Hills thus nurtures the memory of its historic forebearer as it grows into a landmark for a new generation.
Facility Overview
Residence
Omotesando Hills Zelkova Terrace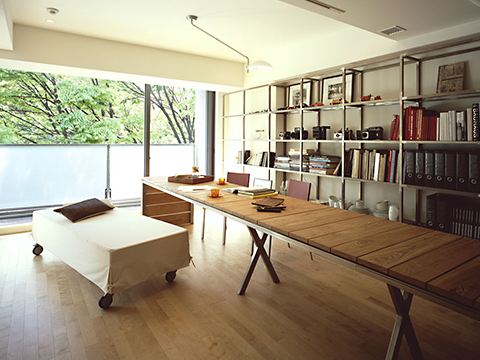 Omotesando Hills is Omotesando's new landmark. The residences on its sunny upper floors all offer first-class seats to the magnificent views of the Zelkova trees that line and symbolize the avenue below. The sunlight falling through the trees, the rustle of the breeze, the murmur of Omotesando's street sounds. These apartments offer lifestyles tailored to the individual, along with the pleasures of Omotesando. World renowned Architect Tadao Ando designed this residence to offer the finest possible example of the Tokyo urban lifestyle. The contrast of architectural concrete and glass, the use of exposed pebbles in the floor - the design may be unadorned, but it is richly expressive, easily absorbing the hues and contours of nature and blending together with the lush greenery of the surrounding environment.
Retail facilities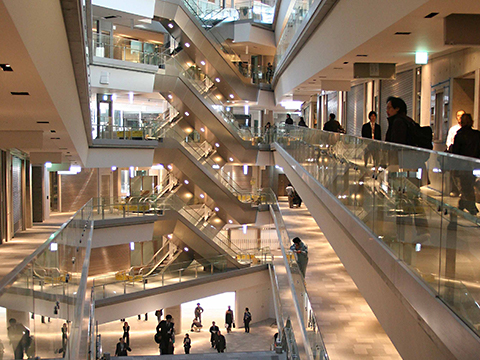 Person-to-Person, Person-to-Space, Space-to-City.
A place where each individual's imagination interacts, freely changes shape and creates a new era. A place full of stimulating discoveries where you can rejuvenate and update your creative mind whenever you visit.
This is Media Ship. Media Ship holds unlimited possibilities as a place of expression.
Data Sheet
| | |
| --- | --- |
| Project Name | Jingumae 4-chome Area Type 1 City Redevelopment plans |
| Location | 4-12-10, etc., Jingumae, Shibuya-ku, Tokyo |
| Site Area | Approx. 1.2ha |
| Building Ground Area | 6,051m² |
| Building Site Area | 5,031m² |
| Total Floor Area | 34,062m² |
| Facilities | Retail Facilities, Residence, etc. |
| Floor | 6 floors above ground/ 6 floors underground |
| Height | 23m |
| Green Coverage Rate | 35.38% |
| Construction Started | August 2003 |
| Construction Completion | January 2006 (Grand Opening: February 2006) |
| Structure | SRC (Including RC, S) |
| Architect | Tadao Ando Architect & Associates, Mori Building Design Collective |
| Constructor | Obayashi Corporation |
| Project Executor | Jingumae 4-chome Area City Redevelopment Union |