JAKARTA MORI TOWER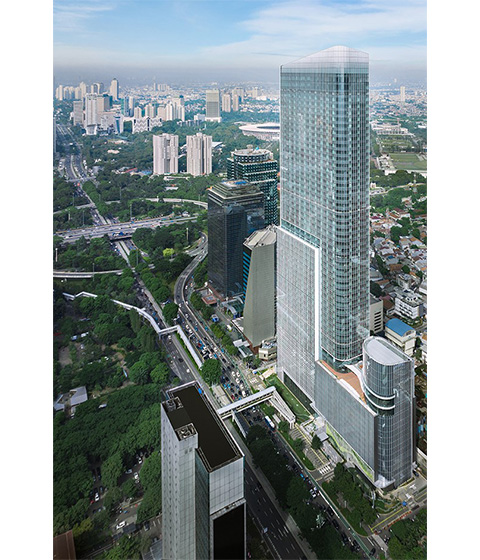 Large-scale office tower offering unsurpassed standards in Jakarta
JAKARTA MORI TOWER is located in the center of Jakarta's main business district near Semanggi Interchange on Sudirman Street, where many high-rises are concentrated.
JAKARTA MORI TOWER, the capital city's newest landmark, was designed by Kohn Pedersen Fox Associates (KPF), the New York-based design firm that previously collaborated with Mori Building on Roppongi Hills Mori Tower in Tokyo and the Shanghai World Financial Center.
* Please contact us regarding your office leasing inquiries: PT Mitra Panca Persada
Concept and History
JAKARTA MORI TOWER is located in the center of Jakarta's main business district near Semanggi Interchange on Sudirman Street, where many high-rises are concentrated.
The 266-meter tower has 58 floors encompassing 184,230m² of total floor area, and will feature some of the largest office floor plates in Jakarta-about 2,300m² for each standard rental area, amounting to 88,700m² in total. With three-meter ceilings and column-free plans measuring 18.5 meters from core to window, JAKARTA MORI TOWER will provide luxuriously open layouts that accommodate diverse workstyles and other needs of global companies. Mori Building expects the tower to become Indonesia's first structure to receive WELL Core Gold certification for office environments that contribute to the health of tenant personnel.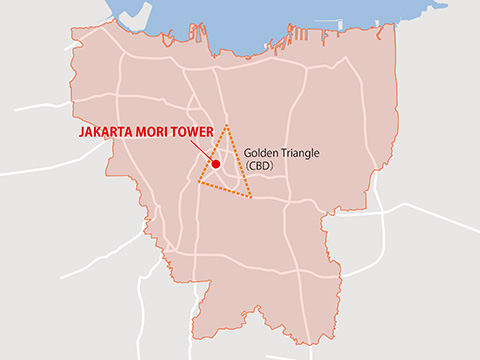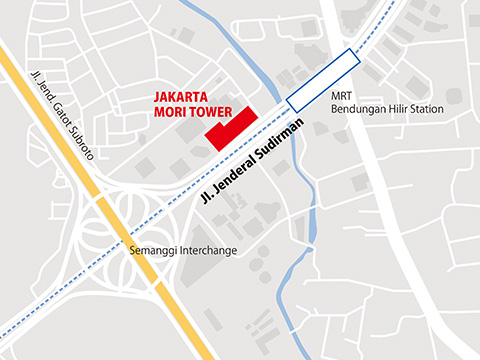 Envisioned Certifications under WELL Core Gold, the First in Indonesia
In September 2020, in recognition of plans to create safe and healthy working environments for occupants, JAKARTA MORI TOWER received preliminary certification under the WELL Building Standard rating system, which verifies the impact buildings have on people's health and wellness. The deployment of high-performance air-conditioning filters and other measures have been highly evaluated, particularly for improving air environment. The completed tower is expected to become the first in Indonesia to receive WELL Core Gold certification.
The tower also received preliminary Green Mark certification from Singapore's Building and Construction Authority (BCA) in August 2019, and herewith is expected to earn top-level Platinum certification. This greenbuilding certification program, which addresses needs in tropical and subtropical climates of Southeast Asia, pays special attention to energy-consumption performance. JAKARTA MORI TOWER has been highly evaluated for its energy efficiency thanks to its use of exterior materials with high thermal-insulation and heat-shielding properties and its deployment high-level energy-saving equipment.
About WELL
WELL, managed by the U.S. Green Building Council (USGBC), is the world's first performance-based rating system for measuring, certifying and monitoring features of the built environment that impact human health and wellbeing. It mainly evaluates indoor environments and facilities and services that lead to good health.
About Green Mark
Green Mark is a system for evaluating the environmental friendliness of buildings, particularly in regard to energy-consumption performance, as certified by Singapore's Building and Construction Authority (BCA).
Facility Overview
Premium-Grade Office Space will Flexibly Accommodate Diverse Workstyles
JAKARTA MORI TOWER's rental office area on floors 14–54 totals 88,700m², with standard rental floor areas measuring 2,300m², some of the largest office floor plates in Jakarta. Vast column-free spaces extend some 83 meters by 18.5 meters, and ceilings are 3.0 meters, creating a powerful sense of openness. Side-core plans allow for contiguous spaces that facilitate intra-office communication. Floor load capacity is top-level for Jakarta—from 500 kg/m² standard to 800 kg/m² max.—contributing to flexible layouts and interior designs that accommodate diverse global workstyles.
By adopting a variable air volume (VAV) system that divides one floor into 30 to 33 zones, it becomes possible to finely adjust the temperature by zone contributing to reduced overall power consumption by the air-conditioning system. Security gates deploy face recognition and elevators are equipped with a Destination Control System (DCS) to minimize passenger wait times. Flow lines from the security gates to private-office entrances are completely contactless.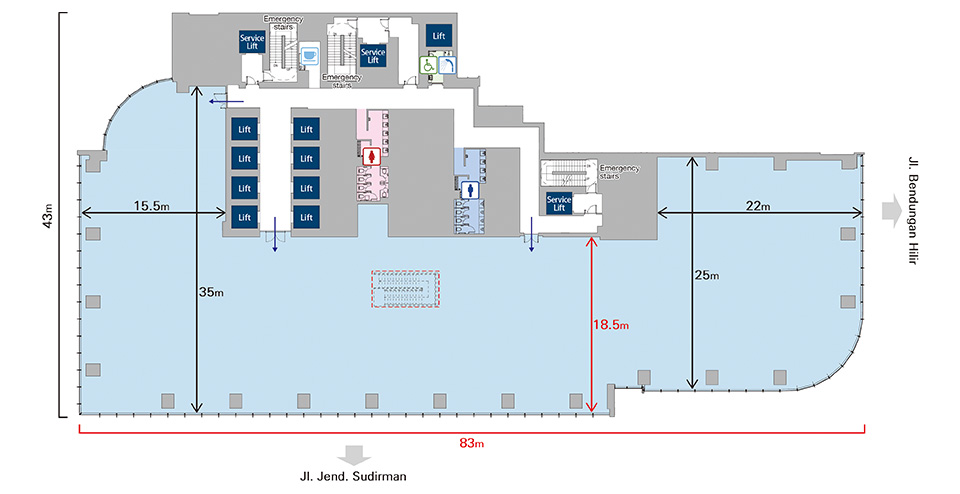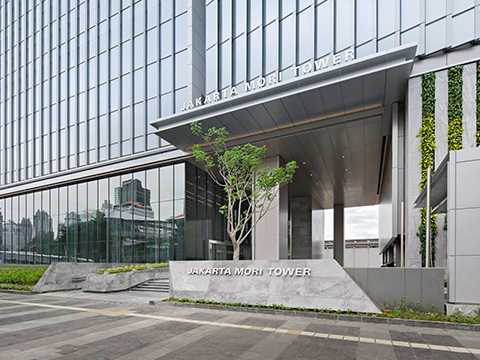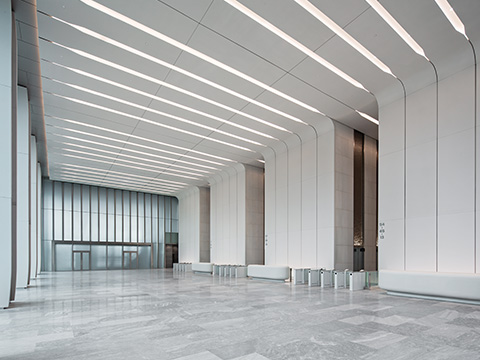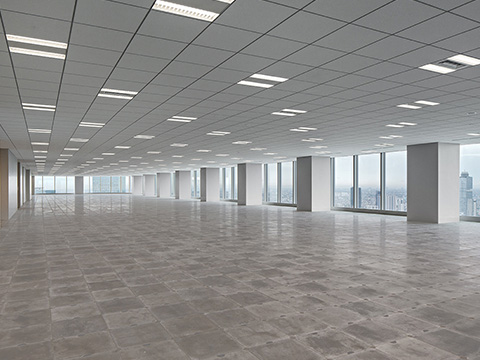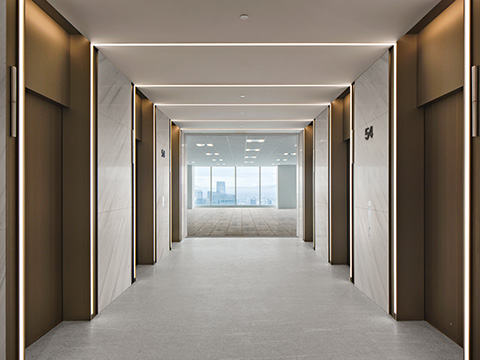 Openair Restaurants and Relaxing Outdoor Terrace High Above Street Level
JAKARTA MORI TOWER's location on Sudirman Street places the building in one of Jakarta's most popular gathering points, where people flock on weekends for cycling and jogging on car-free streets. Floors 13 and 14 of JAKARTA MORI TOWER will offer excellent dining experiences for occupants and visitors alike. What's more, the 13th floor will feature a quiet outdoor terrace, accented with greenery and a waterscape.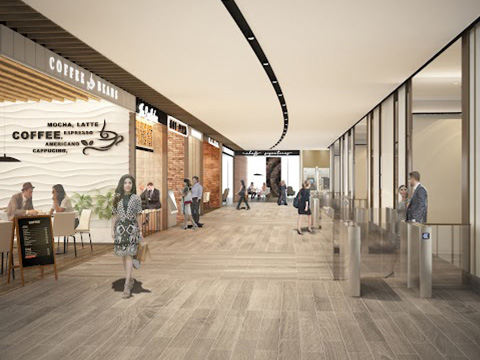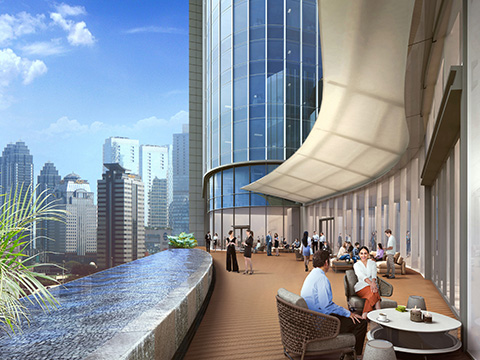 Strong Business Continuity to Lower Disaster Risks
JAKARTA MORI TOWER supports strong business continuity planning to counter earthquakes, floods and other natural disasters. Special measures include advanced hardware and software for enhanced shake-resistance, emergency power generation and robust disaster-management systems. Reinforced-concrete core walls and steel-framed reinforced-concrete perimeter pillars, uncommon for Jakarta, are installed for earthquake resistance. A Premium Platinum Rating contract concluded with PT PLN, Indonesia's state-owned electric power utility, assures top-priority power supply, including by incorporating independent lines to separate electric networks. In addition, backup generators can supply power to the entire building for 72 hours in the absence of external power supply.
To prevent flooding, the office lobby is raised 1.3 meters above ground level and barriers protect the property from encroaching water. In addition, rooms for electricity, power-generation and heating facilities also are located above ground.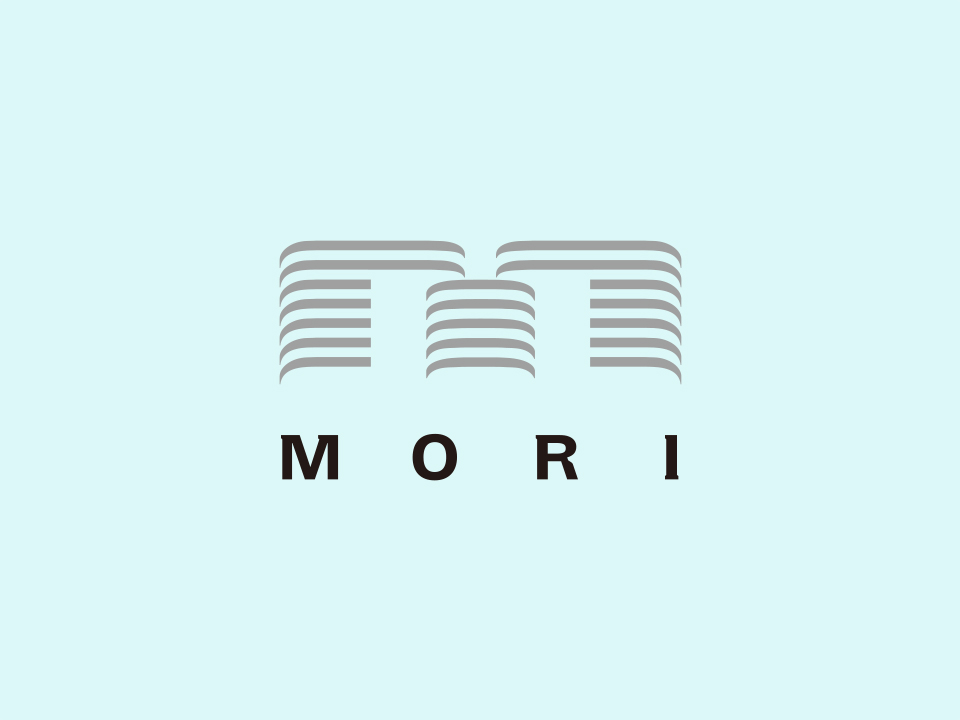 Architects and Designers
Jakarta's Newest Landmark Featuring Distinctive Design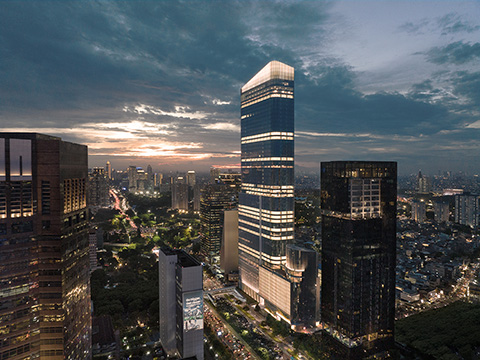 The architectural design was created by New York-based Kohn Pedersen Fox Associates (KPF). The tower is accentuated with distinctive curves to gently blend in with the city as its newest landmark. Attention to detail is meticulous, from an office entrance lobby designed as a large sculptural space to materials and colors used in the common areas of standard floors.
Another noticeable design feature is the tower's lighting scheme, which adopts a variety of techniques that create diverse expressions to enhance Jakarta's nightscape.
Data Sheet
| | |
| --- | --- |
| Project Name | Jakarta Office Tower Project |
| Location | Jakarta, Indonesia |
| Building Ground Area | Appx. 8,088m² |
| Total Floor Area | 184,230m² |
| Facilities | Office, Retail Facilities, Parking |
| Floor | 58 floors above ground/ 4 floors underground |
| Height | Appx. 266m |
| Construction Started | July 2017 |
| Construction Completion | October 2022 |
| Structure | SRC, S, RC core walls (tower section), RC (podium section) |
| Architect | SHIMIZU CORPORATION |
| Constructor | SHIMIZU CORPORATION and Bangun Cipta (joint operation) |
| Project Executor | Mori Building Co., Ltd. |
| Designer | Kohn Pedersen Fox Associates (KPF) |