Message from the President & CEO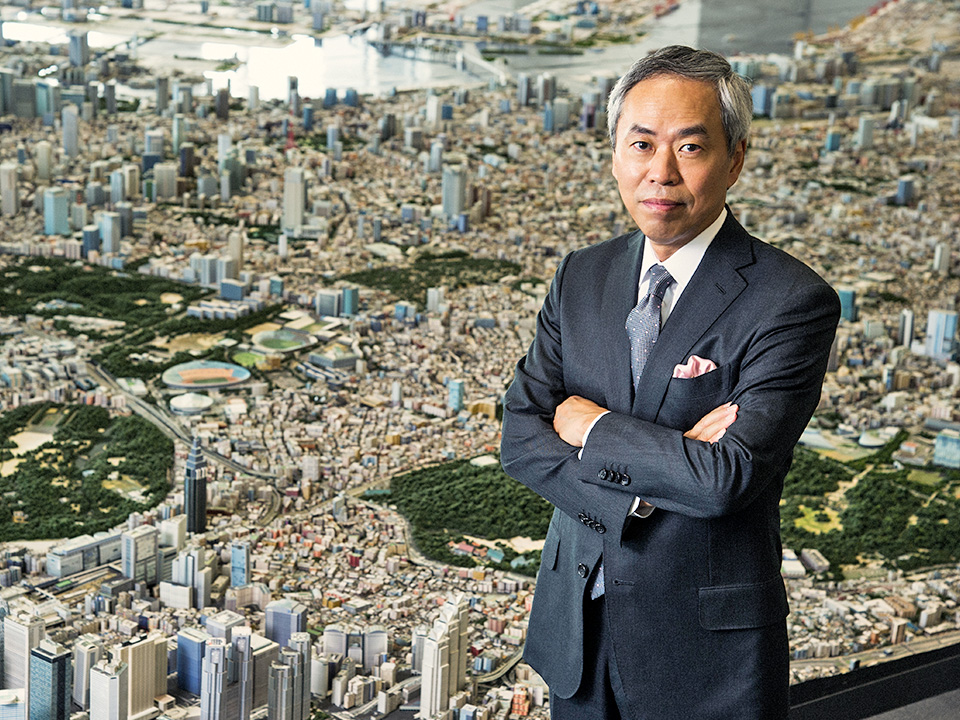 The Mori Building group is dedicated to realizing sustainable society, developing local communities, and contributing to the safety, health, and happiness of people through the business under our philosophy of "Create Cities, Nurture Cities", and continues to be indispensable companies in the world.
Cities are the stage for all human activity.
Those who are responsible for urban development must take responsibility for the future of the people who live there. We are also responsible for the future of society and the Earth.
Well before the words like ESG and SDGs came into the spotlight, we had been working with local residents to create sustainable cities through urban redevelopment projects. ARK Hills (completed in 1986), Roppongi Hills (completed in 2003), Toranomon Hills (completed in 2014), and many other "Hills" are testaments to our belief in and commitment to sustainability.
Forty years ago, when we were working on the ARK Hills redevelopment project, it was said that urban development was destructive to the environment and communities. However, we have turned that notion on its head. With the concept of "the Vertical Garden City - a skyscraper city covered in greenery," we have created a city that is much greener, more community-oriented, and more disaster-resistant than it was before development.
In the redevelopment, the subdivided land was brought together and redeveloped, and various urban functions such as "work," "residence," "recreation," "education," "commerce," "social interaction," and "culture" were incorporated into the high-rise tower in a three-dimensional manner. It is estimated that greening the ground surface improves the green coverage by 30% and energy efficiency by 40% compared to the urban area before the redevelopment*. In addition, Roppongi Hills generates its own electricity for use in the city. By combining facilities of various uses, we have created an energy-equalized and energy-efficient city where people can continue to live and do business even in the event of a disaster.
Cities last for hundreds of years. Mori Building views the completion of a town or building as a beginning, not an end. We take responsibility for nurturing the towns we create with local residents so that they will continue to shine for decades to come. For example, we have created a unique town management structure and organization at Roppongi Hills that is responsive to changing era, evolving technology, ever-changing community issues, and the needs of users. Through various events and community activities centered on this organization, we have connected people, businesses, the town, and the local community.
Development and town management are the two wheels of Mori Building's unique approach to urban development. By sharing and feeding back the knowledge and data accumulated there, and by incorporating cutting-edge technology into urban development, we aim to create "Hills of the future" of an even higher dimension.
Azabudai Hills, which will be completed in 2023, is based on the "Modern Urban Village" concept and its two main pillars, "Green & Wellness." Due to the Covid-19 pandemic, people worldwide have become acutely aware of the importance of health and wellness, with the environment serving as the core foundation. Our project will incorporate a comprehensive system for supporting health and wellness throughout the entire complex. Furthermore, power will be supplied 100% with renewable electricity. In sum, this will be an innovative model for addressing pressing urban issues.
Mori Building's urban development initiatives support the harmonious coexistence of cities and nature as well as decarbonization and resource recycling across a wide area of Tokyo, including Azabudai Hills and other Hills properties.
The responsibility for the cities and the future rests not only with our companies, but also with each and every one of our employees. In addition to ensuring the soundness and permanence of our company, we will focus on creating an environment and structure that allows each and every one of our employees to devote themselves to urban development in a healthy manner, both physically and mentally, as we further evolve urban development in the Mori Building style.
The Mori Building group has and will continue to fulfill its responsibility to people, society, and the Earth through urban development.
Tsuji, Shingo
President and CEO