Human Resource Development
Basic Concept
Mori Building is committed to human resource development based on its concept that "Urban Development is Human Resource Development," recognizing that its employees are the most important management resource for the company.
Specifically, it has established the Code of Conduct (Values) required to achieve the company's urban development philosophy and vision based on the following six perspectives. It also develops the skills of the employees so that they will become "people who can maximize and demonstrate their abilities through the practice of the Code of Conduct (Values)," and incorporates this into the personnel evaluation criteria.
Code of Conduct (Values)
Sense of responsibility and mission
We have high ethical standards, recognize our own social responsibility beyond strict compliance with laws and regulations, and act based on a sense of social mission to contribute to society through urban development as a member of Mori Building.
Motivation and spirit of challenge
We are motivated to take on challenges and spare no effort in the face of difficulties, and in the spirit of never giving up, we follow through to the end.
Creativity and ingenuity
We create new projects and businesses with flexible ideas that are not bound by preconceptions and precedents, and we also act based on the spirit of reforming and improving our business through creativity and ingenuity.
Self-reliance and self-improvement
We think for ourselves as independent individuals without relying on others, always striving for self-improvement and acting in the spirit of personal growth.
Respect and teamwork
We act based on the belief that each and every employee should respect each other, and in the spirit of teamwork, will work hard and compete with each other and achieve results by collaborating across generations.
Human resource development
Following the founding spirit that "Human life is an endless repetition of first being nurtured by your predecessors, and then nurturing your successors," we nurture our successors, subordinates, and junior employees to revitalize, strengthen, and develop the organization.
Training Programs with Special Efforts
In addition to training by job level and language training, Mori Building provides building practice training, case study, and local community exchange training to pass on and develop the mindset and knowledge necessary for Mori Building employees.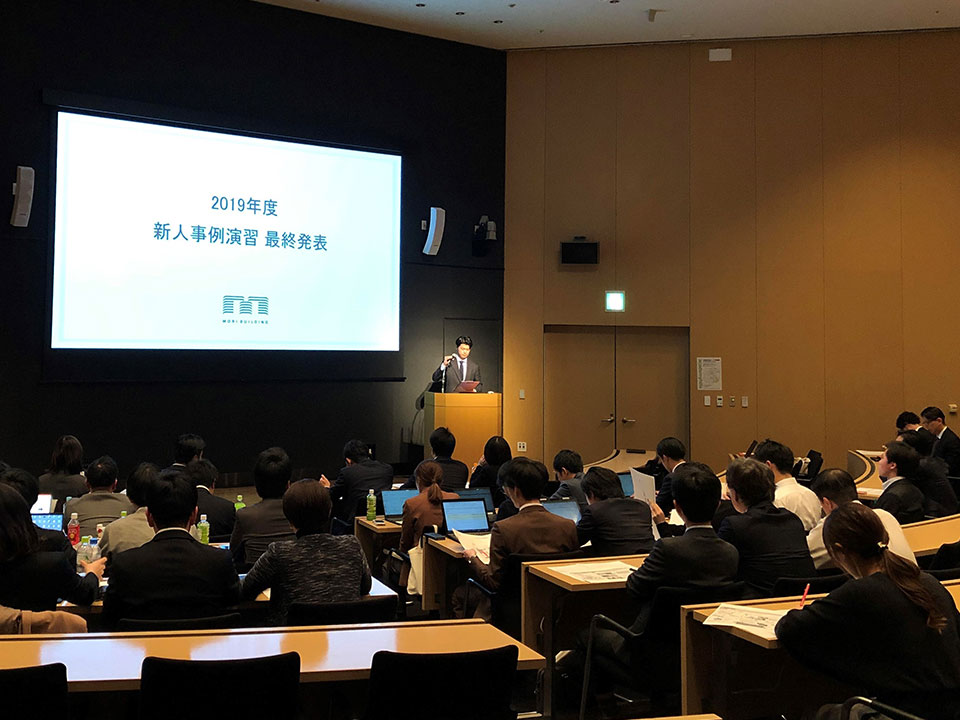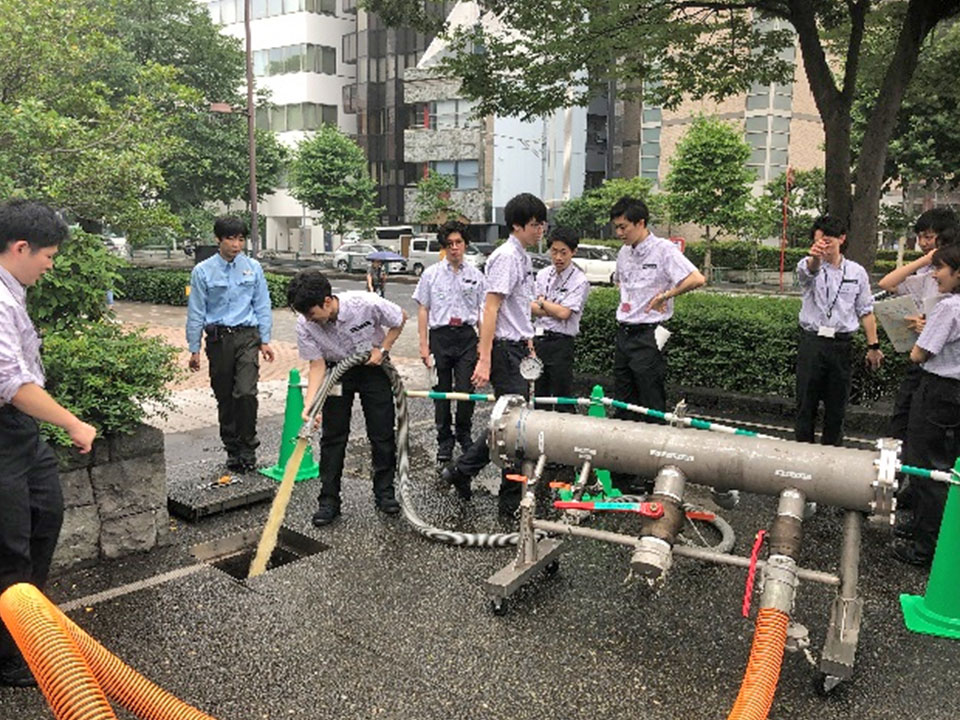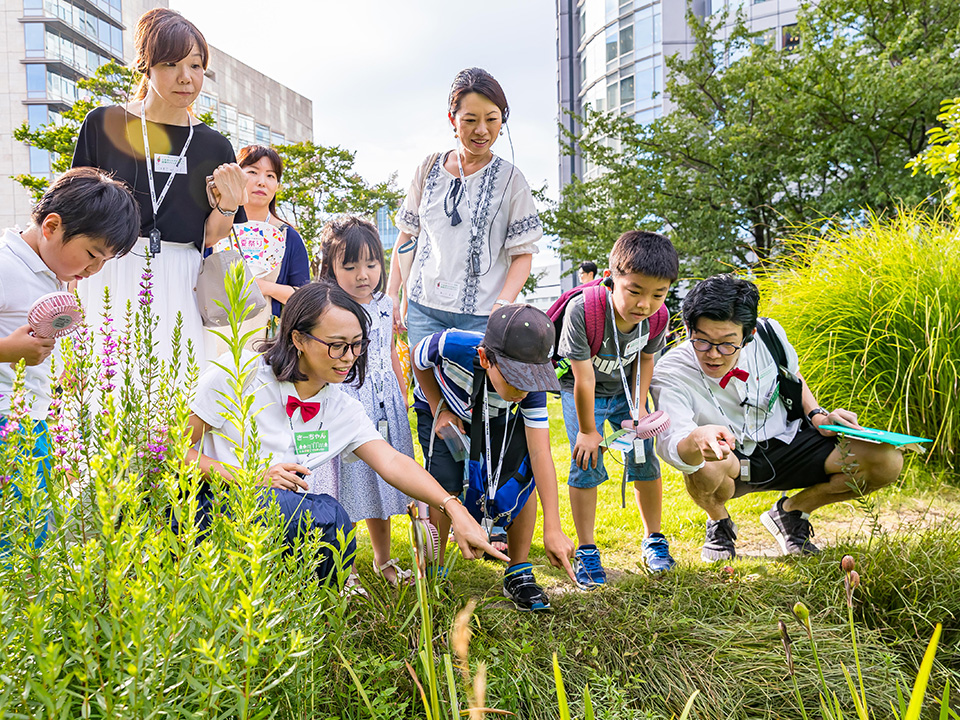 Case Study (for Newcomers)
New hires are educated on the basics of urban development by using case studies to learn about the various processes such as site analysis, concept formulation and facility planning to calculate profitability. Subsequently, groups are formed to create urban development plans that are later presented to other employees.
Building Practice Training (for Newcomers)
A hands on experiential training program in which newcomers are assigned to each building management site for two weeks to acquire basic knowledge of building management operations through practical training onsite.
Local Community Exchange Training (for Newcomers)
A program in which newcomers participate in a local neighborhood association festival, carrying a portable shrine and parading it through the neighborhood with members of the local community association. Through this exchange, they experience the love for their hometown and learn about the core of urban development.
Zen Meditation Training
A training program that gives employees an opportunity to reflect on life and examine themselves through seated meditation (zazen), chanting sutras, and labor service in a Zen temple to foster their personal development. It also helps participants remind the history of the development of Atago Green Hills and deepen their understanding of Mori Building's urban development.
Open-mind Training
A training program that enables employees to acquire the necessary knowledge of the facilities from the same perspective as the staff working in the Hills*, as well as the mindset necessary to interact with and properly guide customers.
The Hills is a collective name for Mori Building facilities such as Toranomon Hills, Roppongi Hills, and ARK Hills
"Machi-Iku," Nurturing Cities Training
Third-year employees plan and manage the "Hills Machi-Iku Project (Japanese only)," which communicates to the general public about Mori Building's urban development philosophy and initiatives. This is a training program to deepen understanding of the company and how to communicate from the other person's point of view by presenting the company and the city to customers as a representative of Mori Building.
Overseas Language Training
A training program that sends selected young and mid-career employees to an overseas language school in London for one month. The purpose of this training is not only to improve English language skills, but also to broaden their perspectives and deepen their knowledge through various experiences in different cultures.
Career Plan Support System for Every Employee
Mori Building has established the following systems to support the career plans of each of our employees.
Interviews for Newcomers
During the first year of employment, a member of the Human Resources Department meets regularly with new employees to discuss their career matters and provides them with support for healthy and vigorous work both mentally and physically.
Tutor/Mentor System
For the first year after joining the company, each new employee is assigned a dedicated tutor and a mentor, who provide support not only in terms of work, but also mental care.
Self-reporting
Mori Building has a self-reporting system that allows employees to submit annual transfer requests based on their personal career plans to their supervisors and Human Resources Department. We conduct job rotations on the basis of the contents of each self-report.
Job Rotations for Younger Employees
Mori Building has a job rotation system for younger employees that allows them to experience in principle three different departments within their first ten years with the cmpany, with the goal that they will be able to assess their own suitability and draw up a career plan based on their experience in a variety of work.
Training Course Data (Mori Building Co., Ltd.)
| | FY2019 | FY2020 | FY2021 |
| --- | --- | --- | --- |
| Training hours per employee (hours) | 10.0 | 4.8 | 5.3 |
| Total training time (hours) | 15,228 | 7,351 | 8,266 |
| Training costs per employee (JPY) | 36,516 | 17,717 | 18,823 |
| Total training cost (thousand JPY) | 55,541 | 27,070 | 29,288 |
In FY2020 and FY2021, several training programs or courses were postponed due to the COVID-19 pandemic