Employee Health and Safety
Basic Concept
Mori Building recognizes that the health and safety of its employees is an important management issue for the sustainable development of the company, and is actively implementing measures to maintain and promote employee health and ensure safety.
We also make the same request of our stakeholders involved in our business, including subcontractors and construction companies, to ensure safety.
We are always striving for better health and safety initiatives and will continuously improve them.
Health Management Declaration
Mori Building promotes health management, regarding the health management of employees and others as a management strategy, so that each and every employee can work enthusiastically and healthily, both mentally and physically.
By maintaining and improving the health of our employees, we enhance the vitality and performance of both company as well as individuals, leading to further growth and development.
Furthermore, in order to fulfill our social mission to revitalize people and businesses through the work of "Create Cities, Nurture Cities," Mori Building will further promote the creation of cities where people who live, work, and visit can spend their time in good health and vitality, both physically and mentally.
Selected under the 2023 Certified Health & Productivity Management Outstanding Organizations Recognition Program (White 500)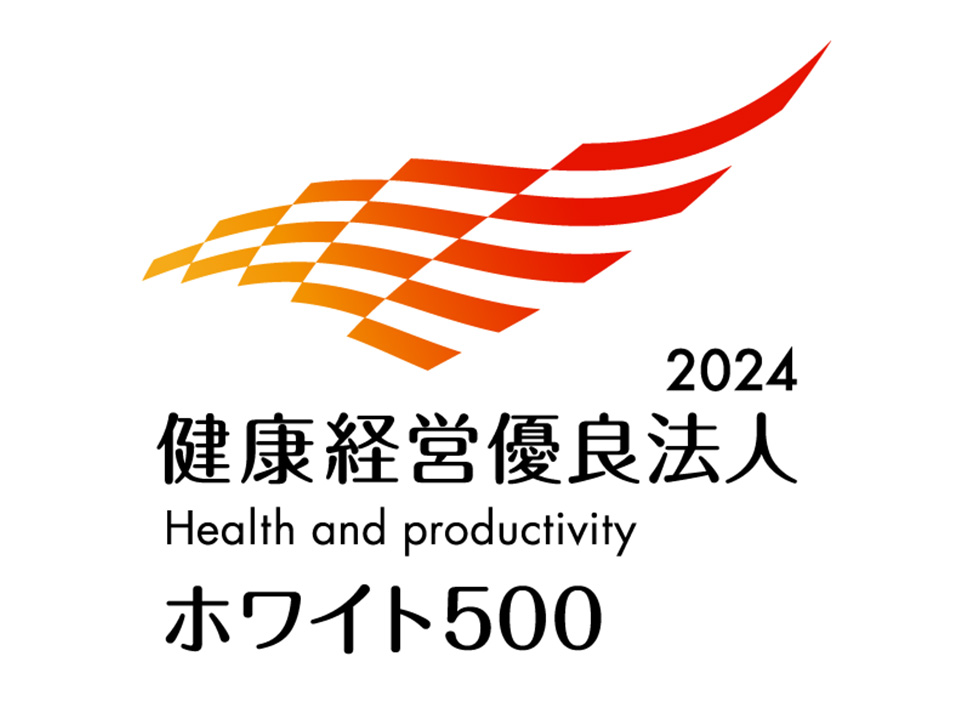 Mori Building has been certified as a "Health & Productivity Management Outstanding Organization 2023 (White 500)" for its excellent health management practices, based on its efforts to address local health issues and the health promotion initiatives promoted by the Nippon Kenko Kaigi.
Promotion System
Mori Building has the system below in place to promote health and safety.
The President and CEO is responsible for promoting health management with regard to employee health status and initiatives, and the director in charge of the Building Management Department is responsible for managing and supervising safety-related status and initiatives.
Health Management Promotion System
The President and CEO is responsible for Health Management Promotion and promotes group-wide health management from a managerial perspective. In addition, the Human Resources Department, Healthcare Room, and industrial physicians work together with the Working Style Reform Committee, employee representatives, and the Hygiene Committee as the Health Management Promotion Secretariat to roll out various measures to maintain and promote employees' health.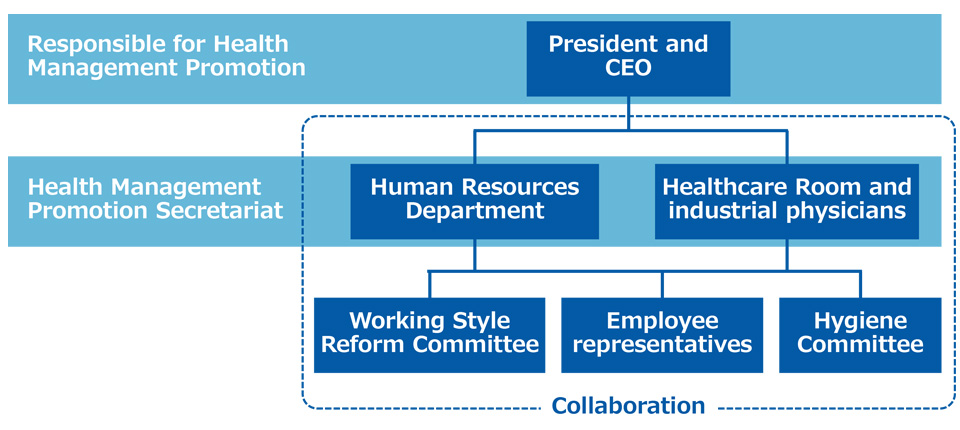 Safety Management System
Mori Building assigns an officer responsible to each department, including design/supervision, construction management, and facility operation/administration, to manage the safety of employees and contractors and prevent occupational accidents.
In addition, as a unique initiative of Mori Building, a Council for Safety Policy consisting mainly of directors has been established, and regular meetings are held by the Safety Office consisting of responsible officers, task force members appointed from each division within the cmpany and from group companies, and the secretariat, to share information on safety initiatives of the company and group companies, discuss safety measures, promote smooth implementation of safety measures, and provide employee education and awareness.
Targets
Health-related Targets
Mori Building has identified "prevention of lifestyle-related diseases," "improvement of mental health," and "review of work styles" as priority areas, and has set targets as follows.
Priority areas
Indicator
FY2023
targets
FY2021
results
Prevention of lifestyle-related diseases
Decrease of people with risk of lifestyle-related diseases


* Rate of people eligible for specific insurance guidance

13%
14%
Improvement of mental health
Employee vitality


* Results of stress checks

Deviation of 53
Deviation of 51.4
Review of work styles
Improvement of Employee productivity
1. Loss due to absenteeism


* Total number of absenteeism days/total number of employees

0.50day
0.68day
2.Loss due to presenteeism


* Research of WHO-HPQ

30.0%
31.0%
3.Work engagement


* Results of stress checks

Deviation of 54
Deviation of 52.7
Specific Targets and Progress
Please refer to the Health management strategy map.
Safety-related Targets
Mori Building has set the following targets for safety.
Priority initiatives
Targets indicators
FY2023
targets
FY2021
results
Employees on leave
Number of people who took a leave of absence
5 or less
5
Occupational accidents
Number of occupational accidents, excluding commuting accidents
0
1
Conducting Health and Safety Risk Assessments
Conducting Health-related Risk Assessments
Mori Building has established the Hygiene Committee, a cross-sectional organization of health committee members appointed from each department, to exchange opinions on health and safety issues, and to make recommendations and raise awareness within the company. The committee also works to maintain safety and comfort in the workplace through lectures by industrial physicians and Healthcare Room staff, as well as having periodic inspections by Hygiene Committee members.
Conducting Safety-related Risk Assessments
Although Mori Building has not obtained OHSAS 18001 certification, the company conducts operational assessments, including safety-related risks, when constructing new properties and renovating existing ones. In addition, it regularly patrols and monitors construction sites and management sites in cooperation with contractors in each division, such as design/supervision, construction management, and facility operation/administration.
Initiatives to Maintain and Promote Employee Health
Establishment of the Healthcare Room and the Massage Room
To help maintain employees' mental and physical health, Mori Building also operates an in-house Healthcare Room that conducts health checkups and stress checks, provides follow-up services, and offers consultation on mental and physical health. Recently, for employees who wish to continue working while undergoing treatment for cancer or other illnesses, the company helps them balance treatments and work by offering support via industrial physicians, Healthcare Room staff, the Human Resources Department, and the respective departments where these employees work.
The Healthcare Room also serves as a position for employees with disabilities, and a Massage Room operated by employees with disabilities was established within the company in 2004. Employees of Mori Building can receive treatment during working hours, and they use it to relieve stiff shoulders and back pain caused by desk work and to refresh themselves.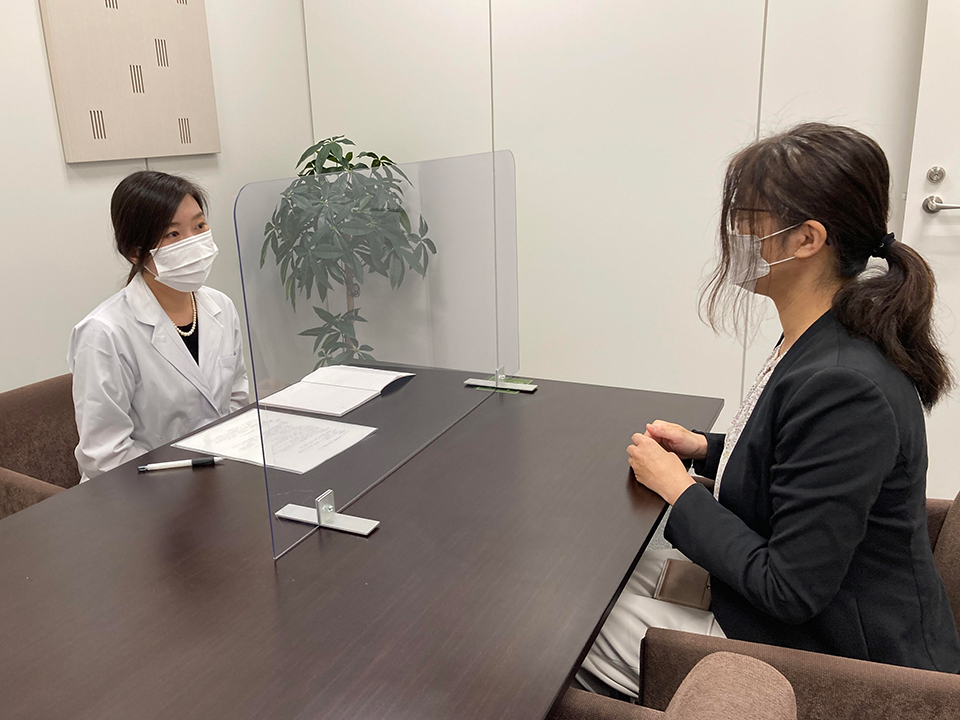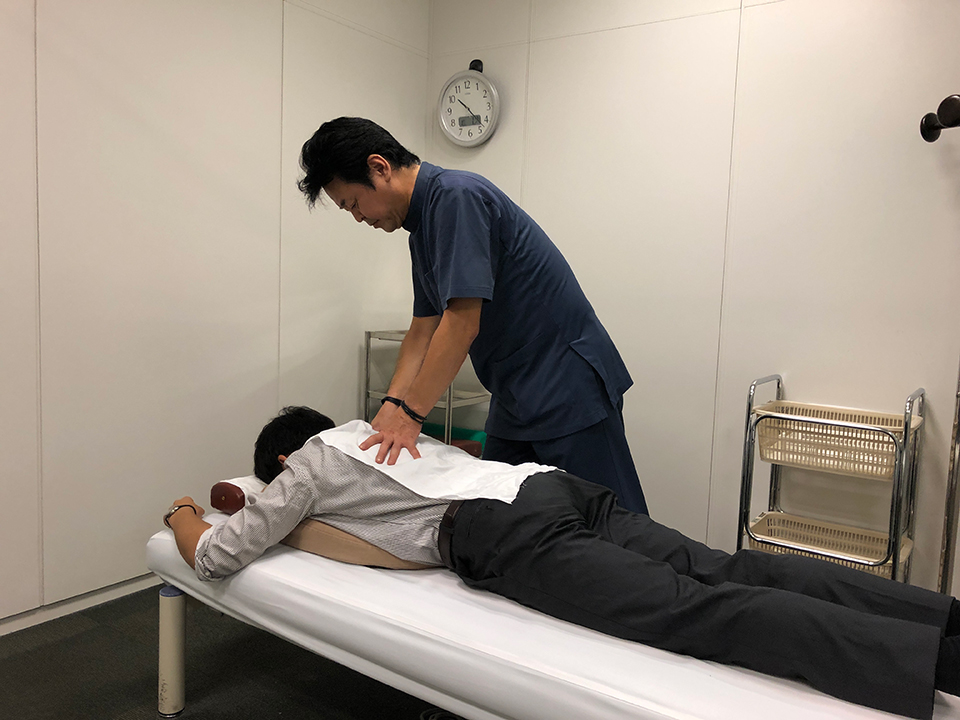 Understanding of Mental and Physical Health Status
Health Checkups
As a result of Mori Building's efforts to improve the implementation rate of regular health checkups, the ratio of employees receiving health checkups has remained at 100% since FY 2018. With regard to the content of health checkups, in addition to the statutory items, the company conducts medical and physical checkups for lifestyle-related diseases depending on each employee's age from the age of 30 and onward. Moreover, additional checkup items for early detection of cancer have been added for both men and women: tumor marker of prostate-specific antigen (PSA) for men, breast cancer checkup using mammography or ultrasonography and uterine cancer checkup for women.
Stress Checks
Even before stress checks were mandated in 2013, Mori Building has been conducting self-checks for each and every one of its employees. The status of the entire company and the results of the organizational diagnosis are reported and shared with the Board of Directors each year, as part of ongoing efforts to create a better workplace environment.
Initiatives to Improve and Prevent Health Issues
Enlightenment Activities for Employees Regarding Mental and Physical Health
Mori Building provides training related to health and safety and labor management for newly appointed managers, and all eligible employees took the training in FY 2021, following the previous fiscal year. Also, in order to promote mental health self-care and line care, all employees take mental health care-related e-learning courses for managerial and non-managerial employees, respectively.
Smoking Cessation Promotion
Mori Building regards employee smoking as a health issue and is working to promote smoking cessation. Specifically, the company holds seminars to promote smoking cessation, subsidizes the cost of outpatient smoking cessation treatment and the purchase of smoking cessation aids, and provides smoking cessation apps. The seminar in FY 2020 also introduced the relationship between COVID-19 and smoking to raise awareness toward smoking cessation. Efforts will continue to be made to further reduce the smoking rate.
Promoting Exercise
Members of the internal club create and regularly distribute videos of stretching instructions that can be easily implemented. These videos also help to reduce the lack of exercise while working at home.
Improving Women's Health
Mori Building believes that improving the health literacy of its employees is essential to increase productivity and encourage them to work more vigorously. The company provides opportunities for employees to review their daily physical condition and lifestyle habits by learning about the causes of and ways to cope with PMS, menstrual pain, menopause, and other problems specific to women, as well as possessing correct knowledge about the function of female hormones and age-related physical changes.
In FY2022, we held a Femtech seminar, which was attended by approximately 100 employees, including male employees. According to the results of a survey conducted after the seminar, the average satisfaction level of the seminar was 4.1 out of five. About 75% of the participants indicated that their awareness had changed as a result of the seminar.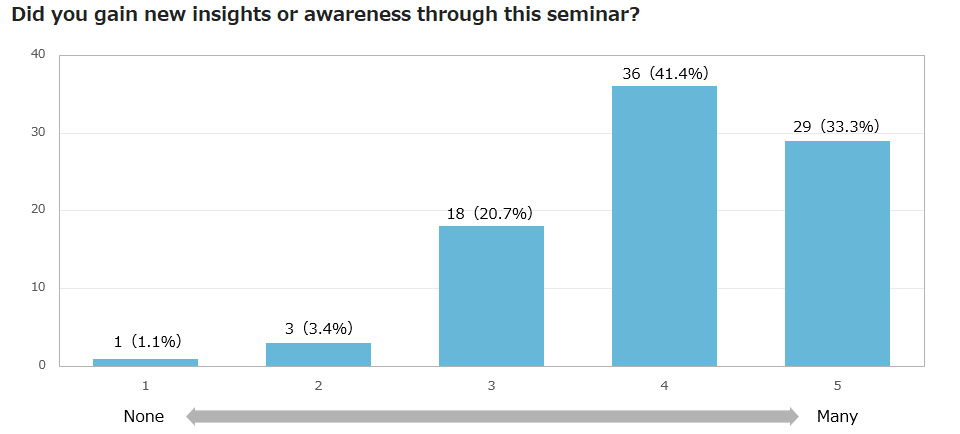 EAP Counseling Service
Since 2012, Mori Building has introduced EAP counseling services provided by counselors from an outside organization. The service is available not only to employees, but also to their families, and is used not only for mental and physical health, but also as a consultation service for childcare, nursing care, and various other issues.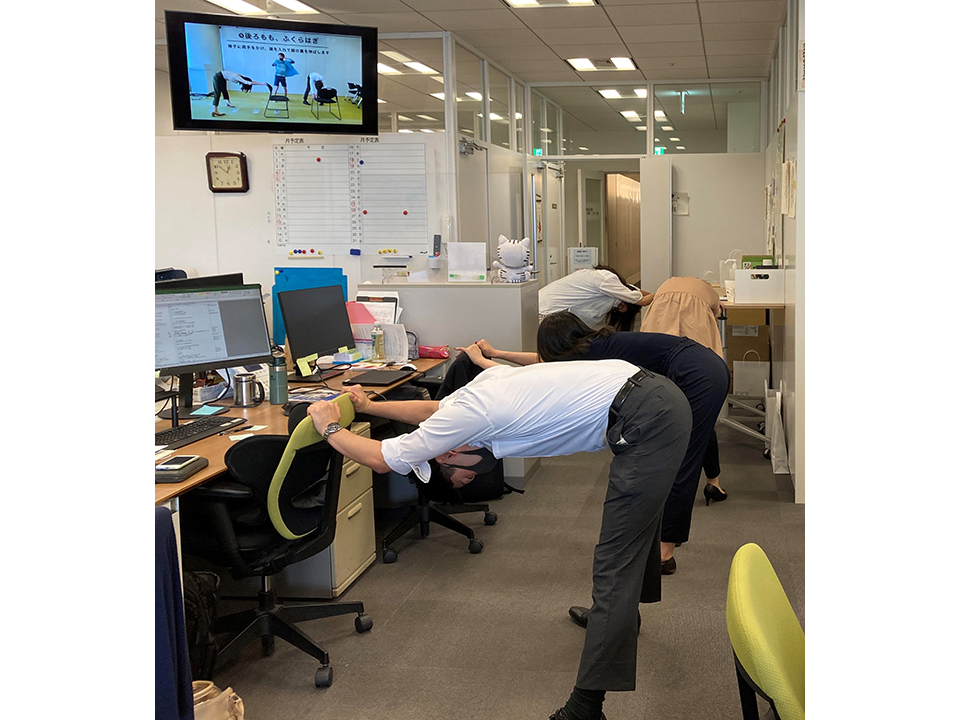 Initiatives to Address Global Health Issues such as Infectious Diseases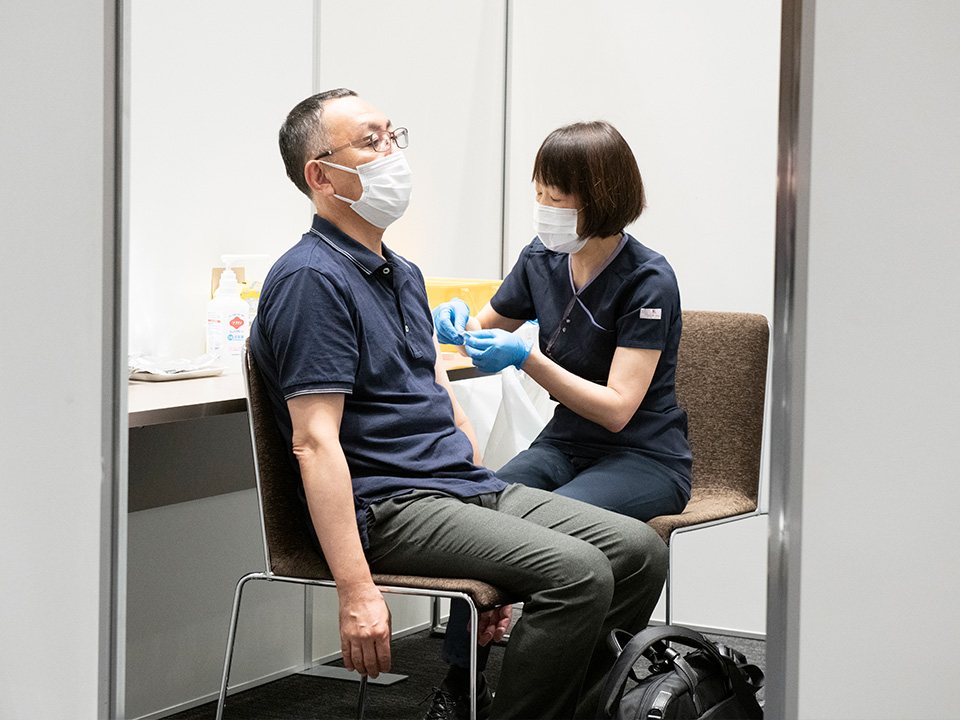 Mori Building recognizes that the recent spread of COVID-19, as well as other infectious disease-related health problems such as HIV, tuberculosis, and malaria, are important global issues.
In order to ensure that employees possess the correct knowledge about infectious diseases and to prevent them, the company conducts health checkups for expatriates posted overseas and their accompanying family members, and provides vaccinations against infectious diseases recommended by government quarantine offices for each destination.
Furthermore, it provides support services available for local medical care.
In response to the spread of COVID-19, the company has expanded the scope of vaccination coverage to include tenant companies, residents, and staff of retail facilities, in addition to the group's employees and their families, by offering the vaccine at work from June to September 2021 and from March to April 2022.
Mori Building remains committed to the fight against infectious diseases, including those in the local community.
Employee Safety Initiatives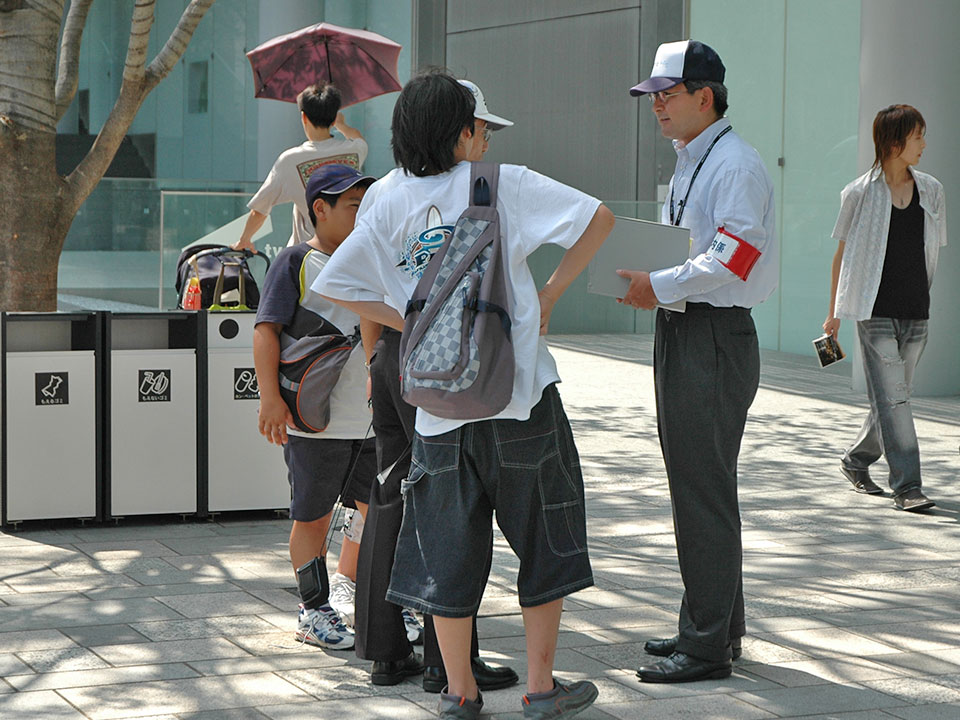 The Safety Office conducts initiatives such as Support Crew Activities* as part of its employee education and awareness activities. A total of about 1,000 employees participate in these activities each year.
Support Crew Activities: Mori Building aims to raise employee safety awareness and ensure that our facilities are safe and comfortable places for everyone, from children to the elderly, so it conducts safety education and training programs that include guiding customers and providing hands-on wheelchair experience
Actual Data
Health-related Data (Mori Building Co., Ltd.)
| | FY2017 | FY2018 | FY2019 | FY2020 | FY2021 |
| --- | --- | --- | --- | --- | --- |
| Health checkup rate | 99% | 100% | 100% | 100% | 100% |
| Stress check screening rate | 90% | 91% | 95% | 95% | 98% |
| Smoking rate | 18% | 17% | 17% | 15% | 13% |
| Employees on leave | 9 | 8 | 9 | 6 | 5 |
Data of health checkup rate, stress checkup rate, smoking rate, and employees on leave are for full-time employees and contract employees
Safety-related Data (Mori Building Co., Ltd.)
| | FY2017 | FY2018 | FY2019 | FY2020 | FY2021 |
| --- | --- | --- | --- | --- | --- |
| Occupational accidents (excl. commuting accidents) | 4 | 2 | 8 | 2 | 1 |
| Of which, fatalities | 0 | 0 | 0 | 0 | 0 |
| Of which, number of lost time injuries | 1 | 0 | 1 | 0 | 1 |
| Of which, number of lost workdays | 2 | 0 | 6 | 0 | 1 |
| Lost time incident rate | 0.33 | 0 | 0.31 | 0 | 0.29 |
| Average overtime hours worked per month*1 | 29.2 | 28.6 | 26.5 | 22.7 | 26.9 |
| Employees receiving training on occupational health and safety*2 | 54 | 46 | 57 | 49 | 44 |
1 Average overtime hours worked per month: calculated as the number of hours worked in excess of the prescribed overtime hours
2 Employees receiving training on occupational health and safety: training for new employees and for newly appointed managers
Data of occupational accidents, lost time incident rate, and average overtime hours worked per month are for full-time employees and contract employees