Contributing to Communities and Society
Basic Concept
Since its establishment, the Mori Building group has been promoting urban development together with local residents under the philosophy of "Create Cities, Nurture Cities."
Under the Vertical Garden City multipurpose urban redevelopment and with the key themes of "Safety and Security," "Environment and Greenery," and "Culture and Art," the Mori Building group is committed to contributing to the community and society through urban redevelopment that enables sustainable social development, that is both disaster-prepared and environmentally friendly. In the belief that "a city begins when it is completed," the Mori Building group also promotes event management, community activities, and volunteer activities to revitalize the community in the completed city and surrounding areas. Furthermore, by encouraging its employees to participate in volunteer activities, the group strives to cooperate and coexist with society and the local community, as well as to enhance their values.
In keeping with Mori Building's belief that "to create cities is to take responsibility for the future of the people who live there," the Mori Building group is committed to continuously enhancing its corporate value and contributing to the development of a safe and prosperous society and region through its initiatives to "Create Cities, Nurture Cities."
The Mori Building Group Basic Policy on Social Contribution Activities
The Mori Building Group Compliance Code of Conduct Guidelines (Excerpt)
II. Relationship with Society: 2. Contribution to Society, Cooperation and Communication with Society
1) We shall strive to cooperate and coexist with the society and region, and contribute to the development of a safe and prosperous community by promoting employee participation in volunteer activities in the society and region.
2) We shall contribute to the development of a prosperous society and a rich urban life through activities that support culture and art.
3) With regard to laws and regulations etc. that have become unreasonable due to changes in the environment of the times etc. or have diverged from the reality of business activities, we shall communicate the problems to society from a practical business standpoint and actively discuss them so that we can work toward their revisions etc.
Support for Employee Volunteer Activities
Mori Building strives to create work environments that facilitates employee volunteer activities, including volunteer leaves.
Outline of Main Systems
Leaves for self-development (volunteerism)
Employees may use up to 20 days of accrued paid leave per year for volunteer activities.
Urban Redevelopment Project Initiatives
The Mori Building group's urban development begins by discussing the future of the city with the residents who live there. The most important thing is to pursue the ideal city without making any compromises and to build a true relationship of trust with the local residents. No project can be realized without enthusiasm for a better future and a relationship of trust between the people who make up the city.
The base model for urban development is the "Vertical Garden City." By bringing subdivided cities together in one place, a large space is created, and when buildings are made super high-rise, a large area of open space can be created at the foot of the building to increase green space. Moreover, by creating a compact city where buildings are not used exclusively for offices or residences, but are highly complex with a variety of urban functions concentrated within walking distance, a variety of people will gather in the city for various purposes such as living, working, recreation, learning, and relaxing, and this will create opportunities for interaction, collaboration, and emergence. This is the product of an idea completely opposite to conventional urban development based on the differentiation of uses.
In addition, the Mori Building group views the completion of a building as a beginning, not an end, so it nurtures the cities with utmost care. In line with its philosophy "Create cities, Nurture cities," the Mori Building group has built up a consistent organization, experience, and expertise in development and town management. While the freshness of a building decays with the passage of time, the bonds with the people involved there deepen over time. The Mori Building group believes that both development and town management are essential to enhance the magnetism of a city.
ARK Hills (completed in 1986): The Starting Point of Mori Building's Urban Development
Roppongi Hills (completed in 2003): The Cultural Heart of Tokyo
Toranomon Hills (in progress): New International Hub and Global Business Center
Azabudai Hills (in progress): "Hills of the Future" with Overwhelming Scale and Impact
Urban Development for Safety and Security
"Safety and Security" are the most important and urgent issues for Japan, a country prone to earthquakes, typhoons, and other disasters. The probability of an earthquake expected to directly strike the capital city of Tokyo has been increasing in recent years. The revitalization of Tokyo as a disaster-resistant city is essential to protect our lives and property, as well as to enhance the magnetism of Tokyo. Mori Building is creating a safe and secure city that is resilient to disasters by taking advantage of the characteristics of large-scale redevelopment under the concept of "Cities to escape to, rather than flee from." It is creating a disaster prevention base that will contribute to not only the development area but also to the surrounding community. In addition to the creation of open spaces and the development of urban transportation infrastructure, it is actively working to secure space for a total of 10,000 evacuees, stockpile food, materials, equipment, and other resources, and provide information.
The Mori Building Group Compliance Code of Conduct Guidelines (Excerpt)
II. Relationship with Society: 4. Creation of Safe Facilities and Services (three articles of safety)
1) We shall prioritize safety and security above all else and it will act as the foundation that supports all the attractions of the city.
2) In order to ensure safety and security, we shall be aware of problems in all departments and operations, and aim for more reliable technology and management with a sincere attitude.
3) We shall constantly monitor and improve our actions by taking responsibility for personal conduct in order to enhance safety and security.
III. Relationship with Customers, Suppliers and Competitors: 9. Provision of Safe Facilities and Services, etc.
1) In providing, developing, managing, selling, and operating facilities and services, we shall always pay attention to safety as a major premise for customer (this refers to all tenants, residents, and other users of facilities and services. The same applies hereinafter) satisfaction and trust, and shall fully understand and comply with laws and various standards related to facilities and services, while aiming for a higher level of safety.
Basic Policy on Earthquake Countermeasures
We shall place the highest priority on the safety of our tenants, residents, visitors, neighbors, and our employees who use the buildings and facilities owned, managed, and operated by Mori Building.
We shall respond as quickly as possible to minimize damage in the event of an earthquake disaster.
We shall maintain support functions for tenants to continue their work and residents to continue their lives.
We shall cooperate with neighboring communities, the Tokyo Metropolitan Government, Minato City, the police, fire departments, and other relevant government agencies to contribute to society.
Consolidating Buildings to Create Large Spaces
In past earthquakes, old wooden houses in dense areas suffered extensive damage due to the collapse of houses and the spread of fire. Therefore, areas with dense wooden housing are in urgent need of redevelopment in preparation for the event of expected earthquakes. With the rising potential for the occurrence of earthquakes occurring directly beneath the Tokyo Metropolitan Area, the importance of building a city capable of withstanding disaster grows in urgency.
Mori Building's redevelopment method, which integrates subdivided land and concentrates dispersed buildings into high-rise buildings, is extremely effective for urban disaster prevention, including the development of dense areas of low-rise wooden buildings. By integrating low-rise wooden buildings in a dense area with high-rise buildings that are earthquake-resistant and noncombustible, and developing them together with wide-area roads and other infrastructure, evacuation space will be created at the foot of the buildings, thereby improving the disaster preparedness of the entire area. Mori Building will make effective use of limited urban space and create generous spaces and green areas for people to relax while realizing a safe and secure lifestyle for all.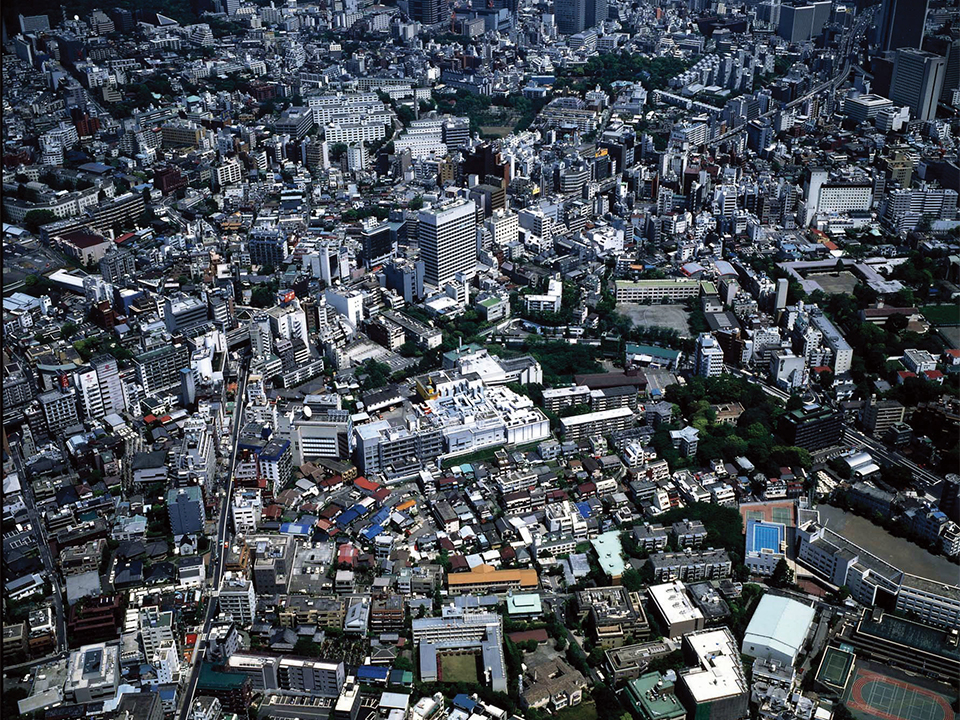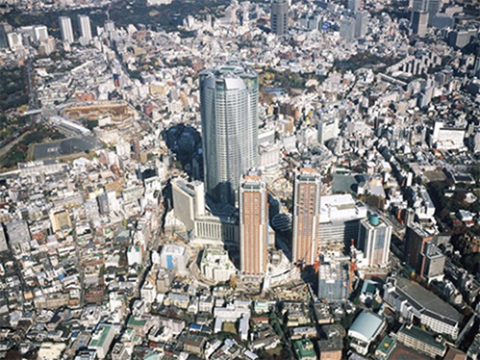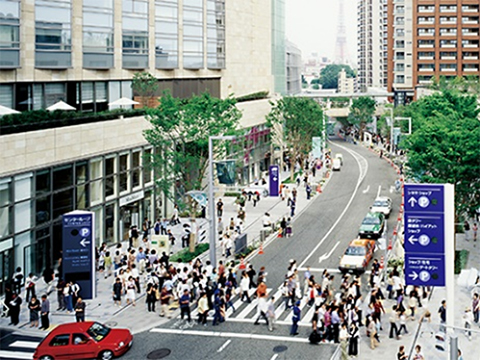 Thorough Disaster Prevention Measures from Tangible to Intangible Aspects
Mori Building has equipped its buildings with the highest level of anti-seismic performance currently possible, such as vibration control walls and vibration control dampers, and has also installed a private power generation system in case of emergency. The company position our developments to serve as community shelters by providing emergency wells and emergency supply warehouses, as well as conducting regular disaster drills throughout the block.
Receiving Stranded People
Mori Building has organized a system to receive approximately 10,000* stranded people at its large-scale facilities. Roppongi Hills and Toranomon Hills have the "Agreement for cooperation in sheltering individuals who are unable to return home in the event of a disaster" with Minato City, and are striving to create a safe and secure city that is resilient to disasters that also serves as a disaster prevention center for the surrounding area under public-private partnership.
In the event of an earthquake, a large number of temporary visitors, including stranded people, are expected to be in the vicinity of Roppongi Station, and there are concerns about secondary disasters such as obstructions to rescue operations, aftershocks, and crowd accidents. Therefore, Mori Building has joined the "Council for preparedness for temporary visitors around Roppongi Station," which consists of the Minato City Government, fire department, police department, railroad companies, and local businesses, and is working together to improve disaster preparedness in the area.
The estimated numbers of people are: 5,000 at Roppongi Hills, 4,600 at Toranomon Hills, and some others at ARK Hills Sengokuyama Mori Tower, and at Omotesando Hills, etc.
Education Activities for Office Workers and Store Tenant Staff
The company distributes its "Earthquake Countermeasures Handbook"* to personnel in corporate offices and retail facilities to raise awareness in the case of an emergency.
Examples of contents included in the booklet are: simultaneous return home restraints, thorough implementation of firefighting plans, methods for confirming the safety of employees and their families, ensuring safety in offices and stores, and preparing stockpiles of supplies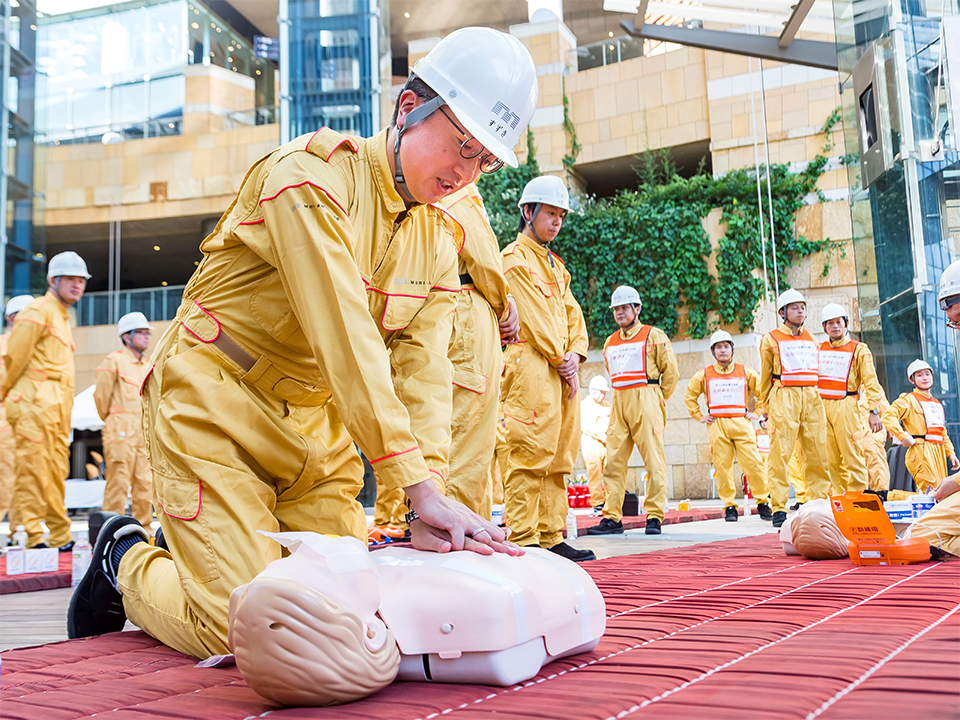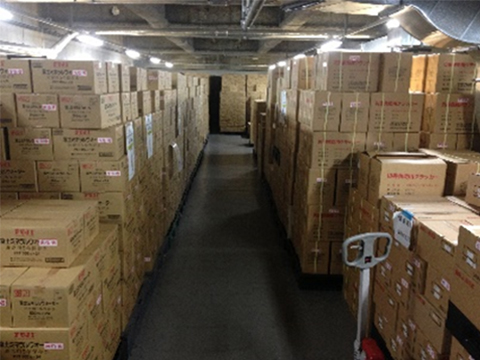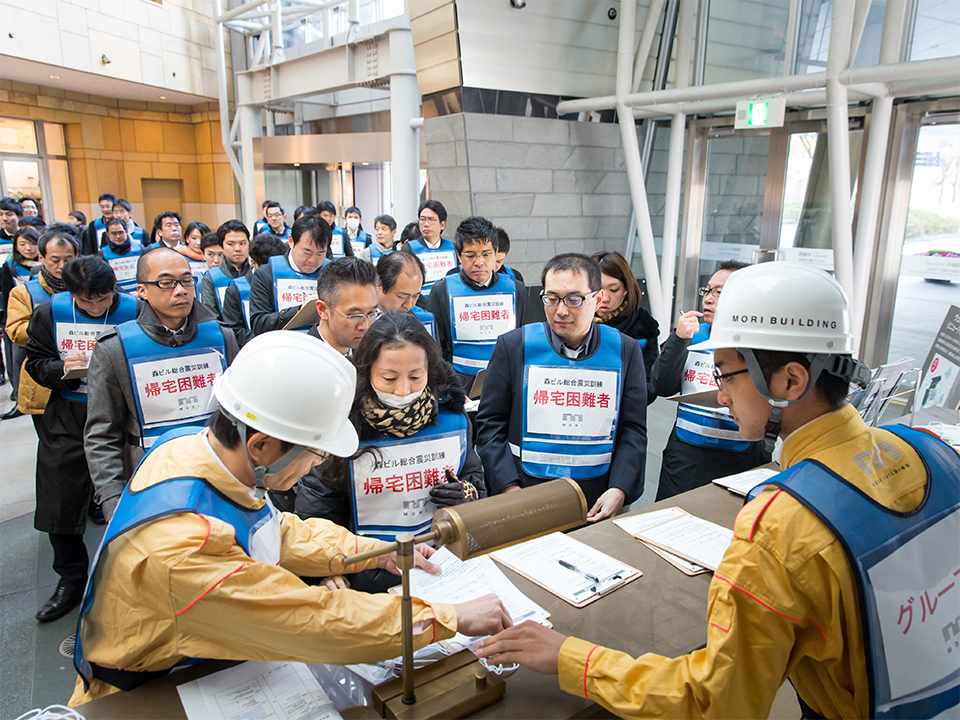 Other Initiatives
(Detailed news release articles are available only in Japanese.)
Consideration for Access to Public Transportation
Mori Building strives to improve and enhance local infrastructure through large-scale urban redevelopment projects.
In the space created by integrating subdivided land through redevelopment, consolidating dispersed buildings and making them into high-rise buildings, Mori Building is promoting the development of district highways, the installation of route bus stops and bus terminals, and the construction of connecting pathways leading to the nearest train stations. In addition, it is working to promote the separation of sidewalks and roadways by creating a car-only flow line within the site, and to make the pedestrian space barrier-free so that everyone can move around comfortably.
Collaboration with Stakeholders
Amid concerns about the weakening of local human ties and the reduction of opportunities for interaction due to the declining population, declining birthrates, and the aging of society, the Mori Building group has worked throughout "the city" to create a variety of opportunities for interaction, connecting people who live, work, and visit there.
Based on a relationship of trust with local residents that we have built over many years through redevelopment projects, Mori Building has become the unified manager of "the city" and has continued to pursue the optimal solution of "one city" by responding to ever-changing local issues and user needs, as well as coordinating the interests of the various members of the city and facilities with different uses.
In addition, Mori Building has established the residents' association as a core organization for community activities to promote urban development in cooperation with the surrounding area. The residents' association has inherited the foundation of the redevelopment association, which has led the urban redevelopment project for more than a decade, while welcoming new residents and workers from stores and businesses to the area. Mori Building is involved in a variety of activities with the goal of creating an open community where people of diverse nationalities, occupations, and ages can actively participate in local activities, which is only possible in a mixed-use urban complex.
Major initiatives at the Roppongi Hills
Roppongi Hills Earthquake Drill
Mori Building conducts a comprehensive disaster prevention drill every year in March in cooperation with people involved in the city, with the aim of becoming a "city to escape to" in the event of an earthquake disaster. The drill includes a check of the emergency water wells in the Hills, emergency supplies, and building structure, as well as hands-on training in first aid.
Roppongi Hills Spring Festival and Bon Odori Dance
Twice a year, Roppongi Hills holds a festival organized by its residents' association as a local community event for residents to "create, participate, and enjoy." In the Spring Festival, held in conjunction with the cherry blossom season, the cherry trees in Mohri Garden and Sakura-zaka are lit up, and food stalls from Hills tenants and TV Asahi are set up in the Mohri Garden. For the Summer Bon Odori Dance, which attracts many people of all ages, nationalities, and places of residence every year, a dancing stage is set up in the Roppongi Hills Arena, where the Hills tenants and TV Asahi food stalls are also set up. Mori Building is working to promote community collaboration by holding the Bon Odori Dance at the same time as the nearby Azabu Juban Noryo Matsuri Festival.
Roppongi Hills "GREEN UP"
Since 2012, the Roppongi Hills has been holding "GREEN UP" activities for residents of its offices and residences with the aim of deepening their attachment to the Roppongi Hills and encouraging communication among participants, through the planting and maintenance of flower beds. The activity is held once a month in the morning and has been well received by participants, who find it a meaningful way to spend their time before going to work or going out.
"Hills Breakfast" at the Roppongi Hills
The "Hills Breakfast" is one-hour talk event held in early morning once a month at the Roppongi Hills. Approximately 120 events have been held since its inception in 2010 (by the end of 2021), with a total of more than 600 speakers and more than 20,000 participants. The event has become a place for office workers to create new ideas, and has now become an opportunity for participants to connect across boundaries, with participants volunteering to help run the event, and participants who empathize with the speakers becoming friends and launching new spin-off activities.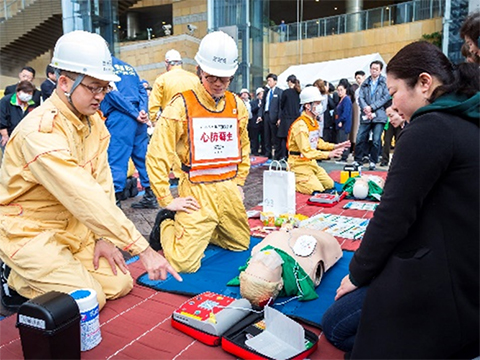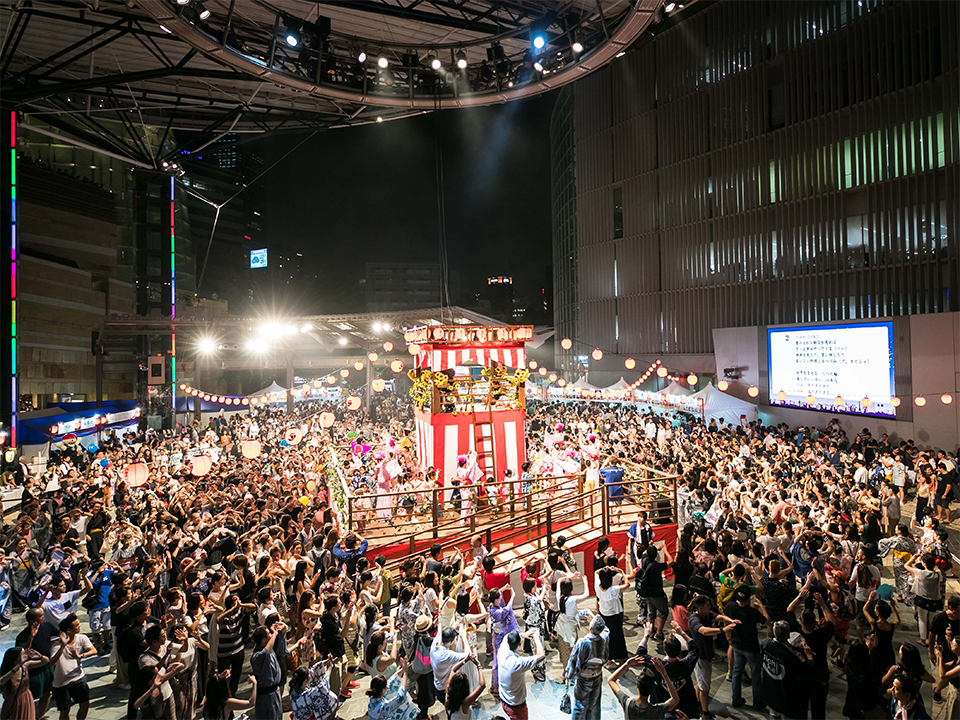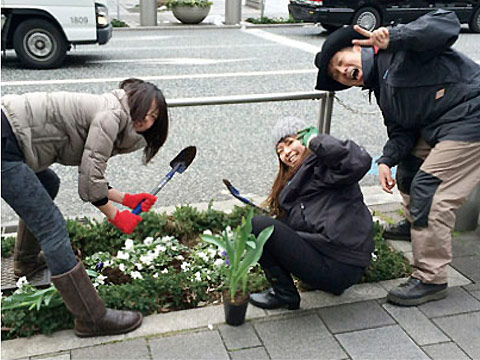 Roppongi Hills Neighborhood Association
The Roppongi Hills Neighborhood Association was established in May 2004 to foster community among the residents and workers of Roppongi Hills, and to promote a culturally and internationally rich community in cooperation with neighboring community associations. In order to make Roppongi Hills a safe, secure, and pleasant place to live, the association actively engages in activities such as the monthly volunteer "Roppongi Clean-up", the Spring Festival, Bon Odori Dance, and earthquake drills.
Three pillars of Neighborhood Association activities
Safety and Security Activities
The main purpose of the residents' association is to create a safe and secure community that can respond to "self-help, mutual-help, and public help." In cooperation with other neighborhood associations, the Neighborhood Association engages in crime and disaster prevention activities with the aim of creating a city where residents can help each other not only in the event of an earthquake, but also in their daily lives.
Examples of activities: Earthquake drills, initiatives to address traffic issues, etc.
Community Activities
The Neighborhood Association conducts a variety of activities throughout the year in the hope that residents make many acquaintances (networks) within the Hills through community activities. The networks formed through community activities are important bonds that can also be useful in times of emergency.
Examples of activities: New year's party, Spring Festival, cherry blossom viewing party, morning Tai Chi, Bon Odori Dance, autumn gathering, cross-cultural exchange program, etc.
Community Contribution Activities
Based on one of the themes of the residents' association "not only to stay in the Roppongi Hills, but also to revitalize the entire Roppongi area," it proactively takes part in activities in the Roppongi area.
Examples of activities: clean-up activities, various roles in the neighborhood, etc.
Youth Development Support
Hills Machi-Iku Project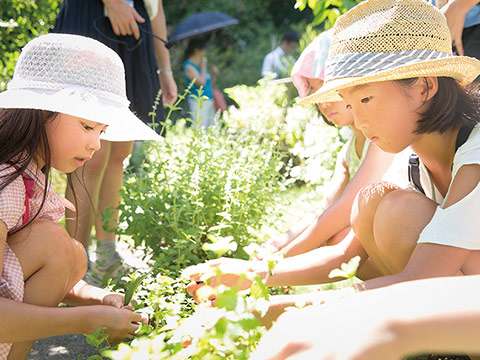 For 60 years since its foundation, Mori Building has been promoting urban development in cooperation with local residents. It has the Hills "Machi-Iku," city nurturing project, which aims to share its expertise in urban development and the charms of the city with children, the future leaders of the city, so that they can enjoy learning and thinking about how the next generation of cities should be. The project uses actual "cities" such as Roppongi Hills and ARK Hills, developed and managed by Mori Building, as the stage for a variety of hands-on programs based on the themes of "Safety and Security," "Environment and Greenery," and "Culture and Art" that Mori Building values in its urban development. In addition to programs open to the public, it also contributes to providing learning opportunities for children in local communities by accepting them to Mori Building facilities as part of the curriculum of nearby elementary schools and offering visiting classes at elementary schools. Since the first project in 2007, a total of approximately 530 events have been held with approximately 16,000 participants.
Kids' Workshop
Since 2010, Mori Building has been offering Kids' Workshops every summer in cooperation with tenant companies and stores in Roppongi Hills, ARK Hills, and Toranomon Hills, using the Hills as a stage for children, the leaders of the future, with opportunities to have authentic experiences. In 2021, the 12th year of the program, 64 lectures in 34 categories were offered online, as in the previous year. In addition to the traditional workshops for elementary school students, Mori Building has expanded the advanced program to include junior high school students as well, so that more and more children whose learning opportunities were restricted due to the COVID-19 pandemic can participate regardless of their residential area.
ARK Hills "ARK HILLS KIDS COMMUNITY"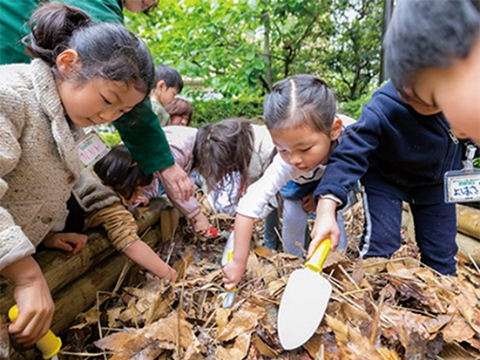 ARK Hills, based on the concept of a kid- and family-friendly community, offers a variety of programs throughout the year that provide children with opportunities to experience nature, music, art, cutting-edge technology, and other activities that could become one of their formative experiences and lead them to a rich future. One of these programs is the monthly GREEN WORKSHOP, which uses the distinctive rich natural environment of ARK Hills as a field for children to develop their senses, creativity, and rich sensibilities.
Internship Programs
Mori Building offers multiple internship programs for technical college students, university students, and graduate students in different majors and occupations. More than 100 students participated in online and in-person programs in FY2021.
Other Initiatives
The Mori Building Group's Support Activities after the Great East Japan Earthquake
After the Great East Japan Earthquake occurred, the group conducted a variety of support activities at Roppongi Hills, Omotesando Hills, and other facilities, including holding charity events, providing space for reconstruction assistance activities, providing relief supplies to the disaster-stricken areas, and collecting donations.
Environmental Community
Together with Companies and Government
Corporations and Environment Exhibitions (Organized by the mecc)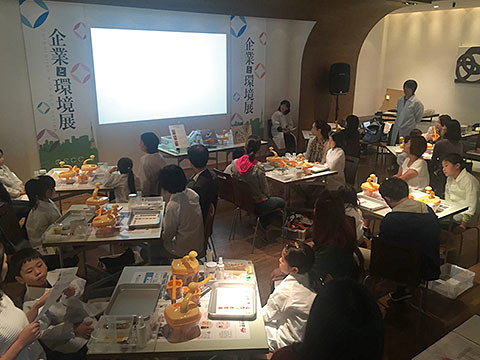 The Minato Eco-Conscious Consortium (mecc) was established by Minato City in 2005 as a venue for businesses, Minato City administration, and Minato citizens to collaborate in receiving and disseminating environmental information and wisdom. Mori Building has supported and participated in this event since 2007. In particular, Mori Building has cooperated in the planning, operation, and provision of venues for "Corporations and Environment Exhibitions," a series of environment-related exhibitions and presentations, since 2010.
GREEN FOR THE ENVIRONMENT DAY Light-up Campaign (presented by Ministry of the Environment)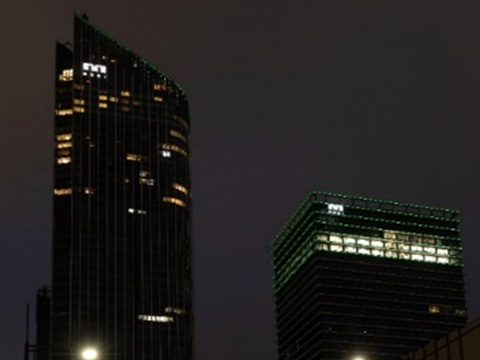 Mori Building has endorsed the "GREEN FOR THE ENVIRONMENT DAY" light-up campaign organized by the Ministry of the Environment on June 5, "Environment Day," which aims to establish June as Environment Month and educate people about environmental issues, and that Mori Building facilities were lit up in green (Roppongi Hills Mori Tower, Toranomon Hills Mori Tower, Toranomon Hills Business Tower, ARK Hills Sengokuyama Mori Tower, and Omotesando Hills).
Minato City Bicycle Sharing (operated by Minato City)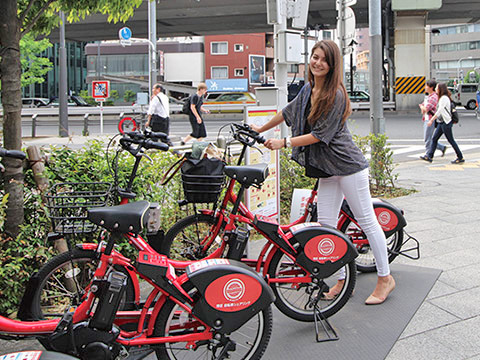 In 2014, Minato City launched "Minato City Bicycle Sharing" as a new means of transportation that improves the convenience of daily transportation and helps promote tourism to make the city more attractive, while also contributing to measures against abandoned bicycles and reducing CO2 emissions.
Mori Building has supported the policy and is cooperating in the installation of many bike ports in Toranomon Hills, Atago Green Hills, ARK Hills, Roppongi Hills, and other locations.
Umi-no-Mori (Sea Forest) Project (organized by Bureau of Ports and Harbors, Tokyo Metropolitan Government)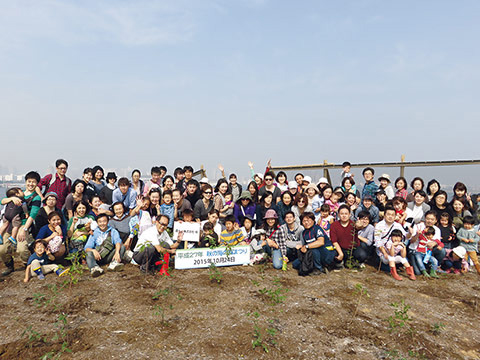 This project was initiated by the Bureau of Ports and Harbors of the Tokyo Metropolitan Government in 2007 in order to realize a beautiful Tokyo. The Inner Central Breakwater Reclamation Area, reclaimed with waste and construction-generated soil, is planted with 480,000 saplings purchased with donations from citizens and others, and grown from acorns by Tokyo elementary school children and others. Mori Building has cooperated in raising funds for the project since its inception, and since 2010, a total of 500 people have participated in tree-planting and tree-growing activities together with office workers in Mori Building facilities.
Mori Building-no-Mori (Forest of Mori Building) by "Tokyo Waterworks - Corporate Forest (Naming Rights)"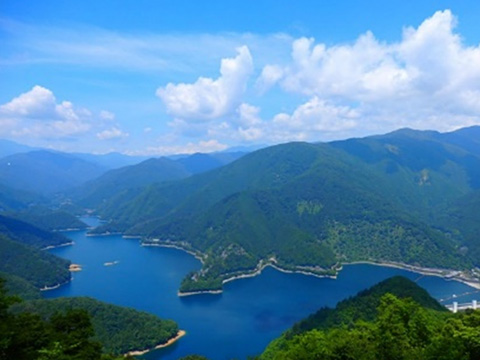 Mori Building has signed an agreement with the Bureau of Waterworks Tokyo Metropolitan Government for the "Tokyo Waterworks - Corporate Forest (Naming Rights)" in 2021, and has named about 2-hectare forest "Mori Building-no-Mori (Forest of Mori Building)" in cooperation with the Bureau to conserve and nurture the water source forest.
Together with the People of the City
Roppongi Clean-up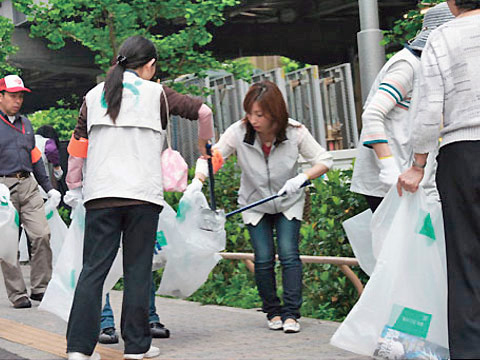 Roppongi Hills Neighborhood Association has been conducting the "Roppongi Clean-up" on the third Saturday of every month, mainly led by the Environmental Beautification Committee. With the desire to clean up the streets of Roppongi, about 100 cleanup volunteers annually gather and enjoy their volunteer work enthusiastically and happily.
Participants actively come from various facilities in the Hills, including people living in the Roppongi Hills Residences, people working in the offices, stores, facilities, and cleaning staff from Roppongi Hills, and the circle of people involved has expanded to include neighboring high schools, Rotary Clubs, and other groups outside the Hills.
Rice Cultivation Experiences at the Rooftop Garden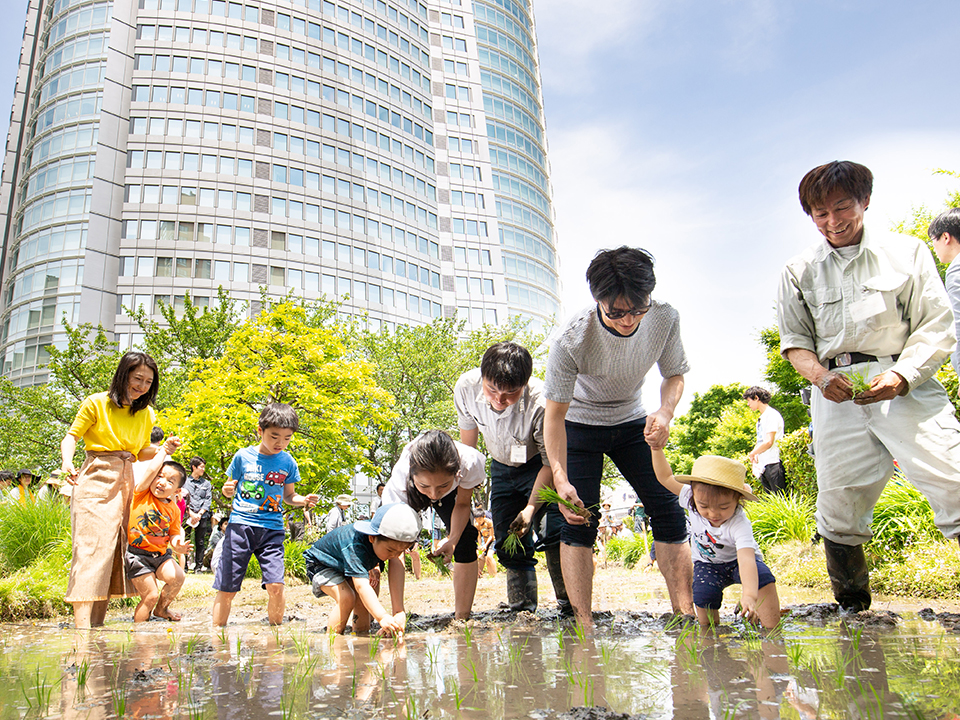 The Roppongi Hills Keyakizaka Complex's rooftop garden (45 meters above ground, usually closed to the public), which combines seasonal trees, rice paddies, and vegetable gardens, is used as a space for a variety of community activities throughout the year. The rice planting, harvesting, and rice-cake making experience for families living in and around Roppongi Hills, as well as for employees of Roppongi Hills offices and stores and their families, is not only a valuable opportunity to experience traditional Japanese culture in the heart of the city, but also an opportunity to build community among people involved in the city. Since 2006, the event has been held in collaboration with a different region each year, contributing to the promotion of local culture through rice cultivation in that region.
The Day of "Living Things" at the Hills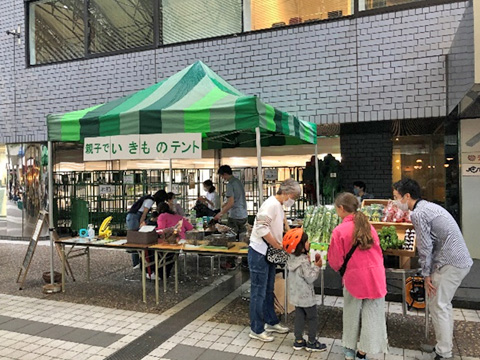 In honor of International Day for Biological Diversity on May 22, Mori Building exhibits the "Living things tent for parents and children" at the ARK Hills Farmer's Market "ARK Hills Marche" to raise awareness among visitors to the area and to help children learn about biodiversity. It also offers workshops and a stamp rally to raise awareness about biodiversity.
Environmental Movie Screenings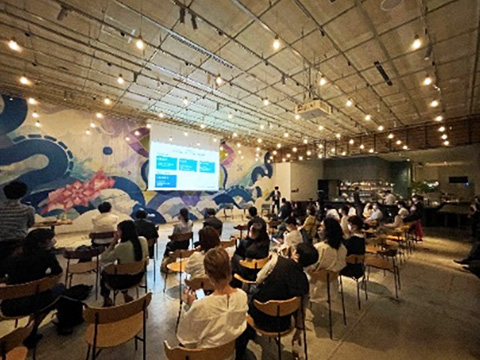 In connection with the Environment Month in June, Mori Building screens environmentally themed films for office tenants. In addition to daily awareness-raising activities, the event provides an opportunity to raise awareness about the current state of environmental issues and the need to work with tenants to address them since its inception in 2018. In 2022, office and retail tenants were invited as guests for a talk session on the theme of "Resource Recycling Starting from Familiar Places."
Support for Culture and the Art
The Mori Building group is committed to urban development with culture as one of the most important elements, based on its strong belief that a city must have cultural attractions that not only support economic activities but also enrich urban life. Culture creates new value in society and is the driving force that moves the world.
In 1986, Mori Building developed a compact city, the ARK Hills, with a high concentration of offices, residences, retail stores, a music hall (Suntory Hall), an educational institution for working adults (ARK Toshijuku), a membership club (ARK HILLS CLUB), a hotel, and a rooftop garden. In 2003, based on the concept of the "Cultural Heart of Tokyo," it also developed Roppongi Hills and established the Mori Art Museum, as well as an educational institution for working adults and a members-only library (Roppongi Academyhills), a members-only club (ROPPONGI HILLS CLUB), on the top floor of Roppongi Hills Mori Tower. Furthermore, through means of town management methods, it has organized various cultural and exchange events, including Roppongi Art Night, and has been disseminating its cultural offerings to the world. In 2018, Mori Building opened the world's first DIGITAL ART MUSEUM in Odaiba, Tokyo, which has been highly acclaimed by people around the world as a unique and one-of-a-kind cultural facility.
Turn a City where Work and Residence are Remote to where Economy and Culture are Combined (ARK Hills)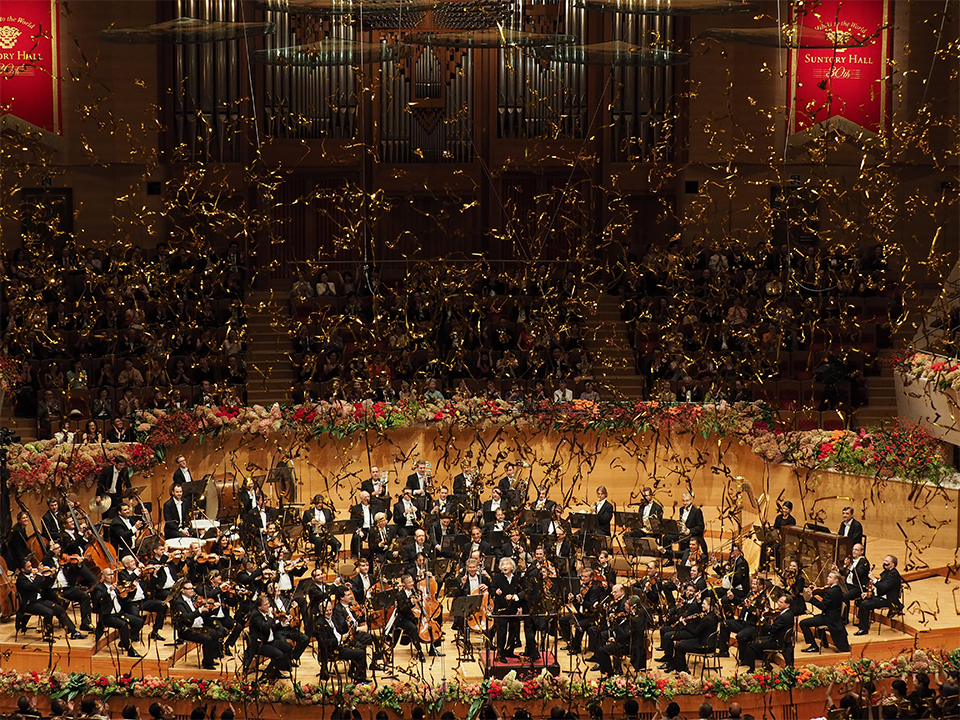 The ARK Hills redevelopment project was completed in 1986, 17 years after Mori Building began its quest to find a way to create a city that not only supports economic activity, but also offers cultural attractions and a rich environment. The ARK Hills is a super high-rise compact city combining offices, residences, a music hall (the Suntory Hall), hotels, restaurants, stores, a membership club, and adult education, and is an urban development project that aims to combine economic and cultural activities. The presence of a first-class music hall and educational and social exchange facilities has attracted a different type of people to the city than those who only work there, and has brought about the city's enrichment, vitality, and attractiveness. The Suntory Hall, which was created based on the concept of the most beautiful sound in the world, continues to welcome many people to the city.
Creation of the "Cultural Heart of Tokyo" (Roppongi Hills)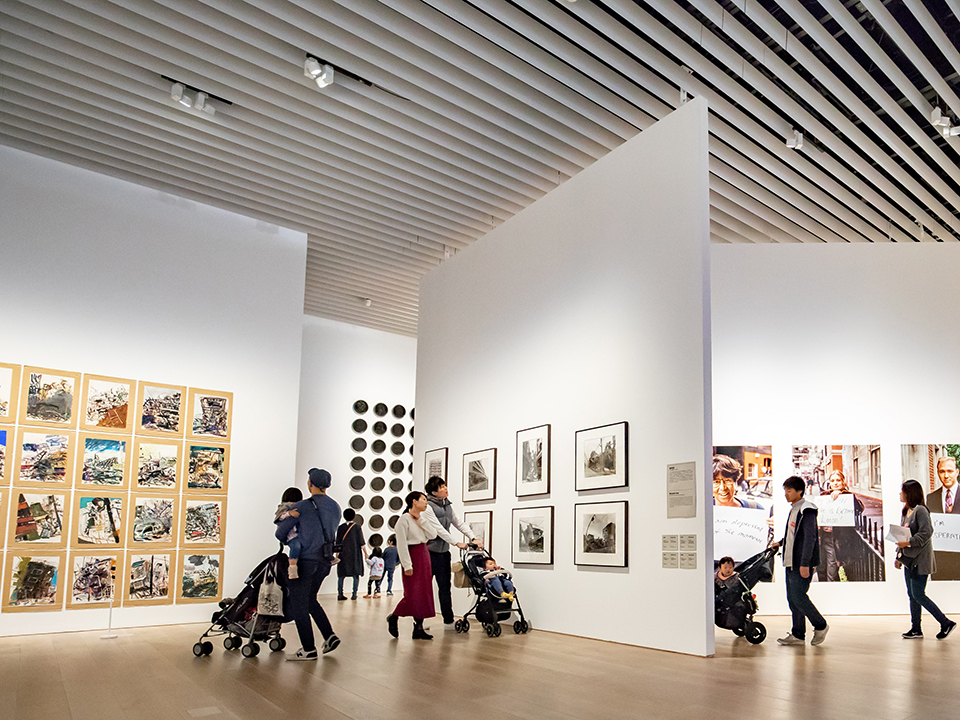 The concept of "creating the cultural heart of Tokyo," which was born from the experience of ARK Hills, was carried over to Roppongi Hills and has blossomed.
Roppongi Hills is a compact city that integrates a variety of urban functions such as work, residence/living, commercial/retail, relaxation, recreation, education, childcare, and medical care, as well as various cultural devices to foster encounters, exchanges, and dialogues among people. It has ventured to gather on the top floor of Roppongi Hills Mori Tower an art museum (Mori Art Museum), a members-only private club (ROPPONGI HILLS CLUB), an educational institution for working adults (Roppongi Academyhills), a members-only library, and other facilities as a symbol of the cultural heart of Tokyo.
The Roppongi Hills not only nurtures culture, but also serves a variety of functions to disseminate it both domestically and internationally. It is equipped not only with existing media such as television and radio stations, but also with tangible and intangible systems that view the city itself as a media outlet. It has become the destination that people around the world visit in search of its attractions, as a place where something new is always happening, and where new knowledge, creativity, and possibilities are always being born.
The World's First Digital Art Museum, "MORI Building DIGITAL ART MUSEUM: teamLab Borderless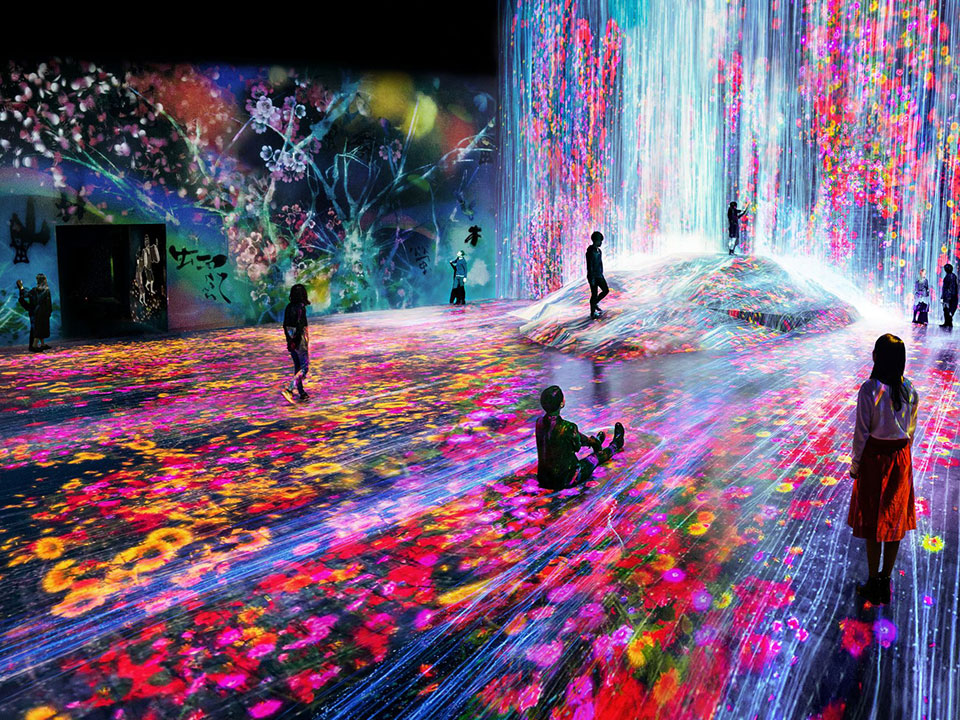 The world's first digital art museum jointly operated by Mori Building and teamLab opened in Odaiba, Tokyo* in June 2018. In its first year, the museum attracted approximately 2.3 million visitors, the largest number of visitors for a single artist's museum in the world. Foreign visitors to Japan accounted for approximately 50% of the total number of visitors, and people from more than 160 countries and regions around the world visited the museum, making it a "new destination in Tokyo" loved by people of all nationalities, ages, and genders around the world. Furthermore, it has received numerous prestigious awards both in Japan and abroad, including "World's Greatest Places 2019" by TIME Magazine, an American news magazine, and the Minister of Internal Affairs and Communications Award from the Nippon Service Award program, as a completely new museum unlike any other in the world.
Major Initiatives in Support of Culture and Art
Roppongi Art Night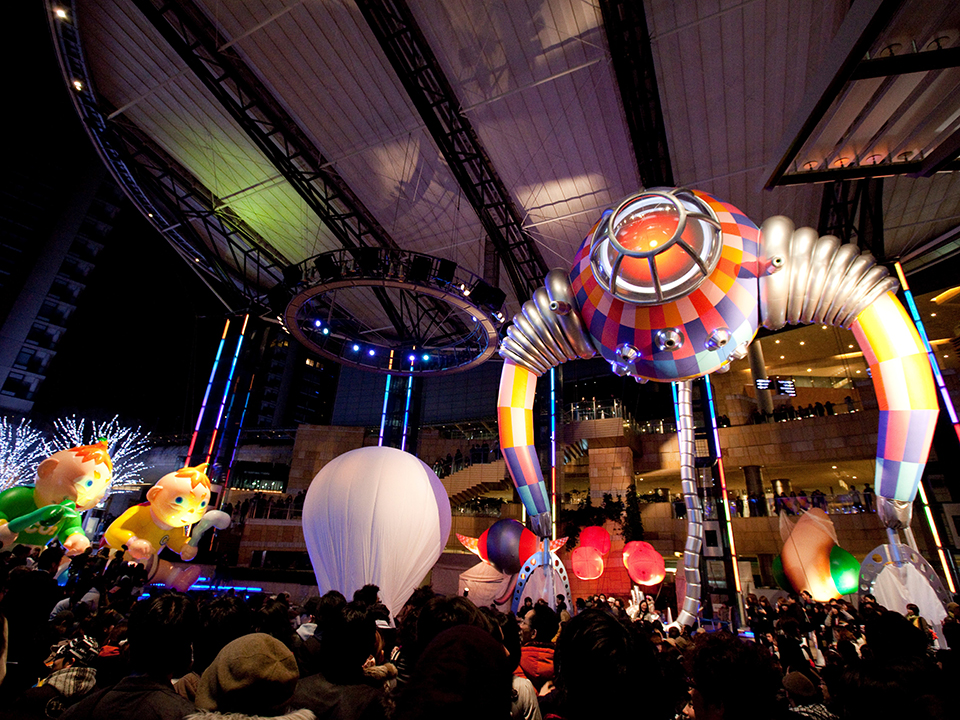 Roppongi Art Night, in which Mori Building is one of the organizers*, is an art festival that takes place in the city of Roppongi. The festival rolls out various contents such as art exhibitions, music, performances, and talks throughout the city of Roppongi, where art museums and other cultural facilities, large complexes, and shopping streets are concentrated, and disseminates the potential of art in society. The festival has been held continuously since 2009.
Organizers: Tokyo Metropolitan Government, Arts Council Tokyo (Tokyo Metropolitan Foundation for History and Culture), Minato City, Roppongi Art Night Executive Committee [The National Art Center, Tokyo; Suntory Museum of Art; TOKYO MIDTOWN; 21_21 DESIGN SIGHT; Mori Art Museum; Mori Building; Roppongi Shopping District Association]
ARK Hills Music Week (ARK Hills)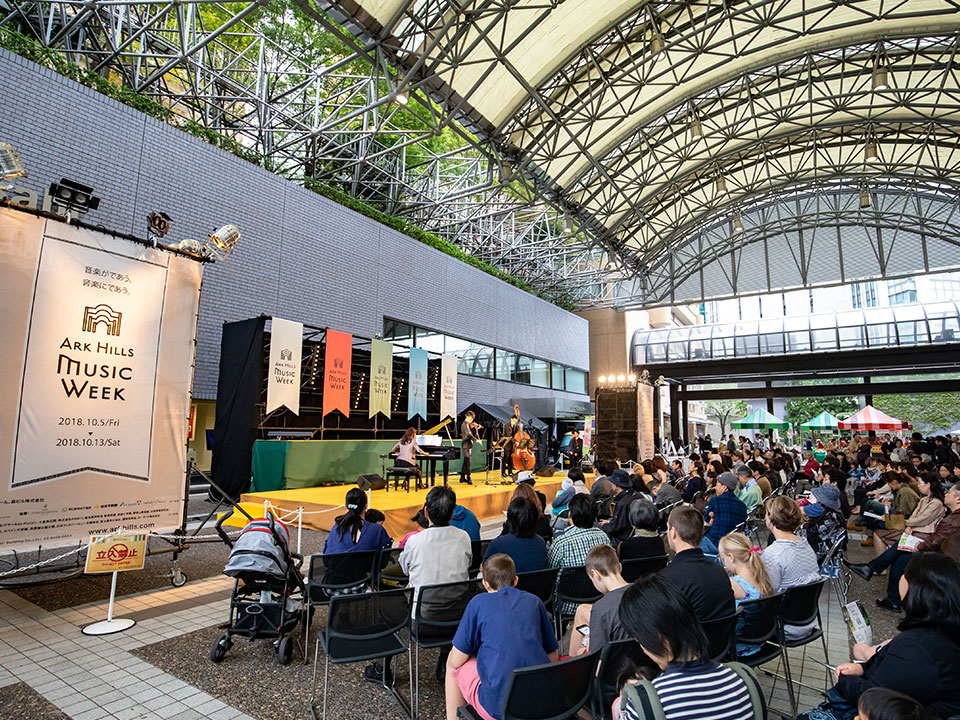 ARK Hills Music Week is a music festival launched in 2011 by the ARK Hills, which promotes a lifestyle of enjoying urban culture, and by the Suntory Hall, a world-class concert hall that has been providing people with opportunities to experience music and art from around the world since its opening in 1986. The festival offers a wide variety of music programs at museums, restaurants, embassies, and other facilities in ARK Hills and the surrounding area for several days, including "Suntory Hall ARK Classics" held at Suntory Hall.
Roppongi Art Triangle (Roppongi Hills)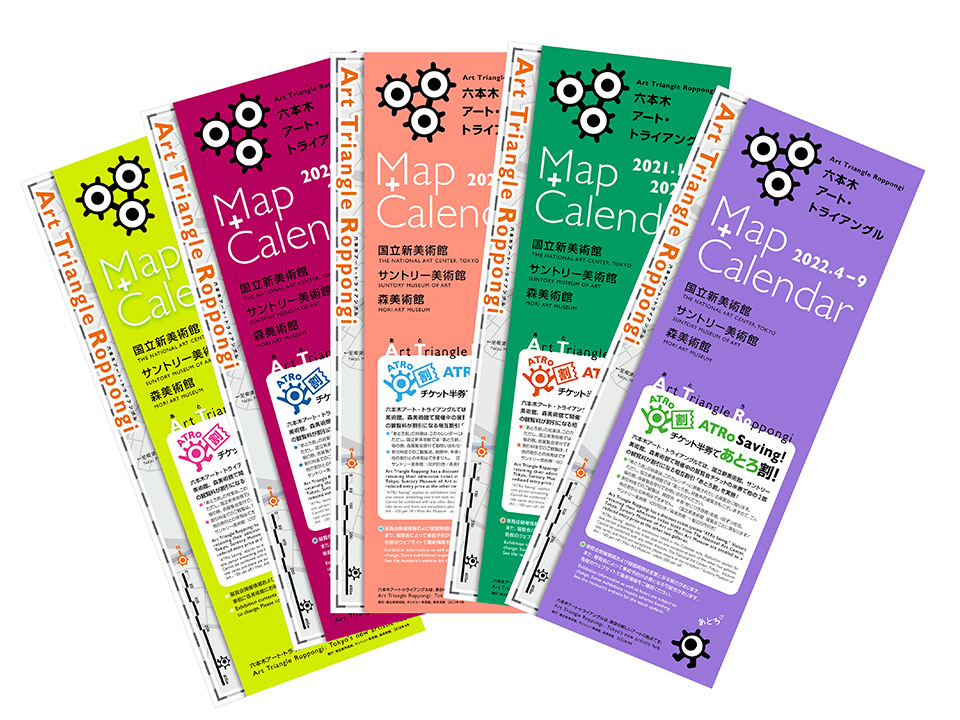 The Mori Art Museum, operated by Mori Building, has been collaborating with the National Art Center, Tokyo and the SUNTORY MUSEUM of ART on a variety of projects as part of the " Art Triangle Roppongi (ATRo)," forming a triangle on the map. The three facilities have produced a map of the Roppongi Art Triangle that introduces art-related spots in Roppongi focused on themselves, and they are also working to promote the Roppongi area as an art hub by holding discount events at the same time to encourage people to visit and enjoy the area.
Public Art
As part of the idea to make Roppongi the cultural heart of Tokyo, Roppongi Hills has installed public art and street furniture throughout the site, specially created by more than 20 world-class artists and designers. These beautiful and functional works of art and design transcend the boundaries of art and design to form the creative landscape of the cultural heart of Tokyo.
In addition to this, public art is actively incorporated in ARK Hills and Toranomon Hills, creating an environment where people who live, work, play, and participate in the city can lead a more fulfilling and enriched everyday life through contemporary art and creative experiences.
Actuals Data
Program Participants
| | FY2019 | FY2020 | FY2021 |
| --- | --- | --- | --- |
| Hills "Machi-Iku" Project*1 | 1,736 | 442 | 975 |
| Kids' Workshop at Roppongi Hills*1 | 3,706 | 702 | 1,110 |
| Rice Cultivation Experiences at the Rooftop Garden of the Roppongi Hills*2 | 472 | 64 | 66 |
1 Held online in FY2020 and FY2021 due to the spread of COVID-19 pandemic
2 Held in 2020 and 2021 with some of its efforts canceled or reduced due to the spread of the COVID-19 pandemic