Motoazabu Hills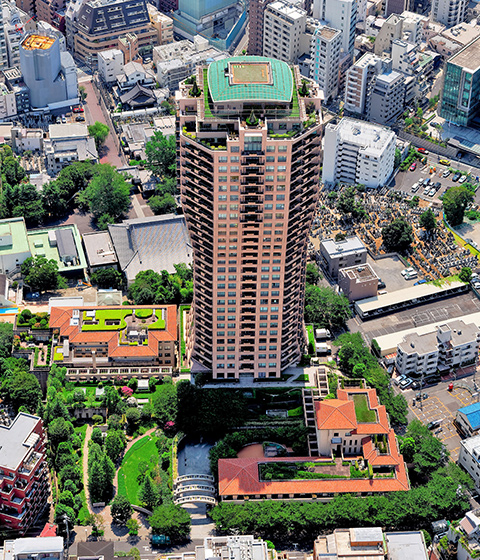 "Forest City" A Model Urban Housing Project
A large-scale residential project in Motoazabu, one of Tokyo's premier neighborhoods, Motoazabu Hills embodies our "Forest City" concept. The central tower rises like a giant tree, flanked by two lower towers. More than half the site is covered with greenery, and gardens planted on roofs and balconies reinforce the forest concept. This project is the quintessence of Mori Building's commitment to harmonizing city and nature. To add further to residents'comfort and enjoyment, facilities include the spa, rooftop garden, and Sky Lounge, plus bilingual concierge service available 24 hours a day. Nishimachi International School's kindergarten is also located within the Motoazabu Hills grounds.
Facility Overview
Residence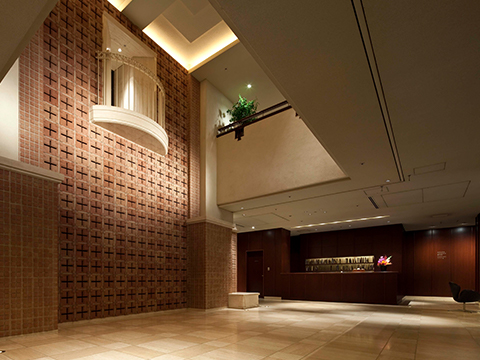 Motoazabu in Minato Ward is a town with a long history as a much-admired residential area. We built Motoazabu Hills on this plateau covered in greenery. The area has a large number of embassies and international schools, the legacy of the first American legation to Japan, Arisugawanomiya Memorial Park, beautiful in all four seasons, the Azabu-Juban shopping district, rich in the atmosphere of Shitamachi, and much more.
The charm of this town combining history and modernity is the reason for the popularity of Moto-Azabu, which continues to be an area with a large population of foreign nationals today. The concept of Moto-Azabu Hills is "Forest City". We at Mori Building think that "it is not that there must be a forest in the city; the city itself must be a forest."
Hotel, Resort, Wellness
MOTOAZABU HILLS SPA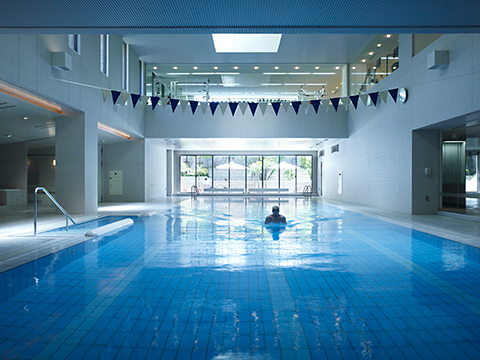 There is a gym that looks out over the trees, and a pool with the sun shining. You can relax and refresh yourself in a comfortable space, enjoying the sunlight as well. It is a spa with golf and kid's swimming pool, where all the family can join for fun.
Data Sheet
Location
1-3-1, etc., Motoazabu, Minato-ku, Tokyo
Ground Area
12,309m²
Total Floor Area

Motoazabu Hills Forest Tower

45,023m²

Motoazabu Hills Forest Terrace East

5,737m²

Motoazabu Hills Forest Terrace West

5,616m²

Facilities
Residence, etc.
Floor

Motoazabu Hills Forest Tower

29 floors above ground/ 3 floors underground

Motoazabu Hills Forest Terrace East

6 floors above ground/ 1 floors underground

Motoazabu Hills Forest Terrace West

5 floors above ground/ 1 floors underground

Construction start
February 2000
Construction completion
May 2002
Structure

Motoazabu Hills Forest Tower

SRC(column CFT, Girder NSC, Basement Level 2 and Below)

Motoazabu Hills Forest Terrace East

RC

Motoazabu Hills Forest Terrace West

RC

Architect
Mori Building Co., Ltd., Takenaka Corporation, Designing Director: Uchii Akizo Office