Roppongi Hills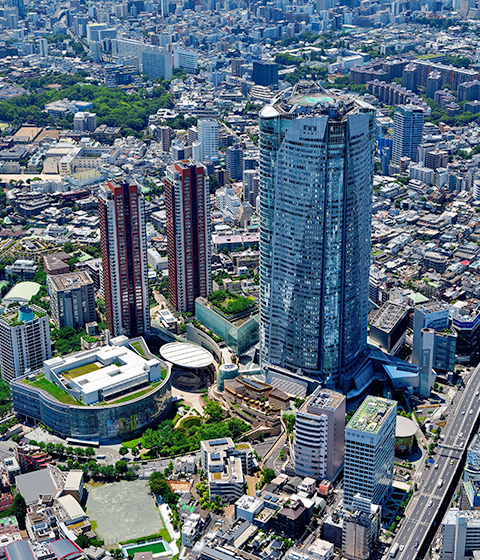 Artelligent City Cultivating Open-minded People
Roppongi Hills, Japan's largest-ever urban redevelopment when it opened, revolutionized the concepts and the paradigms of city making. The aim was the creation of a new Cultural Heart for Tokyo, where humanity, culture, interaction and vision could flourish. We strengthened this initiative by including the Mori Arts Center, a cultural complex comprising an art museum, observation deck, private club and educational facilities, on the upper floors of Roppongi Hills Mori Tower.
Thereafter, by continuously deepening our ties with local people through town management aimed at integrally managing Roppongi Hills, the complex has remained—20 years after its opening in 2003—a focal point for urban activities that encompass global players and attract more than 40 million visitors annually.
With every year, Roppongi Hills continues to grow in stature and maturity, adding exponentially to its magnetic attraction.
Facility Overview
Office
Roppongi Hills Mori Tower
Roppongi Hills Crosspoint
Roppongi Hills Gate Tower
Roppongi Hills North Tower
Keyakizaka Terrace
Residence
Roppongi Hills Residence
Roppongi Hills Gate Tower Residence
Retail facilities
Art and Culture Facilities
Mori Art Museum
Tokyo City View
Mori Arts Center Gallery
ROPPONGI HILLS CLUB
Academyhills
TOHO Cinemas Roppongi Hills
Conference Facilities and Event Space
Roppongi Hills Arena
Academyhills
Hotel, Resort, Wellness
Grand Hyatt Tokyo
ROPPONGI HILLS SPA
Data Sheet
Project Name
Roppongi 6-chome District Urban Redevelopment Project
Location
6-10-1, etc., Roppongi, Minato-ku, Tokyo
Site Area
Appx. 12ha
Building Ground Area
93,389m²
Building Site Area
59,177m²
Total Floor Area
793,165m²

Roppongi Hills Mori Tower

379,408m²

Keyakizaka Terrace

6,856m²

Roppongi Hills ResidenceA

15,197m²

Roppongi Hills ResidenceB

58,575m²

Roppongi Hills ResidenceC

49,595m²

Roppongi Hills ResidenceD

26,442m²

Grand Hyatt Tokyo

68,999m²

Keyakizaka Complex

23,828m²

Hollywood Beauty Plaza

24,811m²

TV Asahi Broadcasting Center

73,700m²

Roppongi Hills Gate Tower

30,792m²

Facilities
Office, Reisdence, Hotel, Retail Failities, Museum, Movie Theater, TV Studio, School, Temple, etc.
Floor

Roppongi Hills Mori Tower

54 floors above ground/ 6 floors underground

Keyakizaka Terrace

6 floors above ground/ 1 floors underground

Roppongi Hills ResidenceA

6 floors above ground/ 2 floors underground

Roppongi Hills ResidenceB

43 floors above ground/ 2 floors underground

Roppongi Hills ResidenceC

43 floors above ground/ 2 floors underground

Roppongi Hills ResidenceD

18 floors above ground/ 2 floors underground

Grand Hyatt Tokyo

21 floors above ground/ 2 floors underground

Keyakizaka Complex

6 floors above ground/ 4 floors underground

Hollywood Beauty Plaza

12 floors above ground/ 3 floors underground

TV Asahi Broadcasting Center

8 floors above ground/ 3 floors underground

Roppongi Hills Gate Tower

15 floors above ground/ 2 floors underground

Height

Roppongi Hills Mori Tower

238m

Green Coverage Rate
29.82%
Construction Started
April 2003
Construction Completion
April 2003
Structure

Roppongi Hills Mori Tower

SRC(column CFT), SRC・RC (Underground)

Keyakizaka Terrace

RC

Roppongi Hills ResidenceA

RC

Roppongi Hills ResidenceB

SRC(column CFT), SRC・RC (Underground)

Roppongi Hills ResidenceC

SRC(column CFT), SRC・RC (Underground)

Roppongi Hills ResidenceD

RC

Grand Hyatt Tokyo

S (Including CFT), SRC (Underground)

Keyakizaka Complex

SRC (Including Girder S)

Hollywood Beauty Plaza

S(column CFT), SRC・RC

Roppongi Hills Gate Tower

S(column CFT), SRC・RC (Underground)

Architect

Roppongi Hills Mori Tower

KPF, Mori Building Co., Ltd., IRIE MIYAKE ARCHITECTS & ENGINEERS

Keyakizaka Terrace

Mori Building Co., Ltd., IRIE MIYAKE ARCHITECTS & ENGINEERS

Roppongi Hills ResidenceA〜D

Mori Building Co., Ltd., Nikken Housing System Ltd

Grand Hyatt Tokyo

Mori Building Co., Ltd., IRIE MIYAKE ARCHITECTS & ENGINEERS

Keyakizaka Complex

Mori Building Co., Ltd., Yamashita Sekkei, Inc.

Hollywood Beauty Plaza

Mori Building Co., Ltd., Mitsubishi Jisho Sekkei Inc.

TV Asahi Broadcasting Center

Maki and Associates

Roppongi Hills Gate Tower

IRIE MIYAKE ARCHITECTS & ENGINEERS

Constructor

Roppongi Hills Mori Tower

Joint venture formed by Obayashi Corporation and Kajima Corporation

Project Executor
Roppongi 6-chome Area Redevelopment Association