Harmonious Coexistence of Cities and Nature (Biodiversity Conservation, etc.)
Recognition and Policy on Harmonious Coexistence of Cities and Nature
Recognition
Since the Meiji Restoration of 1868, the modernization of Tokyo led to construction of not only infrastructure as capital functions, but government offices and related facilities, offices, residences, and retail facilities, and a large part of forest zone and greenery have been deforested. In addition, during the high-growth period of the mid 1950s to the early 1970s, various artificial structures and buildings were constructed one after another and the ground surface of the cities was covered with asphalt or concrete along with the rapid population concentration in Tokyo and the development of civil engineering and construction technology. At the same time, a decrease in greenery, varieties and breeds of animals and plants with urban sprawl, and urban issues, such as the heat island phenomenon, have occurred.
Policy
For solving these urban issues, the Mori Building group will create the downsized nature with consideration for biodiversity and harmonious coexistence of urban cities and humans, on the ground surface and rooftops by vertically using the city through the idealized city model of Vertical Garden City. Along with various urban activities, we will produce a space with abundant greenery where you can hear the birds singing and insects buzzing. The space will be used for fostering a community of people.
Evolution and Transition in Greenery
Mori Building has actively worked on urban greening since completion of ARK Hills in 1986 to realize the ideal city covered with greenery and coexisting with nature harmoniously. Although the amount of green space we have created was only a little over one hectare in 1990, it is expected to exceed 12 hectare in 2023.

~1970s

Development of stand-alone buildings
Commenced in-grounds greening on small scale

1980s

Toward integrated site mixed-use development: Commenced large-scale greening
1986: Completion of ARK Hills, Commencement of large-scale rooftop greening through redevelopment

1990s

Transition from 'volume' to 'volume + quality' in greening: Enjoying greenery, interacting with and nurturing greenery
1997: Renovation of ARK Garden, Transition to 'volume + quality'

2000s

Inheritance of the history and nature of the land
2001: Completion of Atago Green Hills, Inheritance of the history and nature of the land
2002: Completion of Motoazabu Hills
2003: Completion of Roppongi Hills, Preservation of ponds and trees in Mohri Garden
2004: Completion of Holland Hills
2006: Completion of Omotesando Hills

2010s

Toward preservation and restoration of ecosystems
2012: Completion of ARK Hills Sengokuyama Mori Tower, Toward preservation and restoration of biodiversity
2013: Completion of ARK Hills South Tower
2014: Completion of Toranomon Hills Mori Tower, Creation of greenery through the Multi-Level Road System

2020s

Greenery related to human activities
2020: Completion of Toranomon Hills Business Tower
2022: Completion of Toranomon Hills Residential Tower
2023: Planned completion of Azabudai Hills
2023: Planned completion of Toranomon Hills Station Tower
Our Projects
1986: ARK Hills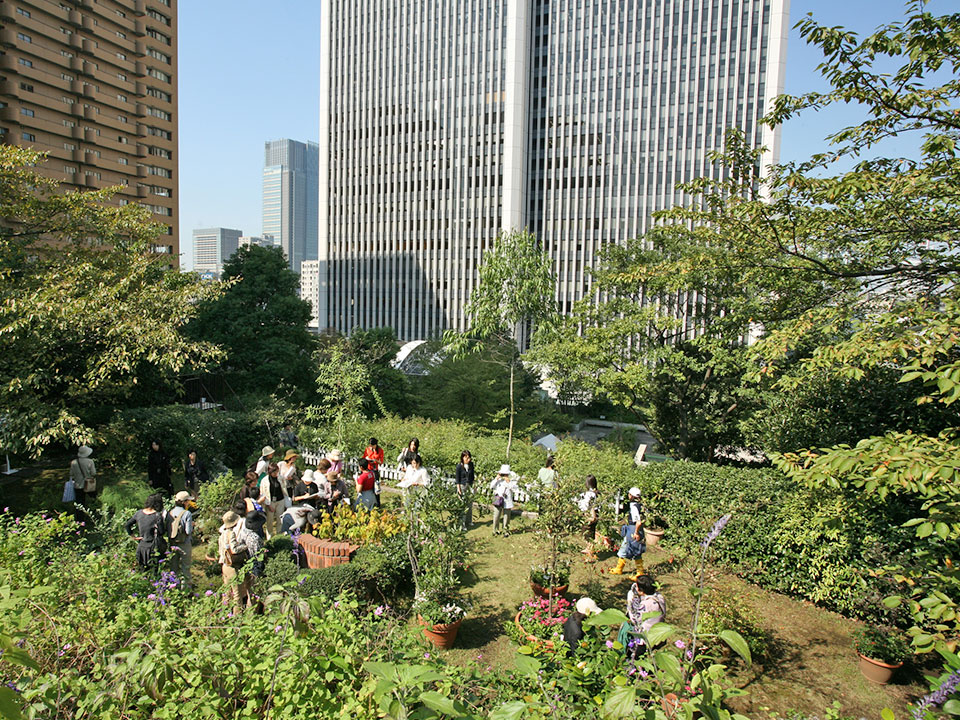 In 1986, we created a large-scale rooftop greening area at ARK Hills, the private sector's first large-scale redevelopment. We planted over 40,000 trees in a green area exceeding 20% of the grounds, including the rooftop of Suntory Hall. The 150 Yoshino cherry trees planted along peripheral roads are now a famed spot for cherry blossom viewing. In 1997, we also planted flowers in year-round green areas, and today continue evolving these areas into places for feeling the charm of the seasons and interacting with greenery.
2001: Atago Green Hills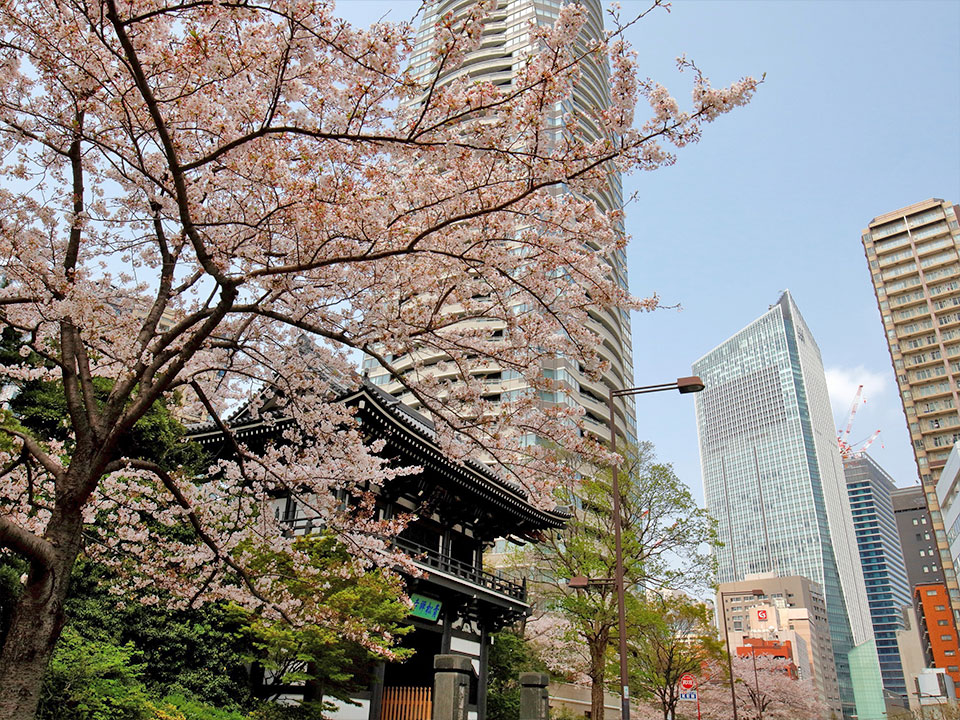 Inheriting the rich nature and history of the Seisoji Temple and Mt. Atago, Atago Green Hills was born with the aim of creating a network of greenery connecting Shiba Park and other surrounding green areas. By preserving sloped green areas as much as possible and raising saplings from the seeds of the trees there, we have cultivated the region's vegetation. We placed green paths along the slopes so people can enjoy nature while minimizing the impact on plants and animals.
2003: Roppongi Hills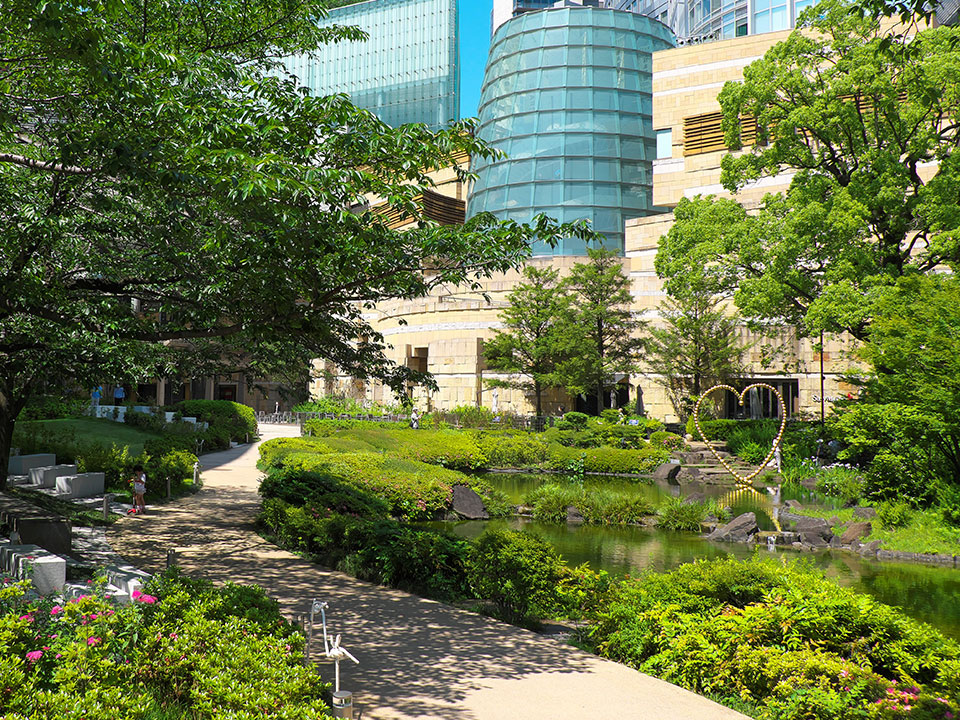 Various types of technologies and ideas are given life in the creation of distinctive greenery. To communicate the history of the land, trees and an Edo period garden were preserved in the development of Mohri Garden. On the rooftop of Keyakizaka Complex, we built a rice paddy where local residents can enjoy rice planting and harvesting, and make effective use of the paddy as the necessary weight for a "Green Mass Damper" seismic control system. Using roadside trees, flower beds, and street furniture, we have formed a townscape fusing art with greenery.
2012: ARK Hills Sengokuyama Mori Tower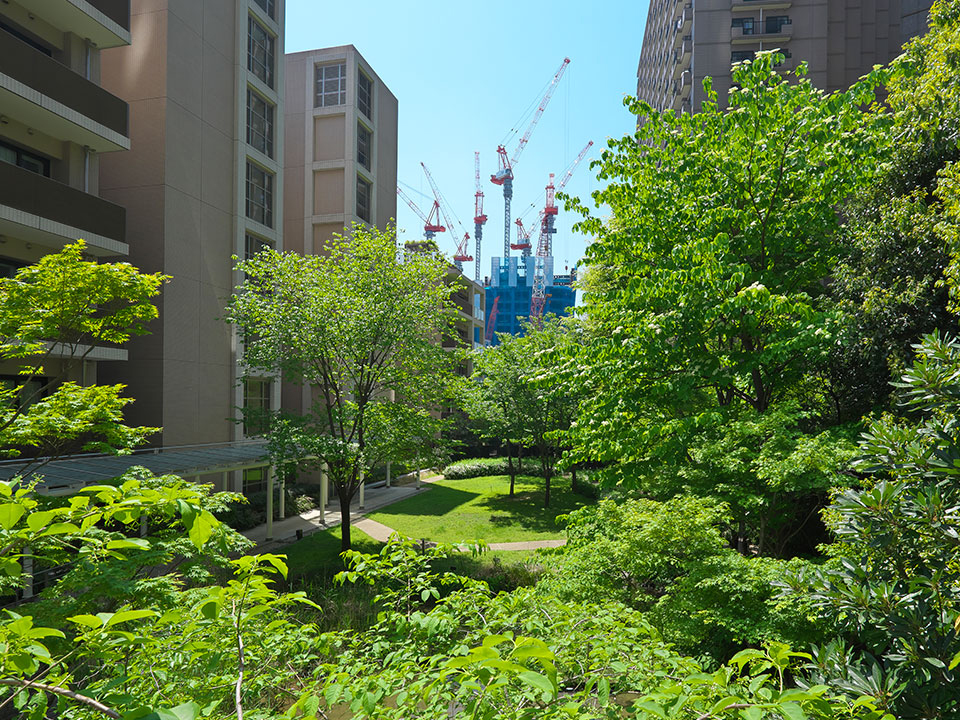 We planted primarily local, native species, placed dead trees to provide living things with homes and feeding sites, and reused topsoil to create a green area for the preservation and restoration of biodiversity. As a result, this green area has acquired the highest (AAA) JHEP certification*, a first in Japan. Following the completion of construction, we conduct maintenance and management with consideration of the ecosystem, and, by placing explanatory signboards and holding workshops, provide opportunities for local people to understand nature and interact with living things.
JHEP (Japan Habitat Evaluation and Certification Program) certification: This program quantitatively evaluates and certifies initiatives contributing to the preservation and restoration of biodiversity. It is developed and operated by the Ecosystem Conservation Society-Japan
2014: Toranomon Hills Mori Tower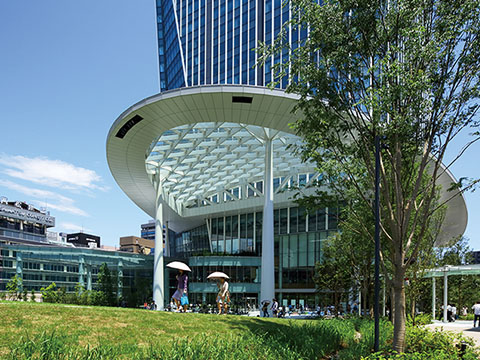 Toranomon Hills is located at the intersection of the north-south green axis running from the Imperial Palace to Hibiya Park, Mt. Atago, and Shiba Park, and the east-west green axis along Shintora-dori Avenue. At Toranomon Hills Mori Tower, by using the Multi-Level Road System, we created a new 6,000m² of green area on man-made ground, and acquired the highest (AAA) JHEP certification for our planting plan, which takes biodiversity into account. By connecting to adjacent blocks, the green area functions as a unified base for greenery.
2020: Toranomon Hills Business Tower
2022: Toranomon Hills Residential Tower
In the Toranomon Hills Area, completion of Toranomon Hills Mori Tower, Toranomon Hills Business Tower and Toranomon Hills Residential Tower, and with the addition of the Toranomon Hills Station Tower, which is under construction, make the formation of an integrated complex of "New International Hub and Global Business Center" including transportation infrastructure acceleration. Across the green space of Toranomon Hills Mori Tower, at the bottom area of the complex, there are lush greenery park of approximately 1,100m² in Toranomon Hills Business Tower, the green space of approximately over 2,400m² in Toranomon Hills Residential Tower and the lower parts of greenery are linked cross over each city district. These green spaces are led to the neighboring Atago Mountain and Atago Green Hills, and it builds a new green network between Toranomon Hills Area and the Atago area.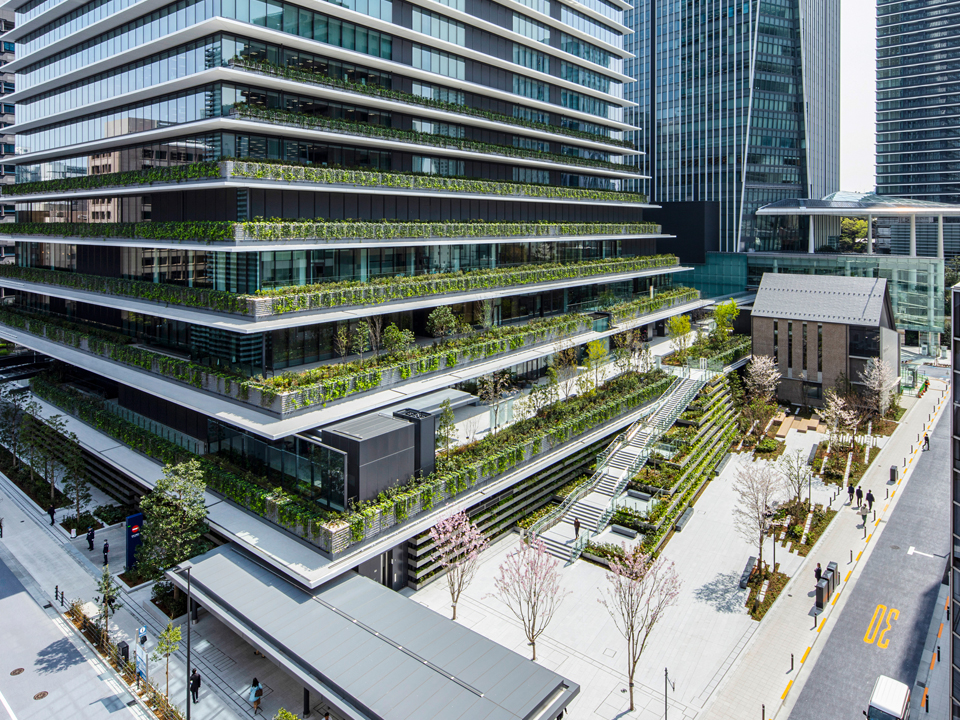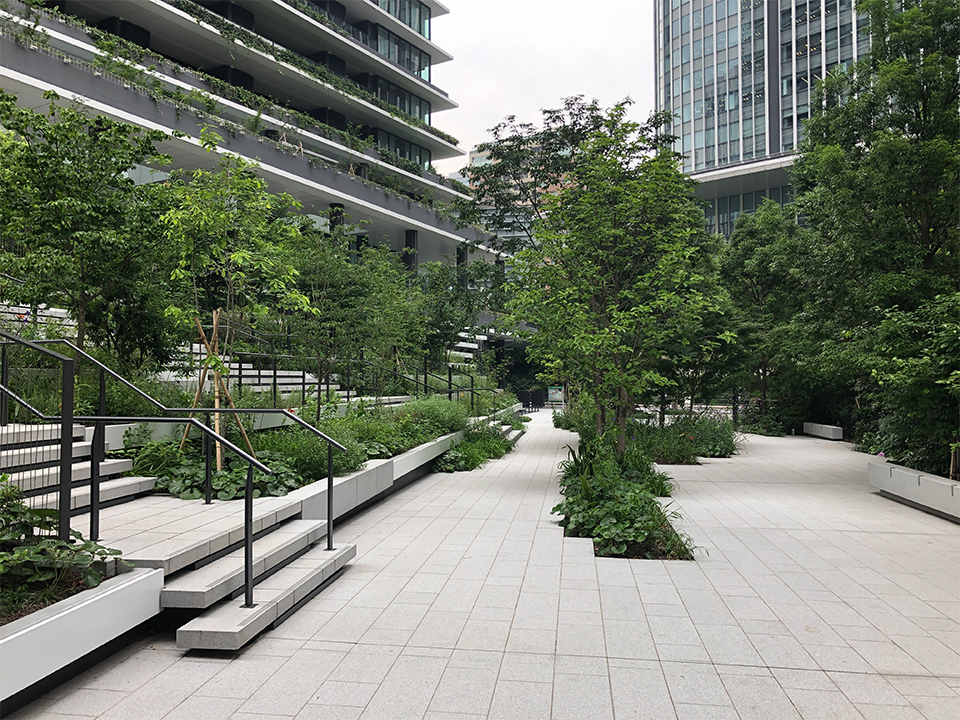 Biodiversity Conservation
Recognition
In the past, cities were contrasted with nature, and preserving and nurturing animals and plants that habit cities were taken lightly. In recent years, however, it has been pointed out that global loss of biodiversity and progress of urbanization, etc. have reduced daily interactions between humans and nature, and has caused negative effects on health maintenance including mental health, child development, and social formation of environmental awareness. As a result of this backdrop, it is thought that biodiversity existing in cities provide a variety of benefits to people living in cities. The Mori Building group recognizes the importance of understanding how human urbanization impacts ecosystems.
Policy
The Mori Building group aims to realize the urban environment in consideration with a relationship between cities and nature. We design and build the Ecological Networks* in accordance with an administrative biodiversity-related plan, and in our development area, we will proceed to prepare the greenery as stopovers or habitats for many species so that they can frequently visit during their travel between large greeneries nearby. After the preparation of the greenery, we will undertake required periodic checks and preventive measures as well as establish a management system for biodiversity conservation.
Ecological Networks: There is a need to create conditions under which living things can live easily, allowing movement by linking green areas that form the living bases for creatures with small-scale green areas and roadside trees. Such a network of habitats is referred to as an ecological network (extracted from Biodiversity and Greening Guide, Minato City)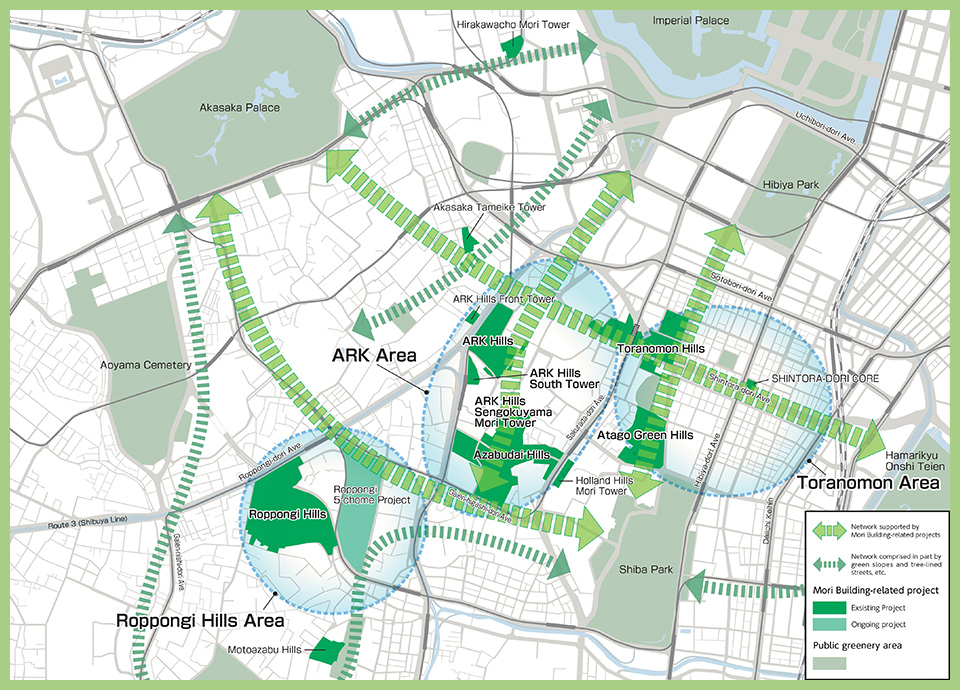 Targets and Progress
Mori Building voluntarily implements preservation of trees and undertakes research in rare species in need as well as promotes business activities in accordance with environmental laws and regulations, while engaging with external parties, such as administration, from our development phase. In addition, we report those growing conditions and transplant trees when required.
Regarding the greenery that is given more consideration for biodiversity in cities, we will obtain appropriate certifications. For measuring effectiveness of the greenery functions, we have continuously been monitoring the level of mitigation of the heat island phenomenon, of increase in greenery, and of the appearance of birds before and after our business activities through checkups with thermal images (ThermoMap), green coverage ratio and bird monitoring.
Management System
In terms of the greenery that is given more consideration for biodiversity, we have established a management system in cooperation with planting management companies, tree protection and nurturing advisors (arborists), and Mori Building (Building Management Department, Architectural Design Department, Environmental Promotion Unit). In the system, the relevant parties regularly share the greenery status through patrolling management and regular meetings where identified issues are promptly examined, coordinated, and addressed. We will report and submit considerations to Environmental Promotion Committee and implement appropriate green management when required.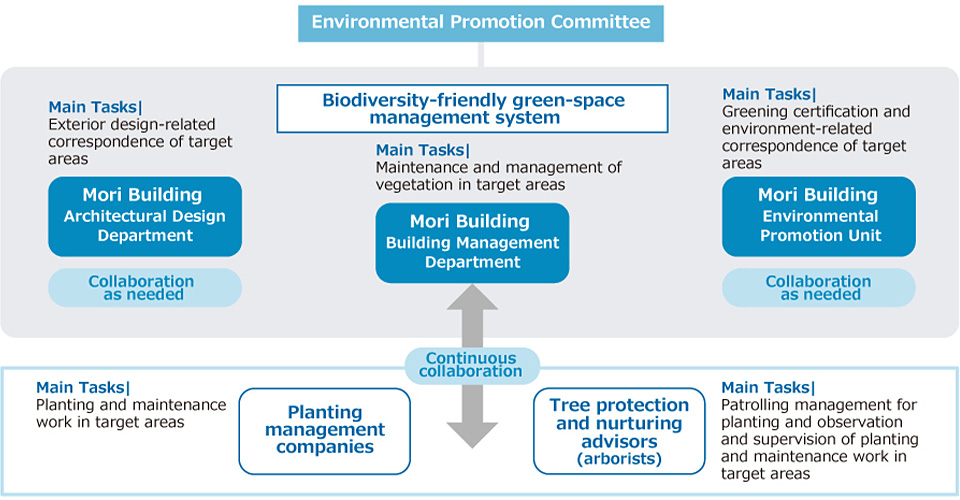 Achievements
We implemented the following initiatives at ARK Hills Sengokuyama Mori Tower, a representative example of our biodiversity-friendly green spaces.
Planting plan based on local potential natural vegetation
We designed a plan for planting based on the Potential Natural Vegetation Map of Tokyo Metropolis, aiming to create a local native landscape and ecosystem.
Preparation of multilevel greenery with a high volume of green coverage
We have created the multilevel green spaces through planting trees, shrubs, and cover plants, and provided habitats for wide variety of species.
Placing dead trees, ecostacks, and receptacles for fallen leaves, and formation of ecotone
We placed dead trees for the purpose of nesting and foraging for Japanese pygmy woodpeckers, the indicator species, and stone piles (ecostacks) and receptacles for fallen leaves to provide habitats for living creatures, and formulated transitional zones (ecotone) that loosely connects land and water areas.
Soil conservation and reuse and consideration for procurement of planting materials
We preserve 500m² of soil from the development site in advance and reuse them as topsoil for exterior construction to contribute to the restoration of the prior environment condition. The plant material suppliers are based in suburbs (Tokyo, Saitama), and as much of the topsoil of root clumps were removed as possible to prevent unintended mixing of species.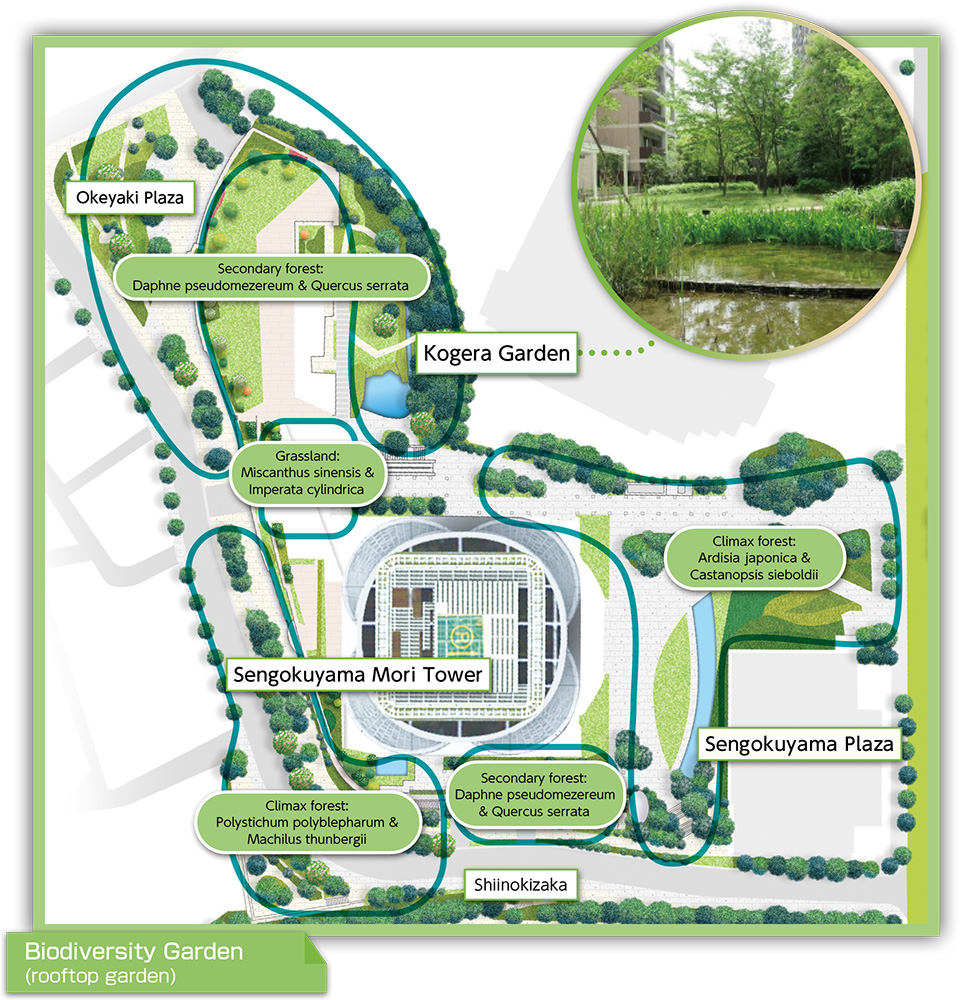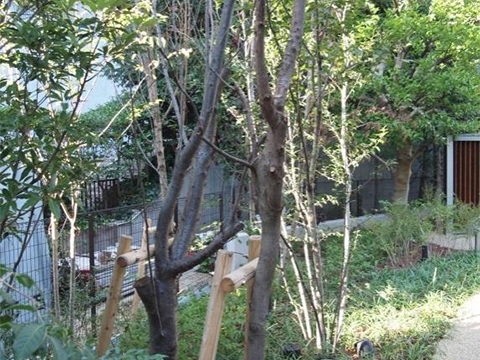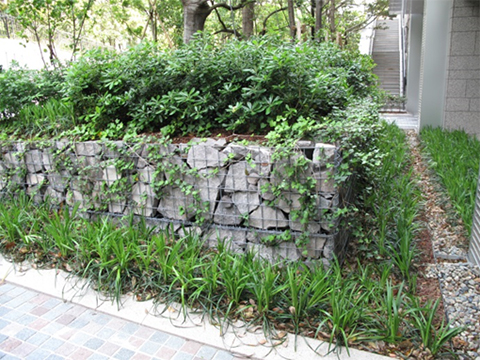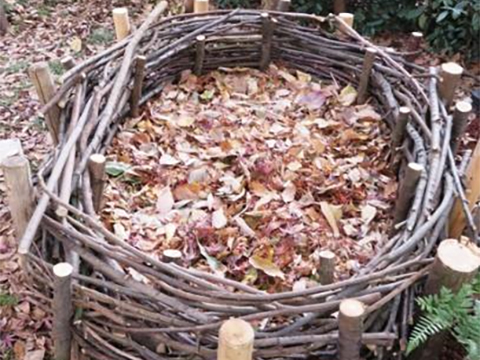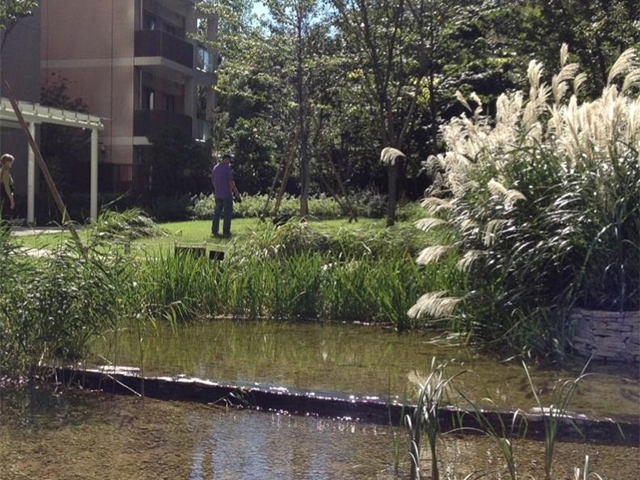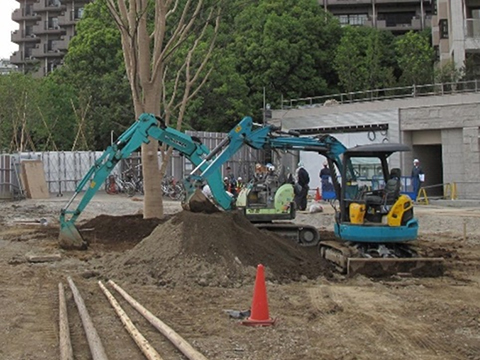 Growing Greenery
Mori Building has taken great care in maintaining and nurturing its plantings. The average size of the trunk thickness of cherry trees on the perimeter of ARK Hills was 28cm when the complex was completed in 1986, by 2019 the average trunk thickness was in excess of 145cm and still slowly growing. ARK Hills and Roppongi Hills are well known as two of Tokyo's popular cherry blossom viewing spots, visited by a large number of admirers every year.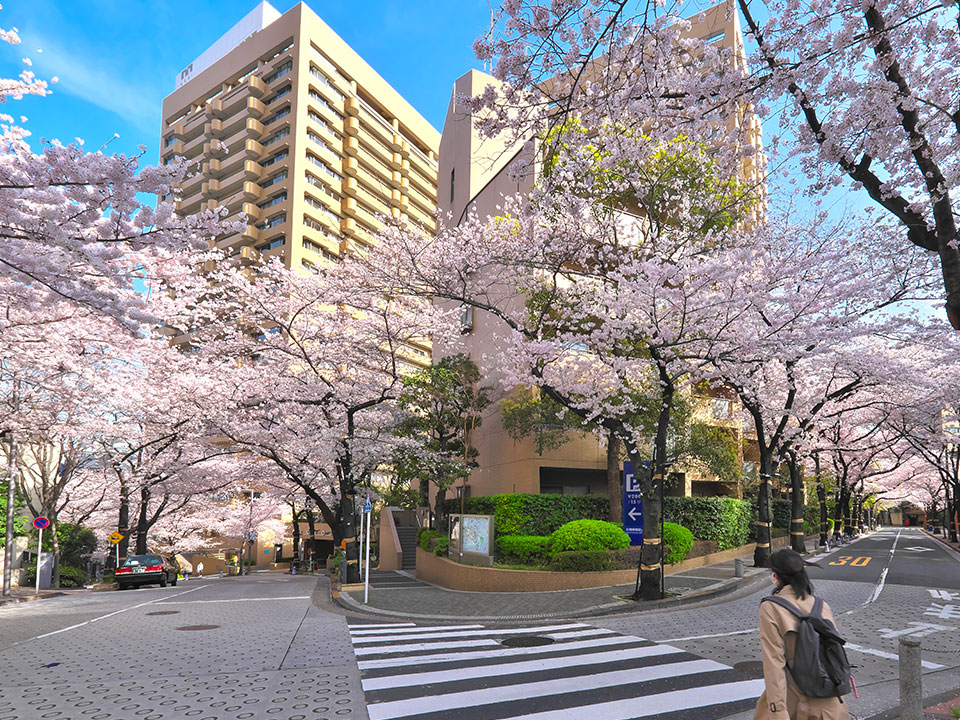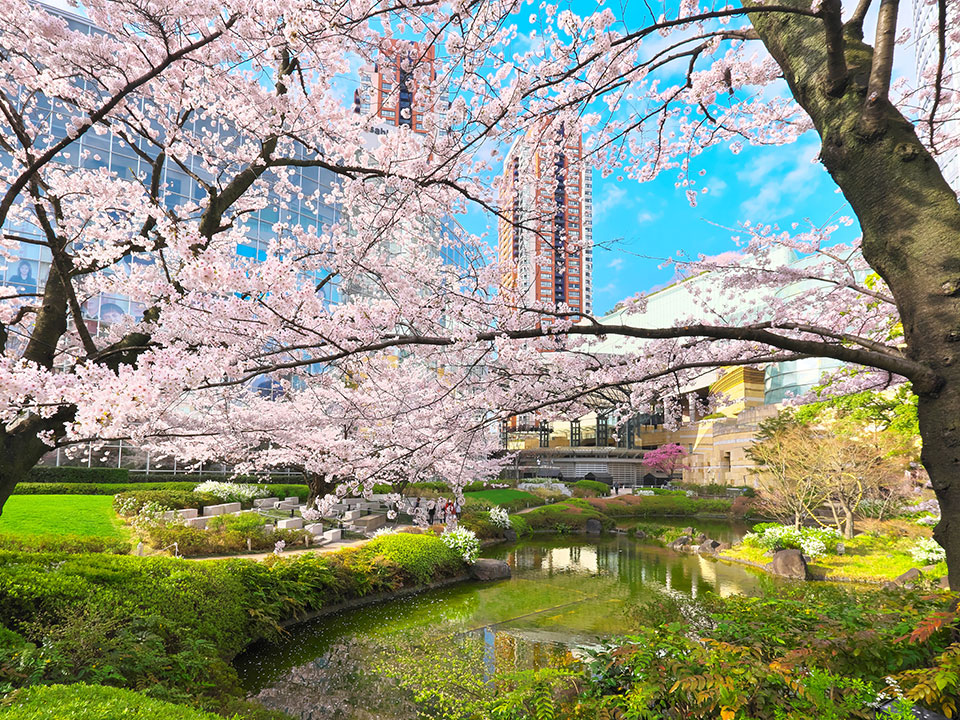 Average Trunk Growth of Cherry and Zelkova Trees (ARK Hills and Roppongi Hills)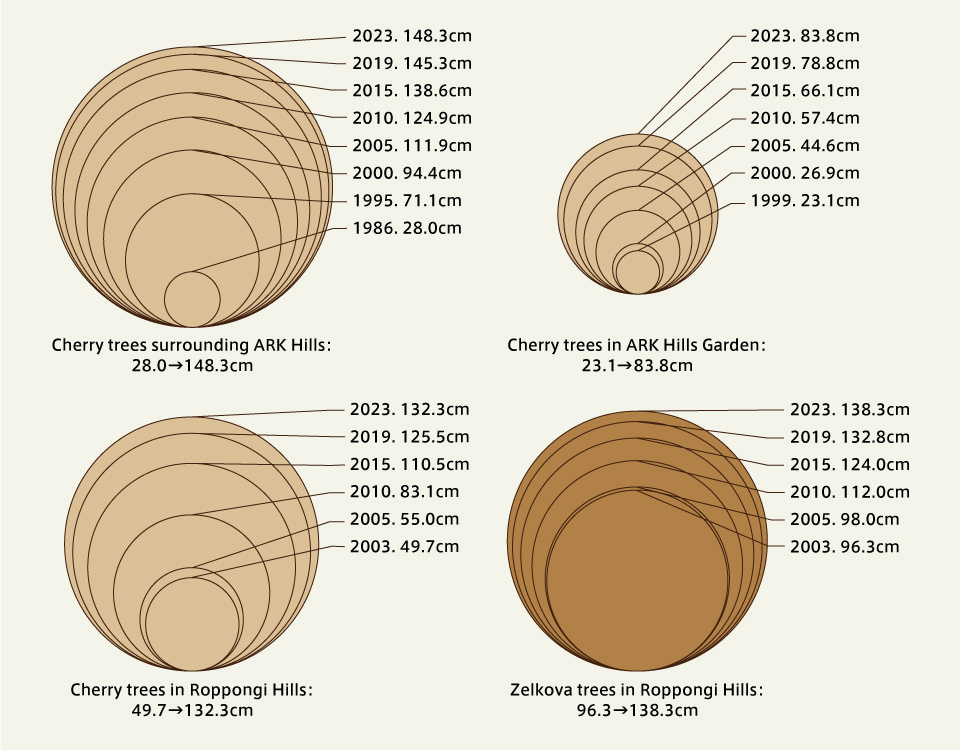 Improving the Green Coverage Ratio
Since 2006, Mori Building has conducted green coverage ratio* surveys to measure the percentage of green covered land. The green coverage ratio and total green coverage area in the facilities managed and operated by our company has been increasing annually, indicating that our urban development contributes to the promotion of urban greening.
Green coverage ratio: greened area/site area x 100%: In accordance with the Tokyo Metropolitan Government Municipal Green Coverage Ratio Manual, we use aerial photographs as the basis for calculations
Green Coverage Ratio Survey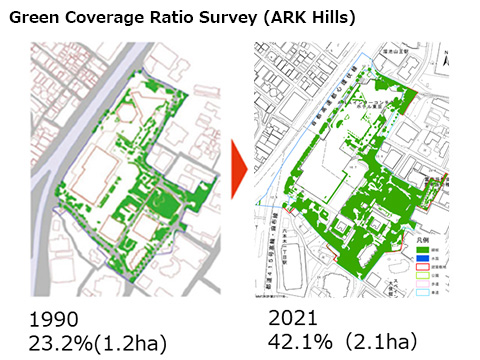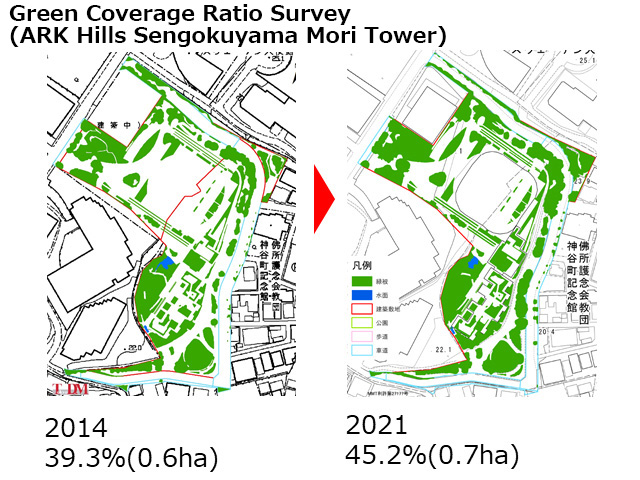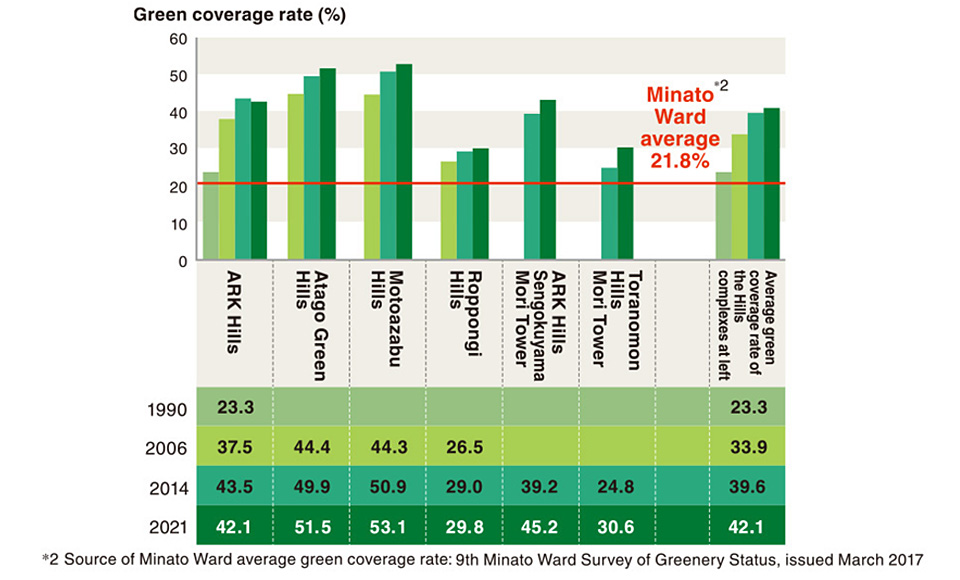 Countermeasure to the Heat Island Phenomenon
Mori Building regularly photographs aerial thermal images (ThermoMap) to inspect the effectiveness of its green land in mitigating of the heat island phenomenon. These images show that greened spaces such as Roppongi Hills, Atago Green Hills and Toranomon Hills have daytime surface temperatures that are 5°C to 15°C lower than the temperatures of surrounding asphalt pavements. Expanding green spaces in areas where cities and nature coexist not only provides people with places to relax, but also helps to mitigate the heat island phenomenon.
Roppongi Hills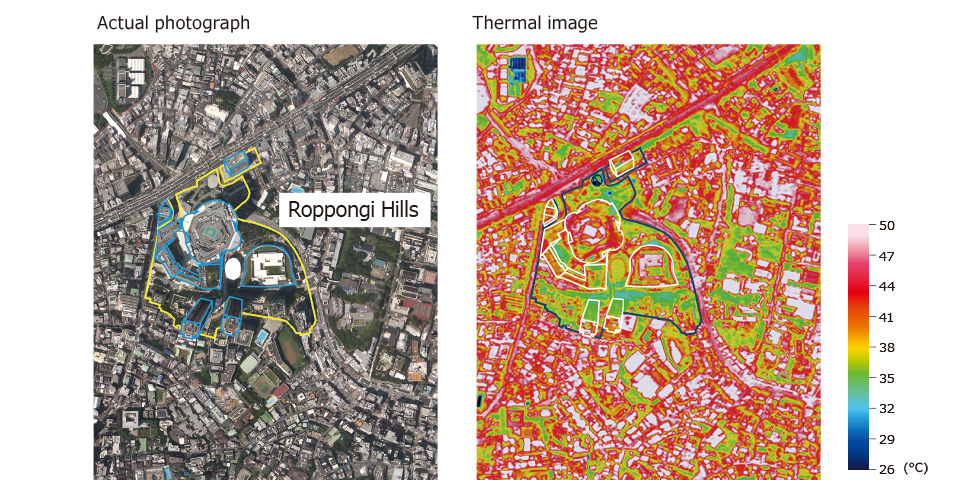 Atago Green Hills and Toranomon Hills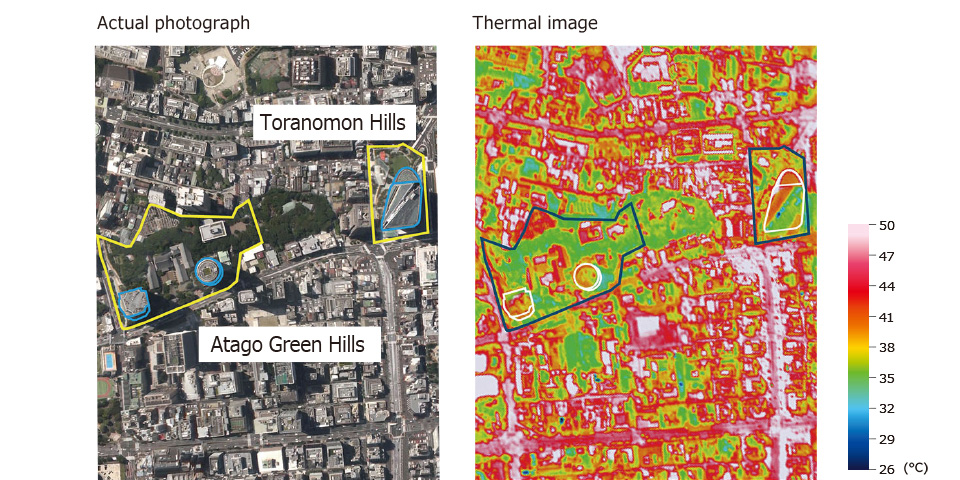 KPIs and Performance Data
Mori Building measures green coverage ratios every year, primarily in its large-scale mixed-use development area, and aims to achieve approximately 38% as a KPI by 2030. As an indicator of biodiversity, we regularly conduct research on flying species (birds and butterflies) which visit green areas that take biodiversity into consideration, and we will use this to contribute to maintaining a biodiversity friendly environment.
With regard to greening-related certifications, we will deliberate in acquiring appropriate certifications for each development area, primarily for large-scale mixed-use development areas of more than 1 ha (including those in operation), and will strive to continue to maintain the certifications we have acquired.
Greening-related Data (Green Coverage Ratio)
| Indicator | Unit | Numerical target | Target year | 2020 | 2021 |
| --- | --- | --- | --- | --- | --- |
| Overall green coverage ratio | % | Approx. 38% | 2030 | 36.2 | 36.0 |
| Total green coverage area | ha | ― | ― | 9.6 | 9.5 |
| Surveyed areas* | quantity | ― | ― | 10 | 10 |
ARK Hills, ARK Hills Sengokuyama Mori Tower, ARK Hills South Tower, Atago Green Hills, Motoazabu Hills, Holland Hills, Omotesando Hills, Roppongi Hills, Toranomon Hills Mori Tower and Toranomon Hills Business Tower (Completed by 2021 as to all aforementioned); Toranomon Hills Residential Tower (Completed in 2022); Toranomon Hills Station Tower (Completion scheduled for 2023); and Azabudai Hills(Completion scheduled for 2023)
Green-related Data (Ecosystem Surveys)
ARK Hills Sengokuyama Mori Tower
| Indicator | Unit | Numerical target | Target year | 2013 | 2016 |
| --- | --- | --- | --- | --- | --- |
| Number of flying species (birds & butterflies) | species | Maintain status quo | 2030 | 25 | 25 |
| Birds | species | Maintain status quo | 2030 | 13 | 15 |
| Butterflies | species | Maintain status quo | 2030 | 12 | 10 |
Toranomon Hills Mori Tower
| Indicator | Unit | Numerical target | Target year | 2015 | 2016 |
| --- | --- | --- | --- | --- | --- |
| Number of flying species (birds & butterflies) | species | Maintain status quo | 2030 | 18 | 17 |
| Birds | species | Maintain status quo | 2030 | 13 | 11 |
| Butterflies | species | Maintain status quo | 2030 | 5 | 6 |
Green-related Data (Certification)
Certification
Property
Acquisition
Validity Period
Rank, etc.
JHEP
ARK Hills Sengokuyama Mori Tower
2012
September 2027
AAA
Toranomon Hills Mori Tower
2015
January 2025
AAA
SEGES (Urban oasis)
ARK Hills
2013
March 2025
―
Roppongi Hills
2013
March 2025
―
Toranomon Hills Mori Tower
2017
March 2023
―
EDO-MIDORI Registration Green Space
ARK Hills Sengokuyama Mori Tower
2017
Not stipulated


(Submission of Annual reporting)

Excellent green space