Basic Concepts of Risk Management
The Mori Building group has established a risk management system in its Risk Management Regulations, which defines all events that could have a substantial negative impact (loss) on each business to be handled at the management level, as well as the method for understanding, evaluating, and clarifying priorities for responding to those risks.
Risk Management System
Operation of the Risk Management Committee
The Mori Building group has established the Risk Management Committee as a meeting body to deliberate and approve issues and measures related to group-wide risk management in Japan and overseas. In principle, the Committee meets once a year to determine important policies and action plans for the organization and systems, approve evaluation, analysis, and response policies for risk management, and approve policies and plans for monitoring.
Based on the Risk Management Regulations, the organization in charge of each risk and its authority and responsibilities are defined, and the leaders of the relevant departments are responsible for risk management, including the development of response policies and manuals.
Under the Risk Management Committee, a secretariat has been established to monitor the Committee and support the risk management activities of the organizations responsible for individual risks.
Risk Management System Chart (as of July 1, 2022)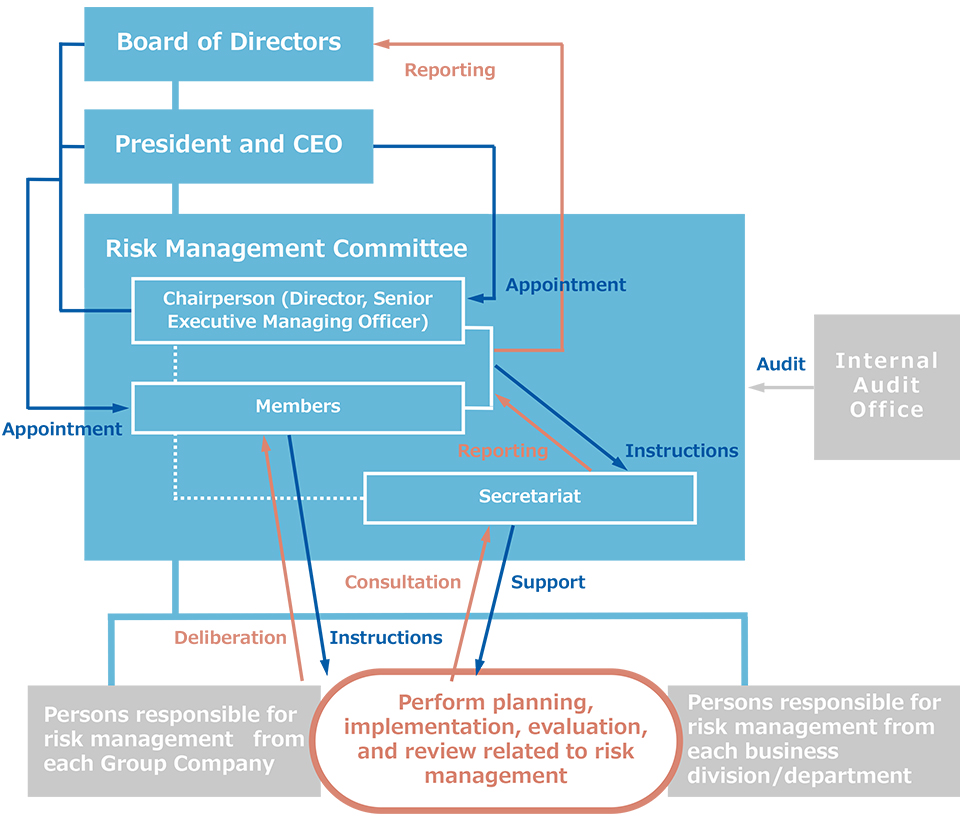 Major Risks Associated with Business Activities
Through ongoing risk management activities and various business activities, the Mori Building group recognizes the following major risks and takes countermeasures against them.
Risks Related to Real Estate Market Trends, etc.
In the event of a stagnant or declining real estate market, vacancy rates for office buildings and residential properties for rent may rise or rent levels may fall, and the leasing business may be adversely affected by delays or interruptions in the progress of large-scale medium- to long-term development projects. In order to cope with such risks, the group will reduce such risks by monitoring economic trends and real estate market conditions and by strengthening its sales force according to the characteristics of each property.
Risks Related to Changes in Laws, Regulations, and Taxation Systems (mainly related to real estate and finance)
Future changes in laws and regulations, rules, policies, or interpretations may increase the group's obligations or cost burden, or restrict the group's rights to its properties, which could affect its business performance and financial position. In order to cope with such risks, the group will strive to promptly identify and respond to any revisions to laws and regulations, real estate-related taxation systems, and other relevant information and notifications.
Potential Risks in Overseas Business
In countries/regions such as China and Indonesia where the group operates, unforeseen changes in economic conditions or political systems may cause real estate market conditions to deteriorate and projects to be adversely affected. In addition, the value of assets held by the group after translation into yen may be affected by exchange rate fluctuations and other factors. In order to cope with such risks, the group occasionally collects information and takes actions such as reviewing the relevant projects.
Risks Related to Interest-Bearing Debt and/or Rising Interest Rates
Although the group is committed to managing the risk of interest rate fluctuations on interest-bearing debt, primarily through interest-rate swap agreements, a sharp rise in interest rates could affect the group's business performance and financial position. In order to cope with such risks, the group strives to facilitate and diversify fund procurement by borrowing from multiple financial institutions and issuing corporate bonds, while monitoring interest rate trends and the lending attitudes of financial institutions.
Risks Related to Natural Disasters, Human-Made Disasters, etc.
In the event of natural disasters such as earthquakes, storm and flood damage, epidemics, as well as accidents, fires, wars, terrorism, and other human-made disasters, the group's assets could be damaged, and its business performance and financial position also could be affected. In order to cope with such risks, it has formulated a BCP (Business Continuity Plan) to ensure business continuity and early recovery in any circumstance.
Risks Related to Infectious Diseases Including Covid-19
Infectious diseases including COVID-19 could force temporary closure or reduced operating hours of group's related facilities, hindering the operation and management of real estate and reducing profitability, which could impact the group's business performance and financial position. In such a situation, the group will comply with requests from the Government and other authorities, as well as formulate its own rules and take other countermeasures to prevent the spread of infection.
Risks Related to Cyber Security
In the event that Mori Building's information systems and building systems are subjected to cyber-attacks, there is a risk of system shutdown or destruction, theft or destruction of personal/confidential information, and other impacts. Although systems are equipped with countermeasures based on expert advice, it is difficult to completely eliminate the possibility of these risks occurring. The failure of telecommunication networks or cloud services due to disasters, system failures due to hardware or software defects, or security incidents due to unauthorized access by third parties could damage the group's social credibility and brand image, as well as affect its business performance and financial position. In order to cope with such risks, in addition to complying with relevant laws and regulations, the group has established internal rules related to cyber security and conducts regular training and education to raise cyber security awareness.