Business Scope
Our business is creating cities. Nurturing cities in cooperation with those who live and work in them. In other words, our business touches virtually every aspect of human activity. We operate in 12 domains. Combining and integrating these 12 domains, we have been constantly exploring new possibilities for the city of the future.
Domain No.1: Urban Redevelopment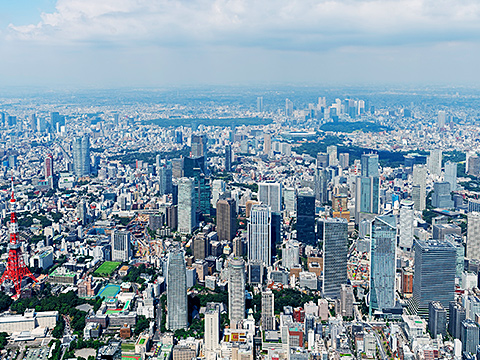 Total coordination is what we do, from proposing redevelopment projects to assessing their financial feasibility, negotiating with government authorities, building consensus among local residents, and managing project details. Besides redevelopment projects, we form partnerships with members of local communities. Developing our business on a solid foundation of mutual trust, we participate in community activities and are constantly working to deepen our knowledge of local history and lifestyles.
Domain No.2: Architecture & City Planning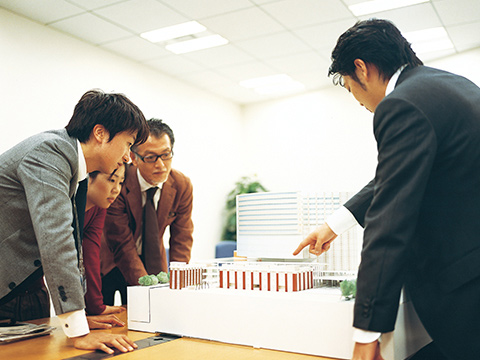 Architectural design is the medium through which we realize the creation of ideal urban spaces. Here, too, we are involved at every stage from architectural planning to negotiations with government authorities. To bring projects to fruition, we employ specialists in a wide range of fields, from architects to experts in electrical and mechanical engineering. As we research new and improved forms of urban spaces, we are constantly gathering information and seeking feedback from our tenants.
Domain No.3: Office Buildings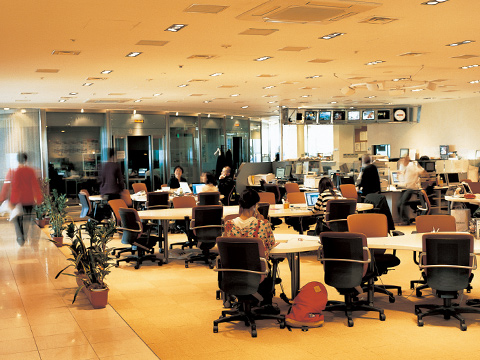 The Ark Mori Building was Japan's first intelligent building. Today, Mori Building manages about 80 office buildings located in central Tokyo, primarily in Minato Ward. These buildings are renowned for their combination of location, satisfaction of international standards, outstanding earthquake resistance, and security. A majority of tenants are foreign financial institutions. These buildings also offer the flexibility that makes them ideal office spaces for all work styles, from SOHO businesses to blue-chip corporations.
Domain No.4: Residence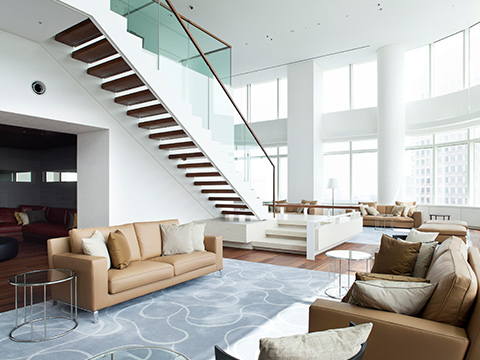 Here our focus is primarily rental properties in Minato Ward, a part of Tokyo popular among Europeans and Americans, where we are developing our MORI LIVING brand. Here, where our theme is keeping work and residence close to each other, we supply approximately 2,300 residences. Lush environments, a full range of facilities, sophisticated design, the latest technology, and the superb hospitality of our concierge services enhance the quality of life in these residences. Here, tenants find a richly rewarding urban lifestyle that also includes spas where they can harmonize body and soul. Rental contracts are available for periods of one month or more.
Domain No.5: Retail & Merchandising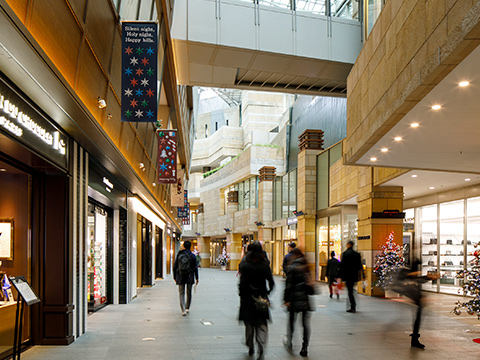 Through such remarkable retail spaces as Laforet Harajuku, Roppongi Hills and Omotesando Hills, we enrich city life in Tokyo. In addition, museum and art shops, and especially those at the Mori Art Museum, offer more than 1,700 exclusive products developed in collaboration with such world-famous artists as Takashi Murakami, Mariko Mori, Yayoi Kusama and Yoshitomo Nara. We are making art more and more an integral part of urban living.
Domain No.6: Culture, Education & Art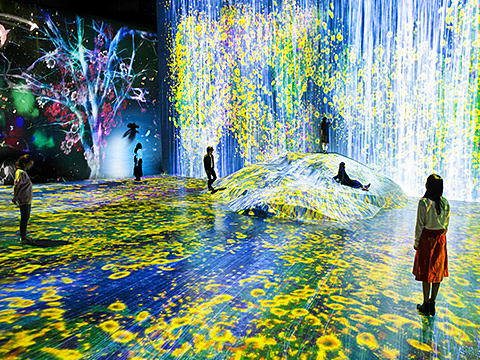 Mori Building's involvement in culture and education began with Academyhills and our private club at Ark Hills. Now the Mori Arts Center at Roppongi Hills offers instruction by leaders in a variety of professions, together with a library open to members 24 hours a day. Our efforts to promote stimulating international intellectual exchanges also include the wealth of trans-genre contemporary art and other exhibitions and programs held at the Mori Art Museum.
Domain No.7: Town Management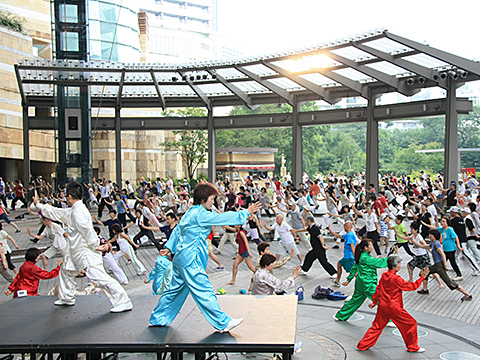 The broad range of activities undertaken in our town management business includes town branding and promotion, town security management, and operation of retail spaces. Our Tokyo City View observatory provides a 360 degree panoramic view of Tokyo from a height of 250 meters above sea level. The Roppongi Hills Arena is an outdoor entertainment space. We are constantly developing new events and programs for these facilities.
Domain No.8: Hotels & Conference Facilities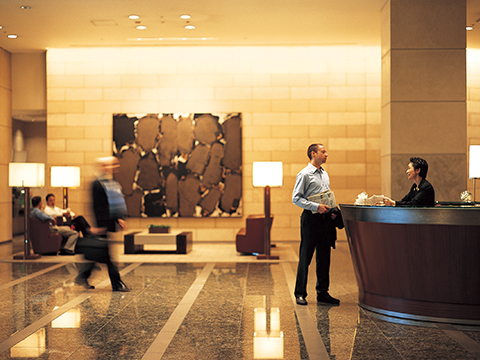 Cities need places for people to gather, to meet and to interact. Mori Building operates the Grand Hyatt Tokyo, which offers all these facilities as well as a great place to stay, within Roppongi Hills. Our Academyhills Forum is ideal for high-level conferences. And the now under construction Shanghai World Financial Center will offer top-quality hotel and conference facilities as well as offices.
Domain No.9: Resorts & Wellness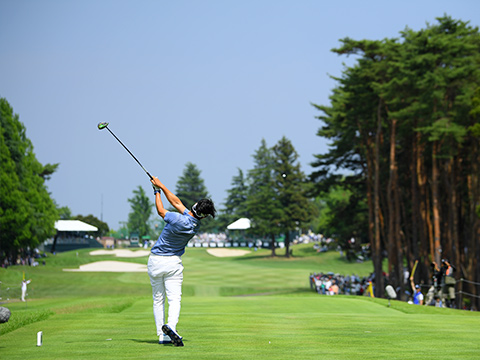 Enjoy our Hills in the city on weekdays and our holiday Hills on weekends. Examples of this growing aspect of our business include our Shishido Hills Country Club, whose 36-hole golf course is home to Japan Golf Tour Championship Mori Building Cup Shishido Hills, and the 18-hole course at the Shizu Hills Country Club, designed by Tsuneyuki Nakajima; the club is also equipped with resort hotel facilities to delight the whole family. Other activities include our five (members-only) spas and our Sacravia Seijo lifetime residence for those aged 60 and older.
Domain No.10: Overseas Business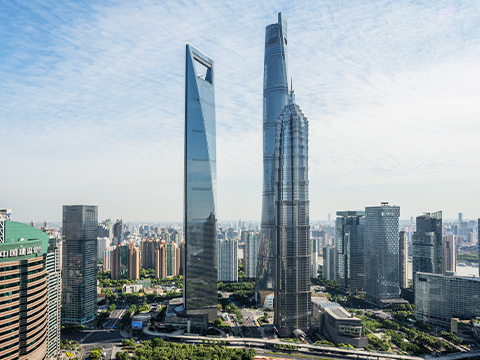 Building on our extensive urban redevelopment experience in Japan, Mori Building is undertaking projects overseas as well. In China, for example, we have already completed the Senmao Building in Dalian and the HSBC Tower in Shanghai; both realize the superb standards set by our office buildings in Japan. The yaer 2008 will see the completion of our second Shanghai project, the Shanghai World Financial Center. Our first overseas Hills, it will be both the leading financial center in Asia and a prime example of the energy and excitement for which Shanghai is famous.
Domain No.11: Non-Asset Business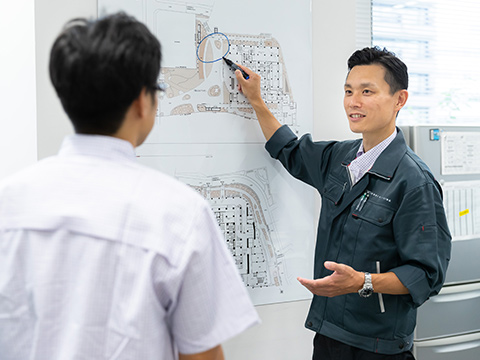 In this domain, Mori Building offers its expertise in planning, construction supervision and management of multipurpose projects to third parties. Here, too, our property management business provides support, management and operating know-how that enhances the asset value of third-party properties. Besides adding third-party properties to our lease properties line-up, our master lease business increases leasing efficiency. Examples include the Akasaka Tameike Tower and the AIG Aoyama Building.
Domain No.12: Interior Planning & Design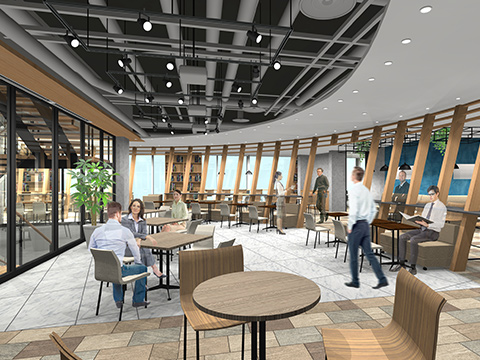 From government and corporate offices to retail facilities and residences, Mori Building provides our clients with spaces tailored to the needs of specific industries and tenants. We oversee plans and estimates for construction, electricity and other facilities, supervision, interior design and construction. In addition, we develop original Mori Building products as well, such as Forest Ceiling System and Forest Floor. Through these efforts, we will create spaces that are comfortable, advanced, energy-saving, and health-conscious, while working closely with our customers.