Mori Building Co., Ltd.
Toranomon Hills Station Tower Frame Completed
Tower will integrate subway station with surrounding facilities, supporting the expansion of the Toranomon Hills area and its evolution as a new international urban hub and global business center
Tokyo, July 22, 2022 -- Mori Building Co., Ltd., Japan's leading urban landscape developer, announced that the frame of Toranomon Hills Station Tower (A-1 district) has been completed today, marking a new milestone in the large-scale upgrade of the Toranomon area under a project being led by the Toranomon 1 & 2-chome District Urban Redevelopment Association, in which Mori Building is a leading participant.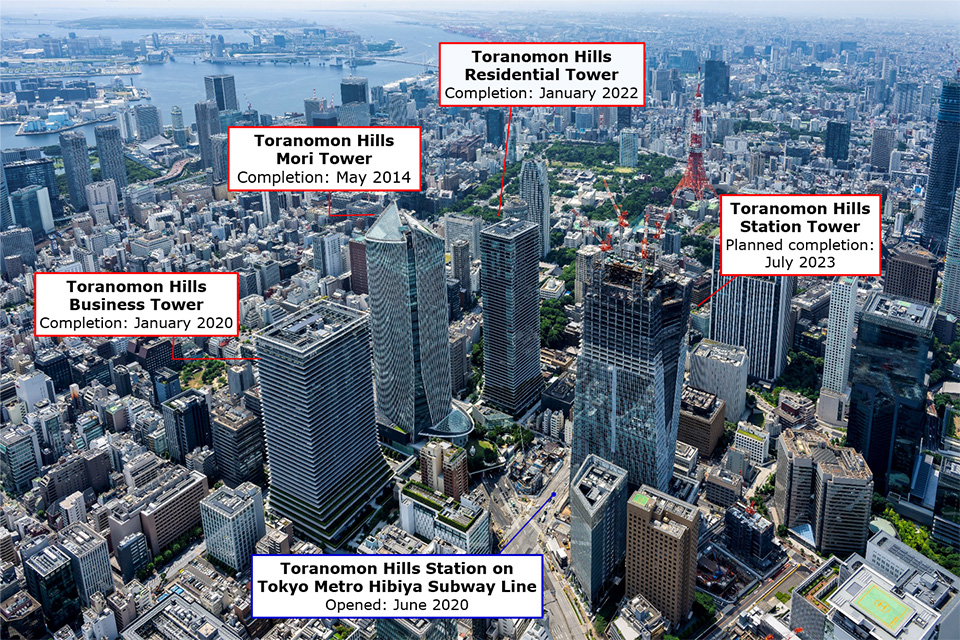 Toranomon Hills Area in July 2022
Large station plaza and walkway created by integrating station with the Toranomon Hills area
Part of the Toranomon Hills complex, which continues to expand and evolve as a new international urban hub and global business center, Toranomon Hills Station Tower will be directly connected to Toranomon Hills station on the Tokyo Metro Hibiya subway line. The integration of the station with the surrounding facilities will greatly enhance the area's infrastructure, with the addition of a large subway station plaza and a pedestrian walkaway conveniently linking the facility with other popular landmarks nearby. The new Station Tower will not only provide new office space, retail shops and a hotel, it will also house a multifunctional complex on its top floor incorporating forums, art galleries, restaurants and facilities that can be used for business events and other value-creating activities.
When the new Station Tower is completed in 2023, Toranomon Hills will cover an area of 7.5ha and offer total floor space of 800,000m². The area will include Toranomon Hills Mori Tower (completed in 2014), Toranomon Hills Business Tower (completed in 2020), and Toranomon Hills Residential Tower (completed in 2022). The area is steadily evolving as a mixed‐use urban complex integrated with extensive transportation infrastructure, elevating its status to that of a true international hub with an impact comparable to that of Mori Building's epoch-making Roppongi Hills.
Through this project, Mori Building is helping to turn the Toranomon Hills area into an international urban center and global business hub that will further enhance the magnetism of Tokyo as one of the world's great cities.
Fully integrated Station Tower will enliven the entire area
Integrating the overall development with the Toranomon Hills station on the Hibiya subway line, the 49-story, 266-meter-high Station Tower (A-1 district) will be complemented by a large and bustling plaza in the station and a highly convenient pedestrian walkway that will extend down Sakurada-dori Avenue, offering access to various nearby landmarks, including Toranomon Hills Mori Tower Oval Square. By strengthening and expanding the local multi-level transportation network, the Station Tower will greatly enhance the Toranomon Hills area as a transportation node, and will enliven the entire area by significantly improving pedestrian flows.
Establishment of a global hub for new business and innovation
The Station Tower will offer over 3,300m² of spacious office accommodation on its standard floors, as well as diverse commercial facilities integrated with the station plaza and an international-standard hotel. The tower's top-most level will contain a multifunctional complex of forums, galleries, restaurants, and other facilities fully capable of accommodating business events and other value-creating activities. Mori Building expects the Toranomon Hills development to benefit from the area's growing international character and the nearby concentration of diverse urban functions including national government offices, and to thereby evolve into a global hub for business and innovation.
Reduced environmental impact as a result of high energy efficiency, 100% renewable electricity supply, and strong support for disaster preparedness in the local community
Efficient energy use will help to reduce the environmental impact of Toranomon Hills Station Tower (A-1 district). Earlier this year, the Station Tower plan was pre-certified under the LEED system for new tenant buildings with the top-level Platinum rating in the category of Building & Design/Core and Shell Development (BD+C). The environmental measures being taken during its construction and those planned for implementation during its use have been highly evaluated. These include its effective use of water, the area-wide supply of energy generated on-site, the high level of energy savings through use of the latest equipment and technologies, the visualization of environmental load reduction during construction, measures to prevent contamination of core and interior walls during construction, collaboration with tenants to encourage energy savings following construction, and plans to supply renewable electricity from the new facilities.
Furthermore, in 2021 the Station Tower building plan received WELL Building Standard precertification for the favorable impact it is likely to have on human health and wellness. Upon completion, the building is expected to obtain WELL Platinum certification, the highest rank in this certification program.
Toranomon Hills Station Tower (A-1 district) and Toranomon Hills Edomizaka Terrace (A-3 district) will be supplied with 100% renewable electricity from the time of their completion. In addition, for tenants who choose to use renewable energy, Mori Building's proprietary Energy Web System will automatically provide proof of the renewable sources of their consumed energy based on tracking information.
The Station Tower will also strengthen disaster preparedness in the surrounding community by providing shelters for people facing difficulty returning home immediately following a disaster. In the Toranomon 1-chome and 2-chome districts as a whole, shelters will be available for approximately 950 people, backed by a sufficient stockpile of food and other emergency supplies for three days, supporting the community as a disaster prevention base from both "hard" and "soft" aspects. In addition, the building's independent and distributed energy systems, which will include a cogeneration system and emergency generators, will be able to provide emergency power in the event of any interruption in power supply from the public power grid.
Timeline
Feb. 2016: Establishment of Toranomon 1&2-chome District Urban Redevelopment Preparations Committee
Mar. 2018: Approval of Toranomon 1&2-chome District Category 1 Urban Redevelopment Project plan
Nov. 2018: Establishment of Toranomon 1&2-chome District Urban Redevelopment Association
Mar. 2019: Approval of rights conversion plan
Nov. 2019: Start of construction
Jul. 2022: Toranomon Hills Station Tower (A-1 district) frame completed
Aug. 2022: A-2 district structure and Toranomon Hills Edomizaka Terrace (A-3 district) frame to be completed
Jul. 2023: Construction to be completed
Project outline
Project: Toranomon 1&2-chome District Category 1 Urban Redevelopment Project
Executor: Toranomon 1&2-chome District Urban Redevelopment Association
Location: Toranomon 1-chome and part of Toranomon 2-chome, Minato-ku, Tokyo
Site size: Approx. 2.2 hectares
Floors & heights:
A-1 district: 49 above ground and 4 underground; 266 meters
A-2 district: 4 above ground and 3 underground; 30 meters
A-3 district: 12 above ground and 1 underground; 59 meters
Total floor space & facilities:
A-1 district: 236,370 square meters; offices, retail facilities, hotel, business multifunctional complex, parking lots, etc.
A-2 district: 8,750 square meters; retail facilities, parking lots, etc.
A-3 district: 8,090 square meters; offices, residences, retail facilities, parking lots, etc.
Construction: Steel framed structure (Partially SRC or RC)
Architect: Mori Building Co., Ltd. First-Class Registered Architect Office
Detailed design: Mori Building Co., Ltd. First-Class Registered Architect Office
Designer: OMA
Constructors: Kajima Corporation, Kinden Corporation, Sanken Setsubi Kogyo Co., Ltd., and Hitachi Building Systems Co., Ltd.
Construction start: November 2019
Planned completion: July 2023

Please address inquires regarding this press release to:
Mori Building Co., Ltd. Public Relations
TEL:03-6406-6606
FAX:03-6406-9306
E-mail:koho@mori.co.jp