Mori Building Co., Ltd.
Mori Building to Open Azabudai Hills on November 24, 2023
Modern Urban Village with a huge open space filled with lush greenery in the world's largest metropolis
Tokyo, August 8, 2023 -- Mori Building Co., Ltd., Japan's leading urban landscape developer, announced today that Azabudai Hills, a multi-use complex and new world-class neighborhood in Central Tokyo, will open on November 24. This Toranomon-Azabudai District Category 1 Urban Redevelopment Project has been promoted by Mori Building, others, and around 300 landowners for approximately 35 years.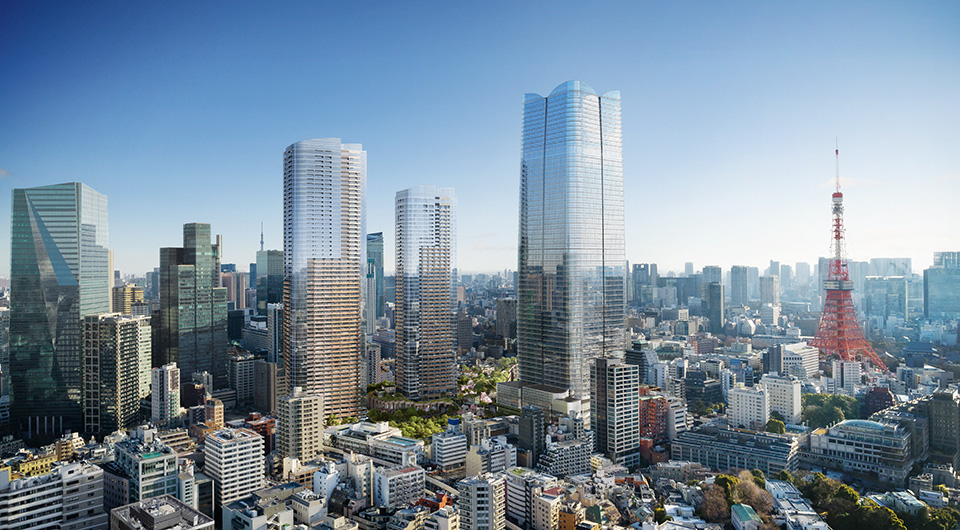 Azabudai Hills movie 2023|GREEN, LIFE, TOKYO.
Embracing the concept of "Modern Urban Village", Azabudai Hills is a nature-rich landmark with a world-class business center, attractive retail and residential facilities and a huge open space filled with lush greenery that brings people together. Mori Building's vision is for Azabudai Hills to become a "Green & Wellness" community, where people live harmoniously with nature and lead healthy and fulfilling lives. Spanning a vast area of approximately 8.1 hectares, Azabudai Hills boasts an impressive 24,000m² of lush greenery, providing a total floor area of approximately 861,700m² that accommodates diverse urban functions, including offices, residences, retail facilities, cultural facilities, educational institutions, and medical facilities.
Azabudai Hills has garnered support from partners who share the vision of creating a green-rich environment and realizing a new urban lifestyle within an integrated urban development. Among these esteemed partners are the Keio University Center for Preventive Medicine; The British School in Tokyo, one of the largest international schools in the city center; Janu Tokyo, the world's first sister-brand hotel of Aman; the Tokyo Venture Capital Hub, which brings together around 70 Japanese venture capitals; approximately 150 retail stores including luxury brands and Azabudai Hills Market; and the renowned Mori Building Digital Art Museum: EPSON teamLab Borderless, previously located in Odaiba. All these exceptional establishments are set to open in Azabudai Hills. Some facilities in Azabudai Hills will open gradually after December 2023.
Mori Building is dedicated to creating a vibrant urban landscape and contributing to the magnetic power of Tokyo through its unique compact city concept, "Hills", which combines diverse and complementary urban functions. With Azabudai Hills, we will collaborate with our partners to propose a new urban vision of "Green & Wellness" in response to the increasing importance of environmental and health aspects in modern society.
Azabudai Hills : Overview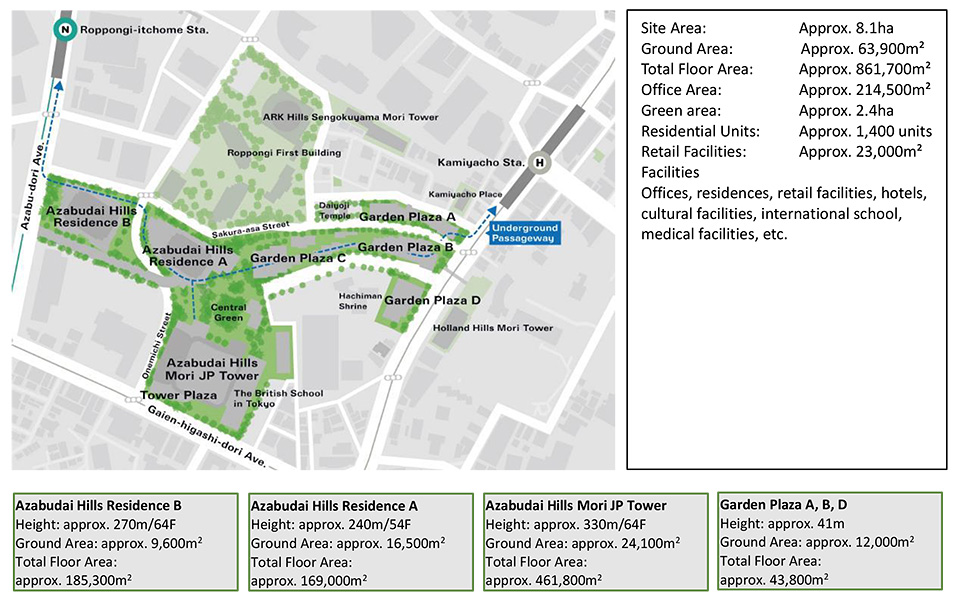 Azabudai Hills Overview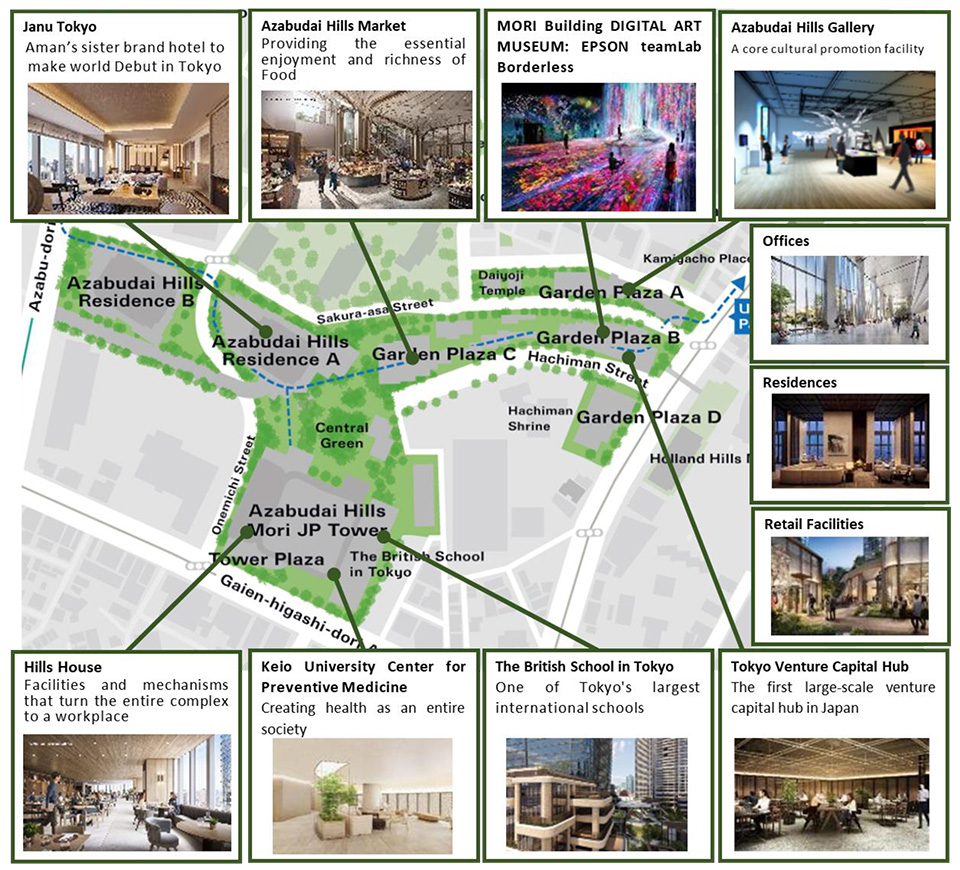 Azabudai Hills is a compact city where diverse urban functions converge. Each facility has multifaceted and integrated features.
These facilities and functions create a vibrant 'Hills life' by connecting each other.
Launch Schedule
August 30, 2023: Opening of The British School in Tokyo
November 6, 2023: Tests Begin at Keio University Center for Preventive Medicine
November 24, 2023: Official Opening of Azabudai Hills
・Azabudai Hills Gallery
・Retail stores (approx. 100 stores)
・Hills House
・Tokyo Venture Capital Hub
This Winter: Opening of Janu Tokyo (Hotel)
January 2024 (planned): Opening of Azabudai Hills Market
January 2024 (planned): Opening of MORI Building DIGITAL ART MUSEUM:EPSON teamLab Borderless
From February 2024 (planned): Opening of Retail stores (10 luxury retail stores)
*For other facilities, please see the shop list.
Central Green (Central Square), Green and Sustainability
The creation of an overwhelming abundance of greenery
By taking advantage of the topographical differences of the area--including low-rise rooftops on podium buildings--the site accommodates 24,000m² of green space. As a result, Mori Building creates a relaxing urban oasis filled with trees, flowers, and waterscapes in the heart of Tokyo.
The dynamic architecture of the lower levels, designed by Heatherwick Studio, blends beautifully with the greenery and creates a rich environment where the entire city is surrounded by lush greens.
Diverse greenery which is related to human activities
Azabudai Hills will provide greenery that relates to human activities with a diverse array of some 320 species of plants. An orchard and garden will be located on a sloping green space overlooking the Central Green. There will be 11 types of fruit trees, including blueberries, lemons and peaches. Sakura-asa Street will have 34 kinds of native vegetation, so people can experience the changing seasons as if they were strolling through the countryside. Cherry blossom gateways will be established at each entrance to Azabudai Hills by planting species that bloom at different times. Starting from Kawazu-zakura in February, Someiyoshino, Yamazakura and Shidare-zakura fully blooming in April, to Fukuroge and Kanzan in early May, people can enjoy cherry blossoms throughout the spring.
Central Green, a symbol square of the complex
The approx. 6,000m² Central Green, a symbol of the complex, will bring people together in a lush green space for rest and relaxation. Crowned by a canopy "The Cloud" designed by Heatherwick Studio, which also worked on the area's distinctive landscape, the Azabudai Hills Arena will be equipped to accommodate a variety of events.
Promote Sustainability
The entire city is promoting citywide efforts to decarbonize and recycle resources. 100% of the electricity supplied to the complex will come from renewable sources, meeting the targets set by the Renewable Energy 100% (RE100). Azabudai Hills is on track to receive a top-level Platinum certification in the Leadership in Energy & Environmental Design (LEED) ND (Neighborhood Development) category for mixed-use developments, and BD+C (Building & Design/Core and Shell Development) certification for newly constructed tenant buildings.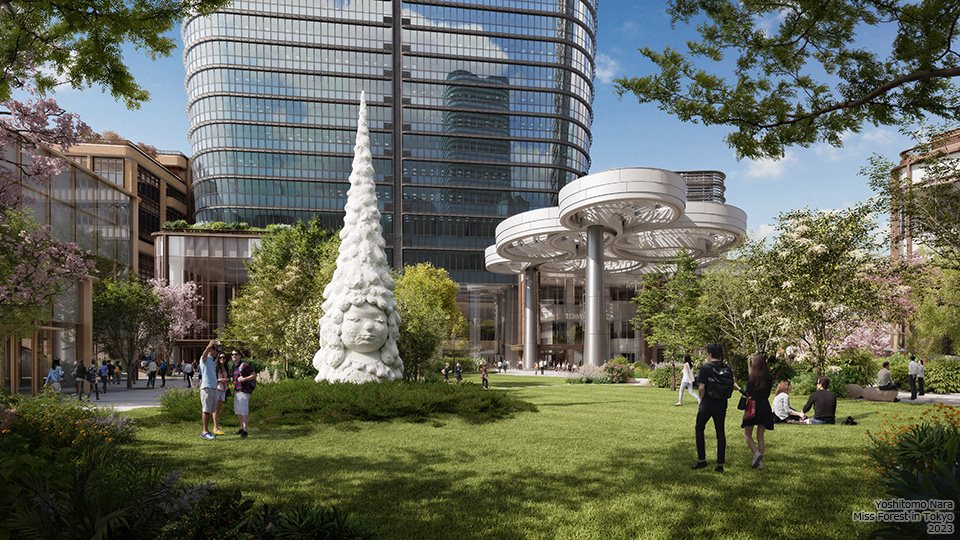 © DBOX for Mori Building Co., Ltd - Azabudai Hills
The approx. 6,000m² large Central Green with lush greenery (rendition)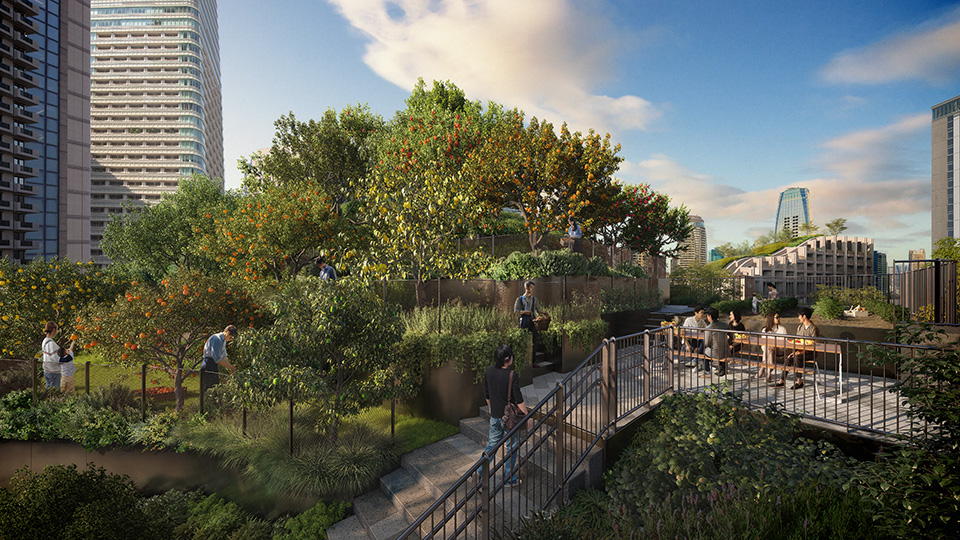 © DBOX for Mori Building Co., Ltd - Azabudai Hills
Orchard on a building rooftop (rendition)
Please address inquires regarding this press release to:
Mori Building Co., Ltd. Public Relations
TEL:03-6406-6606
FAX:03-6406-9306
E-mail:koho@mori.co.jp