Mori Building Co., Ltd.
【ROPPONGI HILLS】Takashi Murakami's Huge 10-Meter Golden "Flower Parent and Child" Sculpture Goes on Display at Roppongi Hills
Radiating Hopes for the Future from "Cultural Heart of Tokyo" amid COVID-19 Pandemic
Tokyo, November 26, 2020 -- Mori Building announced today that world-renowned artist Takashi Murakami's huge 10-meter golden sculpture, Haha Bangla Manus ("Flower Parent and Child") is now on display at Roppongi Hills' 66 Plaza from November 26. We decided to introduce the Murakami's dazzling golden-leaf work to convey the "energy" and "hopes" for the future from Roppongi Hills, the cultural heart of Tokyo, even when we are faced with under COVID-19.
Additionally, Flower Cafe will operate at the Hills Cafe/Space from November 27 to January 3, 2021 as part of the "ROPPONGI HILLS TAKASHI MURAKAMI PROJECT." Besides, Mr. Murakami is participating in "STARS: Six Contemporary Artists from Japan to the World," an exhibition of works by six leading contemporary artists in Japan, at Mori Art Museum running through January 3, 2021.
About the Artwork
The massive sculpture, measuring 10 meters high, is one of Murakami's largest artworks to date. All sides are decorated with flower motifs projecting diverse expressions of hope depending on the viewing angle.
Comments by Takashi Murakami
"I am proud to say that I believe to be the originator of incorporating childish, toy-like logic into the art world, as part of my "Superflat" concept. We are entering an era in which everything can be considered art if it is called art, as the acceptance zone for art has become so gigantic in Asia that its childishness really has no bounds. I've created this work as the heart of such ripples.
When I was creating the sculpture, there was a chance that the project would have to be discontinued and our incorporated effort dissolved, which in fact left me greatly distressed, but eventually the funding continued on and my company did not have to be dissolved. The project has finished well, but at that very moment, it was extremely challenging. Most people mistakenly take it that my character and production sites are cheerful and happy because of the smiling characters that appear in my artworks, but creating this dream has also been an anguishing experience. I hope this sculpture is to be completed safely."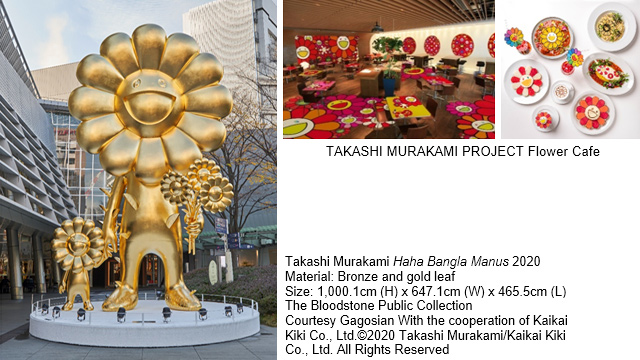 Please address inquires regarding this press release to:
Mori Building Co., Ltd. Public Relations
TEL:03-6406-6606
FAX:03-6406-9306
E-mail:koho@mori.co.jp