2018-10-18
2018-10-18
Mori Building Co., Ltd.
Newly opened SHINTORA-DORI CORE complex expected to catalyze development along Tokyo's iconic Shintora-dori Avenue

Will serve as a vibrant and interactive hub along the fast-evolving avenue
Tokyo, October 18, 2018 -- SHINTORA-DORI CORE, a new complex jointly constructed by Mori Building, a leading urban developer in Tokyo and Obayashi-Shinseiwa Real Estate, opened in the Shimbashi 4-chome area of Tokyo. SHINTORA-DORI CORE is the first major project in a master plan calling for integration of separated city blocks and redevelopment along Shintora-dori Avenue, Tokyo's newest iconic street. Located at the intersection of Shintora-dori Avenue and Hibiya Street, the complex has 15 floors above ground and a basement floor encompassing a total floor space of 17,500 square meters and total rental space of 10,000 square meters. It features high-spec offices, incubation offices, highly welcoming restaurants and shops, and an open café/event space that directly faces Shintora-dori Avenue. Going forward, SHINTORA-DORI CORE is expected to catalyze development along Shintora-dori Avenue as a core where diverse people will gather and create new ideas, and serve concurrently as a hub for bold area-management initiatives in the surrounding Shimbashi/Toranomon area.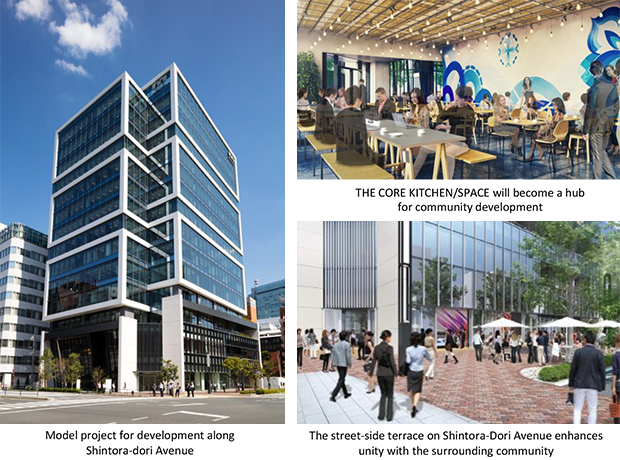 With SHINTORA-DORI CORE serving as a core for the surrounding area, Mori Building is committed to strengthening Tokyo's magnetism by developing Shimbashi/Toranomon area as an international hub and global business center where global players live, work and gather.
Please address inquires regarding this press release to:

Mori Building Co., Ltd. Public Relations

Location Roppongi Hills Mori Tower, P.O.Box 1, 6-10-1 Roppongi, Minato-ku, Tokyo 106-6155, Japan
Tel 03-6406-6606
Fax 03-6406-9306
E-mail koho@mori.co.jp