Mori Building Co., Ltd.
Toranomon-Azabudai Project's "A District" Tower Frame Completed
Latest step in building massive "vertical garden city" complex integrating diverse functions in central Tokyo
Tokyo, April 21, 2022 --Toranomon-Azabudai District Urban Redevelopment Association announced today that the frame of the Toranomon-Azabudai Project A District tower, a 330-meter, mixed-use high-rise in central Tokyo, was completed today. Mori Building and Japan Post Holdings are leading participants in the overall Toranomon-Azabudai District Category 1 Urban Redevelopment Project.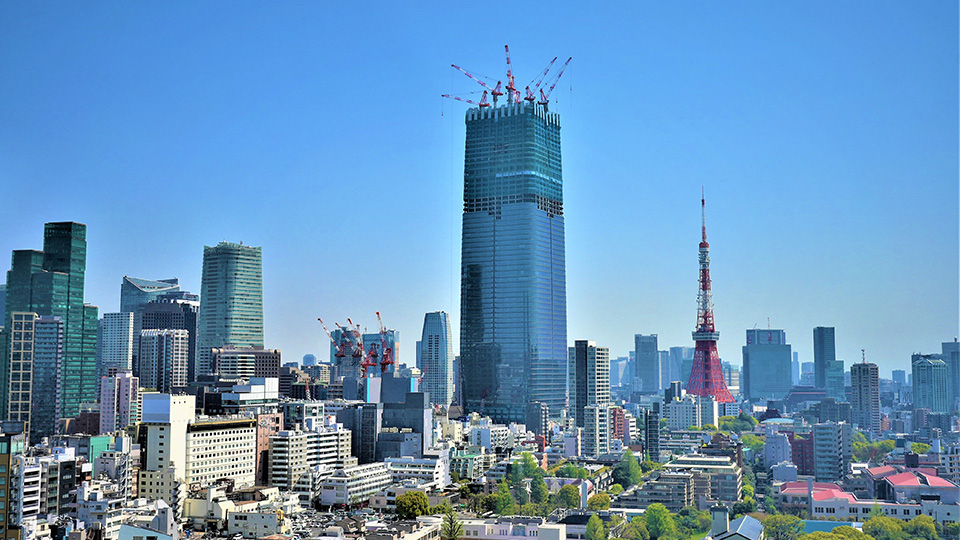 The Toranomon-Azabudai Project A District tower will offer large-scale office space with a total rental area of approximately 204,000m² and standard floor plate of approximately 4,300m². It will also feature the luxury branded Aman Residences, Tokyo, built in partnership with Aman, the operator of diverse world-class hotels and resorts. Other functions will include the Keio University Center for Preventive Medicine (tentative name), the British School in Tokyo, which will be one of the largest international schools in central Tokyo with approximately 700 students from over 50 countries, and large-scale retail facilities with a total floor area of approximately 13,000m².
The project's overall concept is to create a "modern urban village" with a huge central square filled with lush greenery that brings people close together. The total site will cover a vast 8.1 hectares and boast no less than 2.4 hectares of greenery, including a 6,000m² central square. The Toranomon-Azabudai Project will encompass an efficient arrangement of several high-rise buildings, including the A District tower, thereby opening up a lush green environment underfoot as a "vertical garden city" where people live, work, learn, recreate and relax in advanced facilities, all within walking distances of each other and nestled in rich greenery.
Once fully completed in 2023, the Toranomon-Azabudai complex is expected to enhance Tokyo's magnetism as one of the world's great cities.
Large-scale offices that offer peace of mind and comfort to workers (7th to 52nd floors)
Large-scale offices occupying floors 7-52, in total some 204,000m² of rental space, will be arranged in roomy floor layouts measuring from 4,300m² (standard) to 4,840m² (maximum). The shaped, column-free layouts with widths of approximately 18 meters in all directions will allow for freely open offices. The building will adopt an extra-high level of earthquake resistance to help ensure continued use after a major earthquake. Also, a resilient business continuity plan will be offered, including a system that automatically reoperates elevators stopped for safety precautions during an earthquake once the system detects that the shake has little impact on an elevator, and emergency-generator facilities that can supply 100% of power to the offices in the event of a power outage. As for environment, the entire neighborhood will support the efforts of office tenants to decarbonize their businesses by offering 100% renewable energy power, compliant with the Renewable Energy 100% (RE100) international environmental initiative, throughout the complex. In addition, various other systems and services will be provided to allow the entire complex to be utilized as a workplace for free and creative workstyles unique to the Toranomon-Azabudai Project.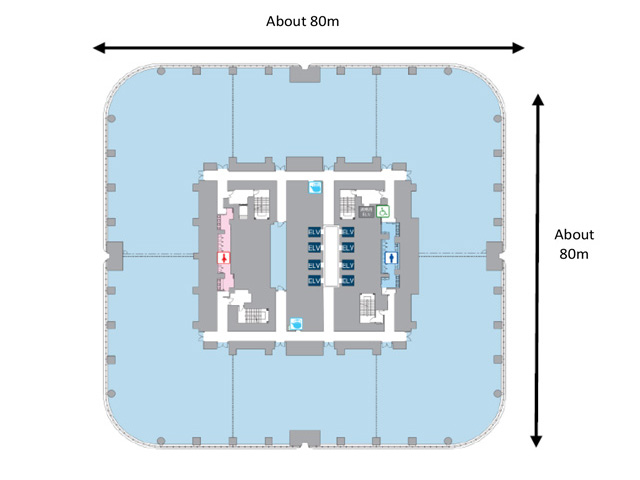 (about 4,300m² to 4,840m²)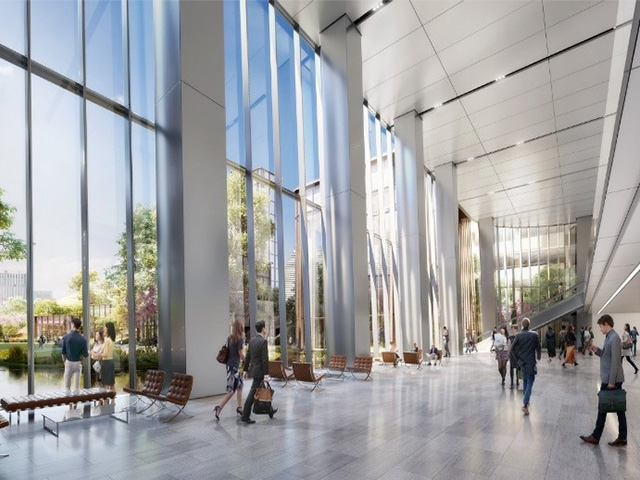 Office entrance (image)
Aman Residences, Tokyo (54th to 64th floors)
The top 11 floors of the A District tower will comprise an exceptional 91-unit branded residence, Aman Residences, Tokyo, built in partnership with Aman, the operator of diverse world-class hotels and resorts. The interior design has been crafted by the noted international design studio Yabu Pushelberg. Occupants will enjoy exclusive services, including the residents-only Aman Spa (approx. 1,400m²). Aman's signature hospitality--both warm and unassuming--will enable residents to enjoy extraordinarily peaceful lifestyles while overlooking the vibrant Tokyo metropolis.
The British School in Tokyo (B1 to 7th floors)
The British School in Tokyo will open an eight-floor, 14,000m² campus as one of the largest international schools (some 700 students from over 50 countries) in central Tokyo. Founded some 30 years ago, the school specializes in excellent British-style curriculum.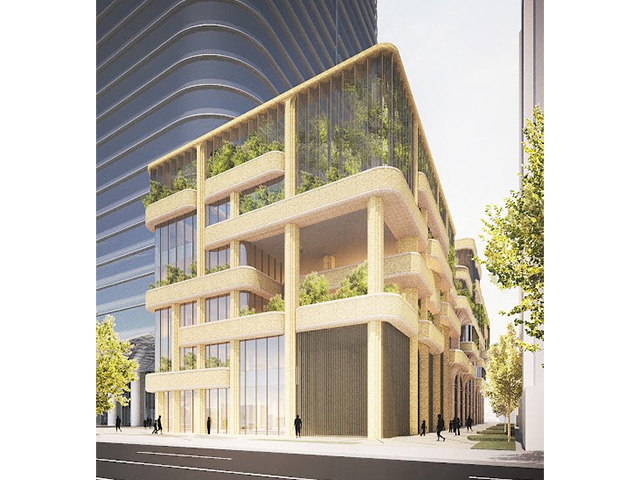 View from Gaien Higashi-dori Ave. (image)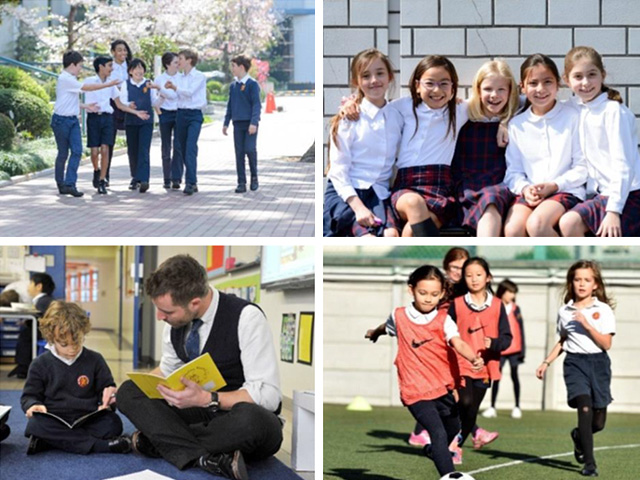 Keio University Center for Preventive Medicine (tentative name; 5th and 6th floors)
The Keio University Center for Preventive Medicine will open a new two-floor facility formerly based in Tokyo's Shinjuku Ward. Since 2012, the center has contributed to the early detection and treatment of illnesses for more than 6,000 patients each year through medical checkups that incorporate advanced examination, diagnostic technologies, and patient aftercare across various clinical departments. This relocation and expansion will enable the center to examine more patients and meet their individual needs by easing congestion and providing more suitable examination facilities. The center will also offer an advanced medical checkup program designed to extend healthy life expectancy. Checkups will be tailored to meet the specific needs and risks of each patient, building upon the center's experience with medical examinations.
As the core medical facility of the Toranomon-Azabudai Project, the center will also offer the latest comprehensive preventive medicine and wellness services integrated with various facilities and services located within the Toranomon-Azabudai community. Also, in collaboration with the "Hills Joint Research Laboratory for Future Preventive Medicine and Wellness," the center will help advance the quality of diagnostic and examination methods for increasingly enhanced preventive medicine going forward.
Retail Facilities (B1 to 4th floors)
Tower tenants and residents will further benefit from convenient proximity to five floors of retail facilities spanning a wide variety of stores, including fashion, beauty, culture, art, wellness and more. The stores will be specially selected to offer shopping experiences that stimulate the five senses and support creative ways of working and living with innovative products, services, experiences, learning and interactions. This unique mix of retail facilities will incorporate shops that are attractive to international people from all over the globe, as well as local residents shopping for daily needs.
Toranomon-Azabudai Project A District Overview
Location: Part of Azabudai 1-chome, Minato Ward, Tokyo
Landscaping: Approx. 24,100m²
Floor area: Approx. 449,000m²
Height: Approx. 330 meters
No. of floors: 64 aboveground and 5 underground
Structure: S (including partly SRC and RC)
Uses: Residences, offices, medical center, retail shops, international school, parking, etc.
Project executor: Toranomon-Azabudai District Urban Redevelopment Association
Basic constructors: Mori Building Co., Ltd. First-Class Registered Architect Office and NIHON SEKKEI, INC.
Execution constructors: Mori Building Co., Ltd. First-Class Registered Architect Office, NIHON SEKKEI, INC., and SHIMIZU CORPORATION (underground structure)
Designers: Exterior - Pelli Clarke & Partners
Low rises - Heatherwick Studio
Retail entrance - Sousuke Fujimoto Architects
Residential interiors - Yabu Pushelberg
Contractor: SHIMIZU CORPORATION
Construction start: August 2019
Planned completion: 2023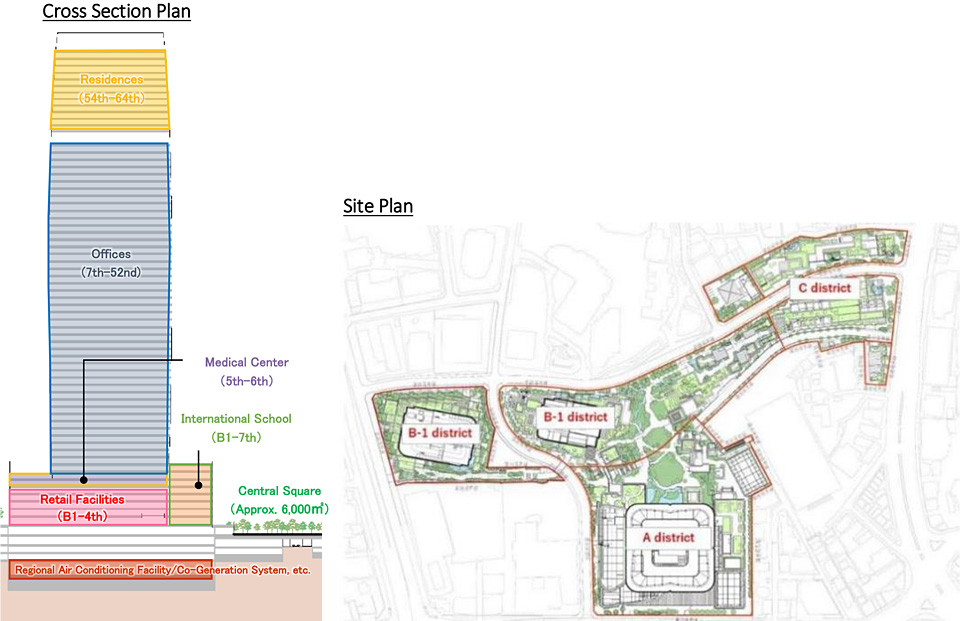 Please address inquires regarding this press release to:
Mori Building Co., Ltd. Public Relations
TEL:03-6406-6606
FAX:03-6406-9306
E-mail:koho@mori.co.jp