Mori Building Co., Ltd.
【MORI ART MUSEUM】MORI ART MUSEUM REOPENS WITH A LOT THAT'S NEW
ANOTHER ENERGY: POWER TO CONTINUE CHALLENGING – 16 WOMEN ARTISTS FROM AROUND THE WORLD OPENING ON APRIL 22 [THU]
GRAND OPENING OF FLAGSHIP "MORI ART MUSEUM SHOP" ON APRIL 28 [WED]
On Thursday, April 22, 2021, the Mori Art Museum will reopen after three-month-long renovations.
To make the Museum more convenient to visit, while helping to prevent the spread of COVID-19, we are introducing a new ticketing system involving online ticket purchase and QR code verification. Admission pricing will also be updated, with new prices for Saturdays, Sundays and holidays, and for advance purchasing online.
The aim of this new system and pricing is to build a sustainable business model while providing a safe and comfortable environment for viewing our exhibitions. We will also be working with the "Hills Network" Mori Building urban digital platform to optimize customer experiences at the Museum.
Mori Art Museum shopping options have also been extended. On Wednesday, April 28, 2021, in addition to the shop inside the museum on the 53rd floor of Roppongi Hills Mori Tower, we will be opening a new flagship "MORI ART MUSUM SHOP" on the third floor of Roppongi Hills West Walk. We hope to make this a space for shoppers to experience the "Art + Life," Mori Art Museum philosophy of relating art to every aspect of living.
To mark the reopening of the Mori Art Museum, we are delighted to be staging the exhibition Another Energy: Power to Continue Challenging - 16 Women Artists from Around the World . The show features powerful works by women artists from across the globe ranging in age from 71 to 105, with individual careers spanning more than 50 years. We are confident visitors will be inspired by this historic and thought-provoking show.
Museum & Observatory Tickets/Information (rendering)
A bright, airy space in white fea turing improved ventilation and generous natural light.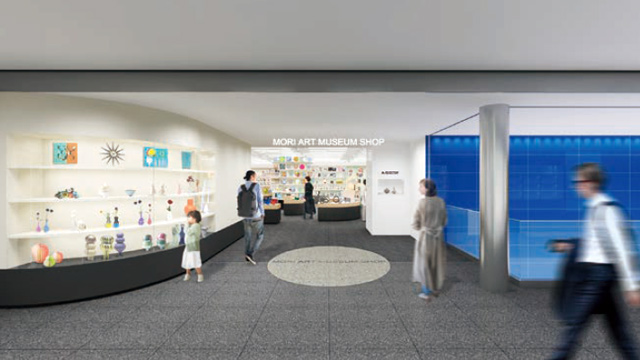 Entrance to the "MORI ART MUSEUM SHOP" (rendering)
A welcoming area accessible without paying an admission fee.
Please address inquires regarding this press release to:
Public Relations, Mori Art Museum
TEL:03-6406-6111
FAX:03-6406-9351
E-mail:pr@mori.art.museum