Mori Building Co., Ltd.
Mori Building Develops Unique Digital Platform "Hills Network" as First Step in Plan for Urban Digital Transformation
New digital platform will enhance convenience, quality and joy of urban living and working at Hills complexes
Tokyo, March 16, 2021 -- Mori Building announced today its development of the "Hills Network" digital platform, which will fully utilize advanced technologies for urban digital transformation (DX) to enhance the convenience, quality and joy of living in, working in and visiting popular Hills complexes and other properties managed by Mori Building in central Tokyo. The platform will begin launching sequentially at various Hills communities from April 5.
Beginning with ARK Hills in 1986, Mori Building has introduced a number of advanced urban complexes integrated with diverse functions to elevate the quality of urban life in Tokyo. Moreover, with the launch of Roppongi Hills in 2003, Mori Building introduced the concept of town management to foster a stronger sense of community by closely connecting each Hills complex with its residents, tenants and visitors. Now, the Hills Network will enhance such connections for the accelerated provision of urban lifestyles featuring increasingly convenient and responsive services and functions that Mori Building has continued to innovate and upgrade over the years.
By accessing the Hills Network digital platform via the Hills app with Hills IDs, users will be able to learn about and use various services available at Hills properties such as ARK Hills, Omotesando Hills, Roppongi Hills and others. The system will personalize and optimize services by utilizing data on user attributes, usage of specific properties and facilities, and location.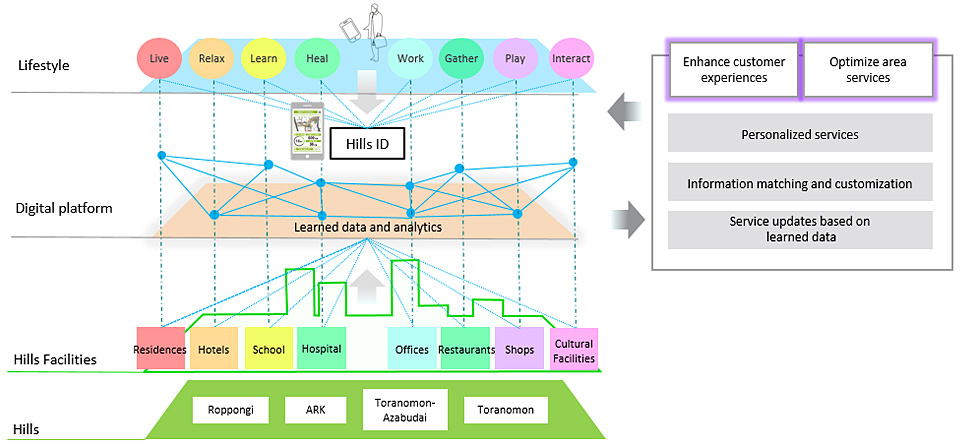 Hills Network system
In addition, for the upcoming Toranomon-Azabudai and Toranomon Hills Area projects, the Hills Network will deploy various cutting-edge technologies to integrate facilities, services and user data to realize an unprecedentedly seamless Hills life, in which the whole complex becomes a workplace/living place. Furthermore, other Hills properties eventually will be linked seamlessly together in the new system to create an advanced cultural and economic zone in Tokyo.
Going forward, Mori Building is committed to exploring future possibilities for urban lifestyles as well as enhancing Tokyo's magnetic power as one of the world's great cities.
Please address inquires regarding this press release to:
Mori Building Co., Ltd. Public Relations
TEL:03-6406-6606
FAX:03-6406-9306
E-mail:koho@mori.co.jp