Mori Building Co., Ltd.
【MORI ART MUSEUM】ON JULY 31, THE Curtain Goes up on "STARS: Six Contemporary Artists from Japan to the World"
Changes to 2020‐21 Exhibition Schedule + Online Programs to Remain After August
The Mori Art Museum is delighted to announce the new, revised dates for the STARS: Six Contemporary Artists from Japan to the World exhibition, postponed due to temporary closure of the Museum. STARS will now run from Friday, July 31, 2020, through Sunday, January 3, 2021.
As the Museum reopens, admission will require an online advance booking for a designated date/time slot.
To help ensure the health and safety of our visitors and staff members, we will also be implementing a range of ongoing, comprehensive countermeasures against new coronavirus (COVID-19) transmission.
Note that rescheduling of the STARS exhibition will also mean changes to the dates for other previouslyannounced exhibitions - i.e., Another Energy: Power to Continue Challenging - 16 Women Artists from around the World and Chim↑Pom (Title TBD).
The "Mori Art Museum DIGITAL" online program launched during the Museum's temporary closure will be renamed "MAM Digital" and continue as an important element of post-COVID-19 activities at the Museum.
The "Stay Home, Stay Creative: MAM@HOME" program run for a limited-time only will end on July 31 with the opening of STARS , however, a variety of other exciting programs and events are planned from August onward, so be sure to watch this space.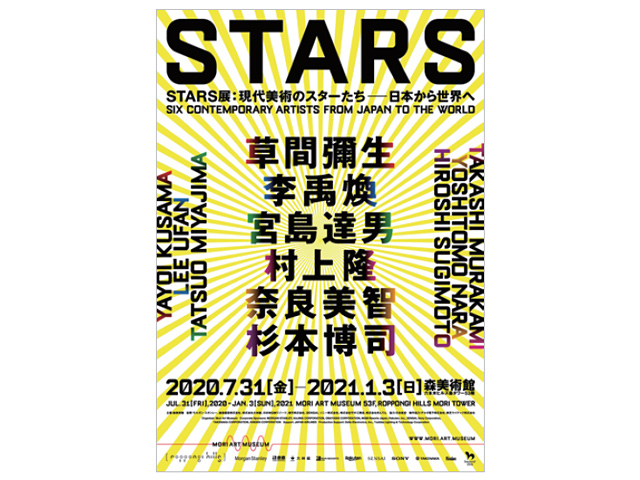 Please address inquires regarding this press release to:
Public Relations, Mori Art Museum
TEL:03-6406-6111
FAX:03-6406-9351