2018-10-22
2018-10-22
Mori Building Co., Ltd.
The Shanghai World Financial Center Fetes 10th Anniversary

Iconic skyscraper leverages Mori Building's knowhow to help vitalize Shanghai
Tokyo, October 22, 2018 -- The Shanghai World Financial Center (SWFC), Mori Building group's mixed-use skyscraper of 492 meters and 101 stories, will mark its tenth anniversary in Shanghai's Lujiazui Finance and Trade Zone on October 25.
SWFC, designed with Mori Building's "Vertical Garden City" concept for the intelligent use of ultra-high-rise structures, features a dramatic and highly distinctive profile, state-of-the-art offices for world-class corporations, a 474m-high observation deck, the elite Park Hyatt Hotel, and popular shops and restaurants. Completed in 2008, the building has become a global focal point for information and human activity. Moreover, unlike conventional international finance centers, it also serves as a thriving and magnetic hub for culture and tourism, attracting more than 20 million visitors to its observation deck since the opening as one of Shanghai's iconic landmarks.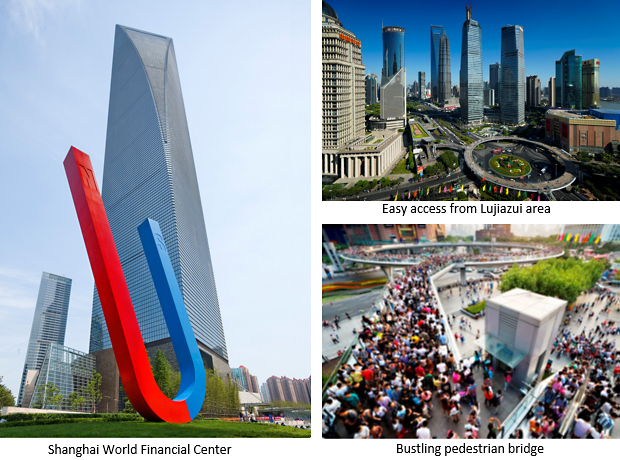 Mori Building, pursuing its mission "to create cities and nurture cities", has leveraged its expertise in city planning and operational management to build strong bonds of trust with its Shanghai stakeholders. Going forward, Mori Building looks forward to collaborating with its Lujiazui neighbors on town-management initiatives and to continue contributing to the magnetism of Shanghai.
Please address inquires regarding this press release to:

Mori Building Co., Ltd. Public Relations

Location Roppongi Hills Mori Tower, P.O.Box 1, 6-10-1 Roppongi, Minato-ku, Tokyo 106-6155, Japan
Tel 03-6406-6606
Fax 03-6406-9306
E-mail koho@mori.co.jp