Mori Building Co., Ltd.
Mori Building Fixes Greenhouse Gas Emission Medium & Long Term Targets Aims to Reach Net-Zero Emission by 2050
Transition company's unique urban developments from low-carbon to net-zero emissions
Tokyo, May 23, 2022 -- Mori Building Co., Ltd., Japan's leading urban landscape developer, announced today that under its commitment to help realize a decarbonized society, it has set group targets to reduce greenhouse gas emissions from business activities in its consolidated group by 50% in fiscal 2030 (compared to fiscal 2019) under the Greenhouse Gas (GHG) Protocol Scope 1 and Scope 2, and by 30% under Scope 3, aiming to reach net-zero emissions by fiscal 2050.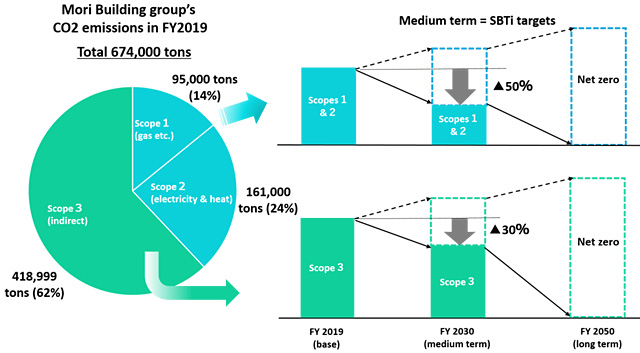 In setting these targets, Mori Building confirms its commitment to the Science Based Target (SBT) initiative for science-based reduction targets in support of the Paris Agreement for reducing greenhouse gas emissions. Within the fiscal year ending March 2023, Mori Building hopes to be certified as supporting the goal to limit temperature rise to within 1.5°C of pre-industrial levels. The group's annual performance reporting is based on the CDP climate-related information-disclosure platform. Mori Building also joined the RE100 international initiative for 100% use of electricity from renewable energy sources for business activities, and the Japan Climate Leaders' Partnership (JCLP) comprising companies and organization dedicated to sustainable decarbonization. In addition, the company has supported the Task Force on Climate-related Financial Disclosures (TCFD) recommendation that companies recognize climate change-related risks as opportunities to incorporate into business strategies as well as to disclose such information, which Mori Building will do by around this summer.

Mori Building, in line with its philosophy "Create Cities, Nurture Cities," is committed to pursuing harmonious coexistence between cities and nature, low-carbon cities and resource recycling in order to help realize a more sustainable society.
Please address inquires regarding this press release to:
Mori Building Co., Ltd. Public Relations
TEL:03-6406-6606
FAX:03-6406-9306
E-mail:koho@mori.co.jp