2018-03-06
2018-03-06
Mori Building Co., Ltd.
Venture Café Tokyo to Launch at Toranomon Hills in March

Cambridge Innovation Center's global venture-creation program to enter Asian market and strengthen Toranomon Hills' role as a business-innovation hub
Tokyo, March 6, 2018 — Mori Building, a leading urban developer in Tokyo, announced today that it is collaborating with Venture Café, an innovation promotion program developed by Cambridge Innovation Center (CIC), the world's leading builder of innovation hubs, to help expand its global network into Asia. Starting on March 22, Venture Café Tokyo will launch its "Thursday Gathering" weekly program at Toranomon Hills, Mori Building's newest mixed-use complex in Tokyo.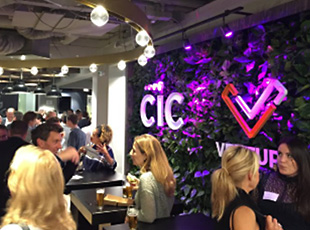 Venture Café, launched by CIC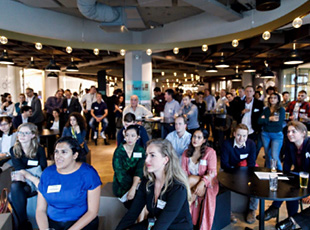 Thursday Gathering
Venture Café was launched in 2009 by CIC as a global movement to build innovation ecosystems by matching innovators and investors around the world. So far, nonprofit members of the Venture Café Global Network have been hosting casual open events to gather innovators and to promote innovation development in five cities across the U.S. and Europe. About 250,000 innovators have participated in events held at CIC co-working spaces, which have served as homes for over 4,000 startups and venture companies to date. Venture Café Tokyo is headed by Dr. Yasuhiro Yamakawa, a lifelong entrepreneur and tenured entrepreneurship professor at Babson College in Wellesley, Massachusetts.
Mori Building is sponsoring the nonprofit Venture Café Tokyo as part of its vision to transform Toranomon Hills and the surrounding community into a new global business hub. Mori Building's comprehensive redevelopment of central Tokyo's Toranomon area includes the construction of three mixed-use towers integrated with a new subway station. Going forward, Toranomon Hills is expected to become the focal point of a dynamic community where private, public and academic innovators and other diverse players collaborate on new ideas and new businesses, and thereby strengthen Tokyo's magnetism as a whole.
Please address inquires regarding this press release to:

Mori Building Co., Ltd. Public Relations

Location Roppongi Hills Mori Tower, P.O.Box 1, 6-10-1 Roppongi, Minato-ku, Tokyo 106-6155, Japan
Tel 03-6406-6606
Fax 03-6406-9306
E-mail koho@mori.co.jp