Mori Building Co., Ltd.
Loop Road No. 2 Zone III Project named Toranomon Hills
Today, framework completed and project on schedule for 2014 open
Mori Building Co., Ltd., as the designated builder, has completed the building framework for the Loop Road No. 2 Shimbashi-Toranomon Redevelopment District Type II Project Zone III (Executor: Tokyo Metropolitan Government). The topping out ceremony was held today and it was also announced by the Loop Line No. 2 Zone Redevelopment Association, Toranomon District Subcommittee* that Toranomon Hills has been selected as the name for Zone III.
*This is the subcommittee for the Toranomon Zone (Zone III) of the Association consisting of the rights holders to the project, the Tokyo Metropolitan Government, Minato City, and the designated builder (Mori Building).

A new Tokyo landmark and symbolic street are born
The Shimbashi/Toranomon area where this project is located is (Tokyo's) Special Zone for Asian Headquarters, the International Strategic Comprehensive Special Zone, which is a project to attract foreign companies to newly locate there to create a higher concentration of company headquarters and R&D facilities for the Asia Region.
Toranomon Hills will play an important role in improving the international competitiveness of the area and will be completed in 2014 along with Loop Road No.2, a new symbolic street for Tokyo, and employs the innovative Multi-Level Road System, which integrates road building with redevelopment.
The super high-rise mixed-use tower will be 52 floors above ground and 247 m high. It will provide offices of the highest specifications, high-standard residences with superb views, international class conference venues, shops that support a diversified urban life, and the Andaz Tokyo, an innovative hotel, which is the chain's first in Japan, among other offerings and will make a significant contribution to accelerating the area's objective of being a place for international companies and globally-minded people to congregate.

Fostering a new international urban center, with the new "Hills" as its core
The "Hills" that forms part of the newly chosen name is also used in the ARK Hills and Roppongi Hills large-scale mixed-use development projects undertaken by Mori Building and represents the global brand for "districts" that has been created and nurtured over many years by Mori Building together with the local community.
Together with the completion of the new Toranomon Hills, which will prime the redevelopment of Tokyo, Mori Building is also actively engaged in the area management of the Shimbashi/Toranomon area so that the local communities and tenant businesses prosper together to increase the overall value of the entire area and further evolve "Hills" as an internationally recognized district brand and foster a new international urban center concept.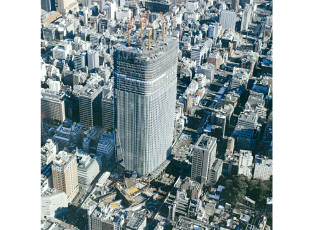 Please address inquires regarding this press release to:
Mori Building Co., Ltd. Public Relations
Yukihiko Namba, Moichi Watanabe
TEL:03-6406-6606
FAX:03-6406-9306
E-mail:koho@mori.co.jp