2011-07-28
2011-07-28
Mori Building Co., Ltd.
Toranomon-Roppongi District Redevelopment to be Completed Next Year (Under Construction)
In-house Power Generation to Use City Gas for Emergency Power Generation System

The Great East Japan Earthquake on March 11 has increased concern about the possibility of insufficient electrical power supply and has also raised interest in company business continuity plans (BCP). As interest in the large-scale gas cogeneration system used by Roppongi Hills to generate power increases, the "Post-Great East Japan Earthquake Office Needs and BCP Awareness Survey" conducted by Mori Building shows rapidly increasing interest in whether or not a building is earthquake resistant and has emergency power generation facilities.

To maintain urban functions and increase the ability of tenants to continue business, Mori Building will supply electric power during emergencies through in-house power generation using city gas (medium pressure gas). This will be done by installing an emergency power generation system that will allow tenants to continue operating their businesses, and to strengthen Mori Building's ability to supply emergency electric power for projects scheduled to be completed in the future, the first such project being the Toranomon-Roppongi District Class 1 Urban Redevelopment Project.

Electric Power will also be supplied to office areas to strengthen support for companies to continue their business operations. Ordinarily, the electric power supplied by emergency power generation facilities in general office buildings is to maintain safety by operating evacuation lighting and ventilation, firefighting equipment, etc., This new emergency power generation system however will provide 85% of the expected maximum power use (as used under normal operations), including the supply of power to special areas, such as executive offices, office equipment outlets and lighting, and air conditioning.
In addition, as with Roppongi Hills, this system will use city gas supplied by disaster resistant medium pressure pipes. In the event the gas supply is interrupted, the fuel supply will be backed up by fuel oil storage tanks with increased capacity to provide the same level of electric power supply. The redundant backup system will provide strong support for the stable and continuous business activities of tenant companies.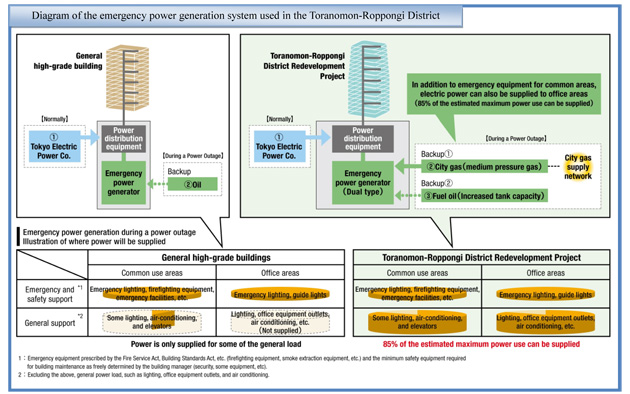 Toranomon-Roppongi District Class 1 Urban Redevelopment Project
This project is an approximately 2.0 ha redevelopment project being undertaken near the Tokyo Metro Namboku Line Roppongi-itchome Station and the Hibiya Line Kamiyacho Station. The surrounding area is home to several embassies and hotels giving it an international flavor, and urban planning through Class 1 urban redevelopment projects, such as ARK Hills and Izumi Garden, is ongoing.

Built on a rise, this multi-use development consists of a tower of 47 floors above ground (1 penthouse floor) and 4 stories below ground, and a separate residential building on the south side with 6 floors above ground and 2 stories below ground. The super high rise tower contains residences on floors 3 to 24 and offices on floors 25 to 47. In addition, green space with a wide variety of plants has been provided around the building. This provides a pleasant urban space for people who live in, work in, and visit the building.

[Project Overview]
Address: Roppongi 1-chome/Toranomon 5-chome, Minato Ward, Tokyo
Operator: Toranomon-Roppongi District Urban Redevelopment Association (Director Naoko Hamada)
Site area: (C-1 Zone) Approx. 15,370 m², (C-2 Zone) Approx. 510 m²
Floor space: Approx. 143,550 m²
Number of floors: Compound Building: 47 floor above ground/4 below ground, Residential Building:
6 floors above ground/2 floors below
Main applications: Offices, shops, residential
Start of construction: October 2009
End of construction: August 2012 (Scheduled)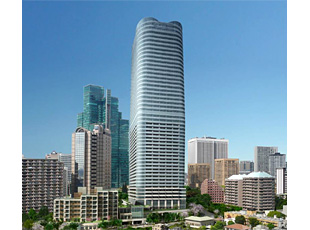 Please address inquires regarding this press release to:

Mori Building Co., Ltd. Public Relations

Location Roppongi Hills Mori Tower, P.O.Box 1, 6-10-1 Roppongi, Minato-ku, Tokyo 106-6155, Japan
Tel 03-6406-6606
Fax 03-6406-9306
E-mail koho@mori.co.jp