2009-10-30
【MORI NOW】[ Hills' "Eyes on Business" Web: New Trends in Hills Business ]
SAS Institute Japan Ltd. : Seeking touch point opportunities with clients

[ Hills' "Eyes on Business" : New Trends in Hills Business ] is a series of articles appearing in Hills Life, which is the Hills' lifestyle magazine. Hills Life highlights companies located in the Hills complex with fresh ideas, and that serve as an engine driving Japan forward. Thanks to these companies, Hills has emerged as the birthplace of numerous business trends.
Published in combination with Hills Life, this online magazine introduces side stories unavailable in the print edition.
Our daily life consists of numerous amounts of data
Have you ever realized that various actions in our daily life, such as withdrawing money from an ATM at a convenience store, eating out in towns, etc., consist of numerous amounts of data? For example, every time we put our cash card into an ATM, it starts analyzing a variety of multiple factors including data of depositing / withdrawing money in the past and estimating the amount of money needed. Thus, it enables us to withdraw money conveniently. Such "unknown" analysis makes life comfortable.
SAS Institute Japan Ltd., a business analytics software and service company which moved into the 11th floor of Roppongi Hills Mori Tower this July, is proud of itself on being a leader in the field of such "unknown" analysis. SAS Institute is a leading company of "business analytics", which not only visualizes the current business matters (visualization) but also supports strategies of businesses by providing "adequate predictions" based on their forecast about businesses. Data itself is useless but is a useful tool for the future growth when is used for the planning of business strategies. In other words, predicting future is vital for business growth. With approx. 45,000 sites worldwide having purchased their software, SAS Institute has not stopped its growth since its establishment 33 years ago. The Japan office was opened in 1985, which has so far performed sales to 2,300 sites of 1,500 domestic companies.
Aim for the increase of touch point opportunities
The reason that this B-to-B company has chosen Roppongi Hills as its residential address was to increase touch point opportunities with the clients. The easier access to the office than the previous location has brought more clients wishing to visit their office. Since the floor of their new office space has no walls and pillars, they can arrange layouts as they like and they use one third of it as a space for their clients. Now, they have more meeting rooms and open spaces for a case of clients' visits without appointments. These spaces are arranged for the clients to easily make a casual visit to the office. In addition, the company has been expecting to spread the information to people other than their client firms about the services of the company because Roppongi Hills is the center of various people and it consists of not only offices but also residences and commercial and cultural facilities.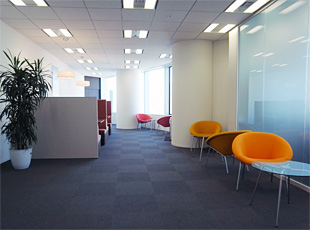 comfortable spece by the window,
which set up for the clients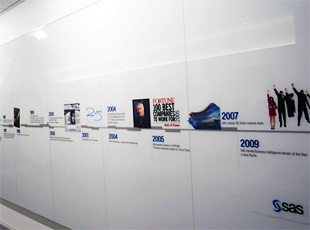 entrance space showing the SAS history
 
Setting a high value on human relationship
SAS Institute puts an importance on the relationship with their employees as well as that with their clients. President Yoshida Hitoshi of the Japan office and the company staff acknowledge the value on human connections. The headquarters in North Carolina in the US was selected for 12 consecutive years as one of "100 Best Companies to Work For", by the US Fortune magazine. The headquarters plays vital roles for local areas as their huge site features a day-care center, a fitness center, and other facilities. On the other hand, the Japan office is providing no less environment to the clients than the headquarters as their residential town of Roppongi Hills has various facilities such as movie theaters, museums, restaurants, and so on. The company has also obtained a better access to the Academy Hills, which they always use for press conferences. Moreover, SAS Institute Japan is keen on joining in the activities of the communities in Roppongi Hills such as seasonal events including spring and summer festivals, emergency drills, clean-ups, etc., which are organized by an association of the residents, office and other commercial tenants.
Information and stimulation to create new ideas
SAS Institute Japan provides business solutions for complicated management issues of their clients. In other words, their business is to supply software that contains ideas and solutions viewed from various points. Such business activities require an environment where ideas can grow freely. Since moving into Roppongi Hills, where various information and stimulations gather everyday, the employees have been saying, "Our creativity for new ideas is getting stronger."
Predicting the future activity is very hard in the current economic environment as it has been dramatically changing. Abilities to make accurate predictions are necessary to be a winner in a future business. Their new office and the effective use of the benefit of Roppongi Hills will support them to create ideas to provide higher levels of the ability of business predictions. It is expected for SAS Institute to blossom their business potentials in the future.
SAS Institute Inc. : http://www.sas.com/