2009-07-14
[ Hills' "Eyes on Business" Web: New Trends in Hills Business ]
Salesforce.com: How to measure the true corporate value of a rising company

[ Hills' "Eyes on Business" : New Trends in Hills Business ] is a series of articles appearing in Hills Life, which is the Hills' lifestyle magazine. Hills Life highlights companies located in the Hills complex with fresh ideas, and that serve as an engine driving Japan forward. Thanks to these companies, Hills has emerged as the birthplace of numerous business trends.
Published in combination with Hills Life, this online magazine introduces side stories unavailable in the print edition.
A revolutionary company offering "Cloud Computing" services
With approximately 60,000 businesses as customers and two million users, salesforce.com is growing at a rapid pace. The company provides Cloud Computing services, which provide software as a service over the Internet. Salesforce.com chose to move into Roppongi Hills in 2007 for a number of reasons including the need to accommodate the company's growth as well as the prestige and style of Roppongi Hills. Convenience and the sheer excitement of Roppoongi also inspired the move.

In an age when businesses are moving away from ownership of exclusive computer systems to sharing systems online as a way to achieve cost and security benefits, salesforce.com is indeed a pioneer. The company's services liberate its client companies from the hassle of developing, maintaining and operating their own computer systems, and thus enable them to spend their time and human resources on improving their core services. This innovative application of information technology enables businesses - and, indeed, Japan - to be more competitive.
Contributing to the community through the 1/1/1 model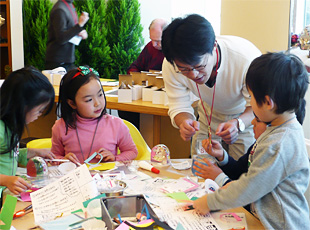 © Salesforce.com Foundation

© Salesforce.com Foundation
Another fascinating aspect of salesforce.com is how it contributes to the communities in which it operates. Rie Endo, who is in charge of community contribution programs at Salesforce.com, explains.

"Salesforce.com's philanthropy model was established as soon as Marc Benioff, our chairman and CEO, founded the company in a spare room at home." A company's value cannot be measured by business success alone. Rather, its value lies in its ability to improve local communities and the world at large. Salesforce.com calls its philanthropy model the "1/1/1 model" of philanthropy.

Like the name implies, the 1/1/1 model is comprised of three "1s". First, "1% time" involves dedicating 1% of employee time to helping the community. Every year, salesforce.com's employees are given six days paid time off to participate in volunteer activities. There are a range of programs for employees to choose from based on their interests and areas of expertise. In Japan, employees create picture books in local languages for children in developing countries, help clean vocational training facilities for people with disabilities, provide support for non-profit organizations that use Salesforce.com's products, teach children in orphanages to use computers, plant trees, help with wild-animal protection activities, organize charity sports events, and provide translation, language instruction and technical support services for NPOs.

One of the most unique characteristics of salesforce.com is that employees may take time out to perform volunteer activities even during weekday business hours. Indeed, fully 100% of Salesforce.com's employees in Japan took part in the scheme in 2008 - a total of 2,300 hours of volunteer work. What's more, every December the company gives out Christmas presents at orphanages, with some employees dressing up as Santa Claus.

The second "1" is "1% product". The company provides its Salesforce CRM, or Customer Relationship Management software, to NPOs free of charge, thus helping them be more efficient and concentrate on their noble missions.

Indeed, the "1% product" program led Endo to join Salesforce.com. The NPO she previously worked for introduced Salesforce CRM, and it helped the organization become more efficient and improve the quality of it information.

"NPOs tend to do things manually, but I discovered first-hand that Salesforce CRM can be a wonderful tool for these groups if properly implemented", she claims. "I decided I wanted to work in a position where I could help promote these services to other NPOs". These days, those same services are used by more than 5,200 organizations worldwide.

The final "1" is "1% equity". Salesforce.com provides financial support for NPO activities. The company also call on people to suggest an NPO or educational institution worthy of aid. As a result, the company determined that the recipient for 2009 should be an NPO that already uses Salesforce CRM on the assumption that the organization could make optimal use of the funds. There are also incentives for employees, with the company making donations to match employees' contributions to NPOs through volunteer work.
The ever-expanding1/1/1 circle
Under the 1/1/1 model, the three 1s combine to create a synergy. Furthermore, salesforce.com is expanding the 1/1/1 model to include many of its business partners. Each company contributes according to its area of expertise under the Power of Us partnership program so as to offer a deeper, broader range of support to NPOs, and by offering employment opportunities to people with disabilities.

Salesforce.com's philanthropy works extremely well and is popular throughout the workforce because its chairman, CEO and founder, Marc Benioff promotes these activities strongly as the corporate culture of the company. New employees take part in volunteer activities as part of their company training, thus experiencing the company's culture first-hand.

Once Salesforce.com implemented the 1/1/1 model, Google soon followed suit. The concept has continued to grow and is now a considerable power for good in the community.

"Japan still lags behind the US and Europe when it comes to links between companies and NPOs, but we at salesforce.com hope we can be a pioneer in this area and spread the 1/1/1 model as widely as possible".

The true value of salesforce.com cannot be measured through mere numbers, and expectations are high that the company will prove to be a major force in Japanese business circles.
Salesforce.com Co.,Ltd. : http://www.salesforce.com/jp/
Don't miss Eiji Uda, president and CEO of salesforce.com in Japan, talk about the advantages of Cloud Computing in the July issue of Hills Life.