2009-04-02
From Narita to Akasaka in only 20 minutes! With ARK Hills Heliport as your base, Helicopter Charter Service begins...

Mori Building Co., Ltd. is pleased to announce the April 1, 2009 launch of a helicopter charter service. The ARK Hills Heliport is located on the rooftop of the ARK Mori Building (Minato Ward). By improving access to the airport from the center of Tokyo, this service will not only shrink Tokyo's distance from the world, but also enhance Tokyo's attractiveness as an international city fully equipped to serve as a global business hub.
Empowering global VIPs and top execs with the luxury of time
ARK Hills Heliport is the only heliport in central Tokyo that can be used by privately owned helicopters. Minato Ward, where ARK Hills is located, is conveniently close to major government offices in Kasumigaseki and is very cosmopolitan area, home to many embassies, the offices of multinational companies and major hotels. The travel time from Narita Airport to ARK Hills is approximately 20 minutes by helicopter. This service is envisaged as being used by globetrotting VIPs and top executives, and is expected to provide greater time flexibility for people whose time is extremely valuable by reducing the time required for travel and making possible same day business trips.

For more information about Mori Building City Air Services Co.,Ltd..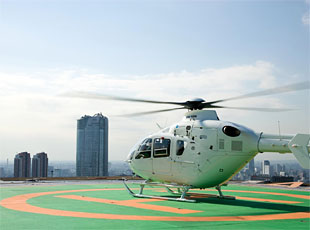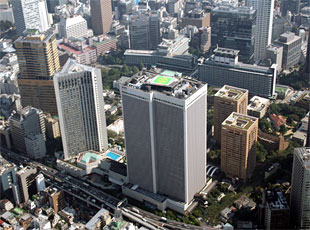 ■ Information
Facility name:ARK Hills Heliport
Facility operator:Mori Building Co., Ltd.
Address:ARK Mori Bldg. Rooftop 1-12-32 Akasaka Minato-Ku, Tokyo
Operating Hours:6:00 - 21:00
Aircraft service operator:Nakanihon Air Service Co., Ltd.

■ Service Outline
Main service route:Narita Airport - ARK Hills Heliport
Flight time:20 minutes (approximately)
Helicopter model:EC135 Special Edition
Helicopter manufacturer:Eurocopter
Capacity:1 pilot + 1 co-pilot + 4 passengers
Fare:¥525,000 (including tax)
Helicopter design:Raymond Loewe
Helicopter interior design:Hermes
EC135 Special Hermes Edition is scheduled to enter service from August. Currently the JA135 model, which has the same specifications is in service.

■ Customer Service Center
Company name:Mori Building City Air Services Co., Ltd.
Contact information:
[Toll Free] Tel: 0120-889-436 / Fax : 0120-889-538
[From Overseas] Tel: 03-6406-6451 / Fax : 03-6406-6435
Open:Weekdays 10:00-18:00 (local time)
E-mail:mcas@mori.co.jp
URL:http://www.mcas.co.jp/