2008-12-15
Shanghai World Financial Center Awarded the 2008 Best Tall Building Overall

At the Annual Awards Ceremony, held in Chicago on November 20, the Council on Tall Buildings and Urban Habitat (CTBUH) named the Shanghai World Financial Center the 2008 Best Tall Building Overall, selecting it from among candidates from regions worldwide.

The CTBUH is a not-for-profit organization established in the United States in 1969. Its aim is to facilitate exchanges among professionals involved in the planning, design, construction, and operation of tall buildings. Since 2002 the CTBUH has presented awards to designers of tall buildings and since 2007 to the best tall buildings from around the world. For 2008, Best Tall Building Awards were presented to buildings from each of four geographical regions and from among those four the Shanghai World Financial Center was selected as the Best Tall Building Overall.
- Americas The New York Times Building (New York City, USA)
- Europe 51 Lime Street (London, UK)
- Middle East/Africa Bahrain World Trade Center (Manama, Bahrain)
- Asia/Australasia Shanghai World Financial Center (Shanghai, China)

Some of the points mentioned as reasons for the selection of the Shanghai World Financial Center include its structural design that makes comprehensive use of modern architectural technology, its sharp cosmopolitan design with an earth and sky motif, and its presence as a new-generation super-tall building with the world's tallest height to top of roof.

Comment from CTBUH Awards Committee Chairman Tim Johnson
"One of the tallest buildings in the world, it speaks to where tall building design is now….the building's structure is nothing short of genius."

Comment from the Awards Committee
"Asia holds about half the world's population and is achieving unprecedented development. The role of tall buildings is very important in urban areas of concentrated population. This building shows where tall building design is today."

On the day of the awards ceremony, Akio Yoshimura, head of Shanghai World Financial Center Co., Ltd., was on hand to accept the trophy along with Eugene Kohn and William Pederson of the building's designers Kohn Pedersen Fox Associates P.C.

Under the concept of the "global magnet," this building will be a powerful force attracting people and information from across the world, giving birth to trends, and exerting influence. Transcending the traditional concept of the international financial center, it will be one of Asia's premier financial and information centers, combining the attractions and vibrancy of not only a business base but also a cultural and sightseeing hub.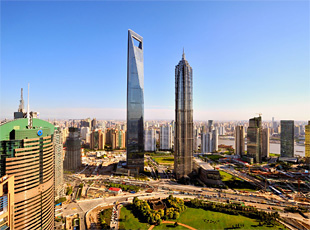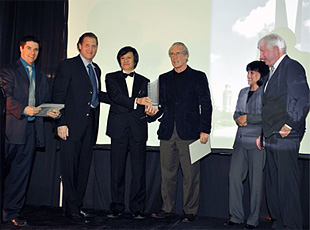 Shanghai World Financial Center : http://swfc-shanghai.com/
CTBUH